5 Industrial Stocks With Minimal Oil Exposure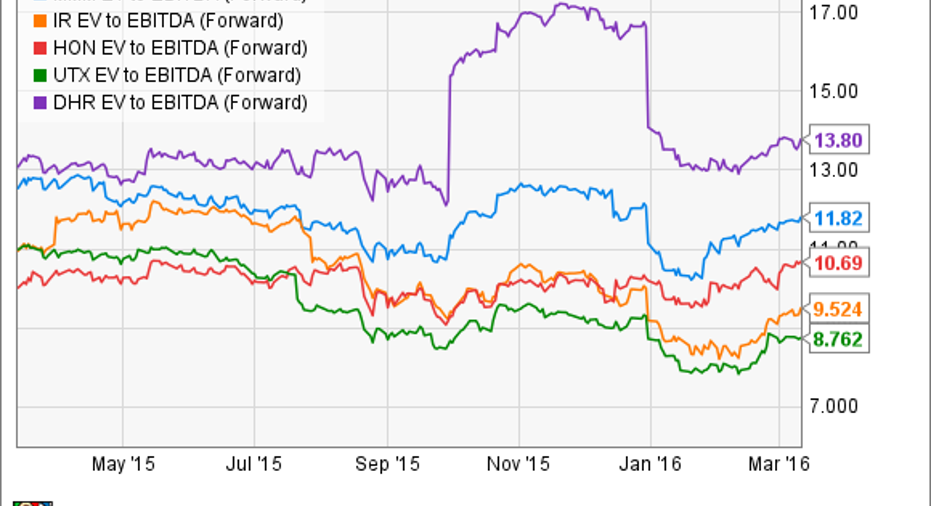 Falling oil prices have pressured industrial companies with significant exposure to the sector, and investors would have been best advised to steer clear of such companies in the past year. That said, not all industrial companies have significant energy exposure. For those looking to avoid energy here are five industrial names for you to look at.
(NYSE: UTX) has negligible direct energy exposure. Its four segments consist of Pratt & Whitney (aircraft engines); Otis elevators; a climate, controls, and security (construction) business; and aerospace systems. You could argue that low oil prices might reduce demand for newer, more fuel-efficient aircraft, but and orders have held up well, and increased airline profitability is supportive of future aerospace growth. United Technologies' stock prospects are more tied to its ability to deliver on three key objectives in 2016:
Successfully ramped-up production of its geared turbofan engine.
Increased market share with its Otis elevators, particularly in China.
Managing the margin pressure in its aerospace systems segment as the product mix shifts to newer, initially lower-margin products on new programs.
In a sense, it's a year of transition for United Technologies, and while that offers its own risks, it's not a stock you should overly worry about if you're bearish on oil.
(NYSE: MMM) operates out of five business segments. Its healthcare and consumer products have negligible exposure to oil and gas, while its industrial segment contains a veritable potpourri of business ranging from adhesives to filtration equipment. The safety and graphics segment will have a small exposure to energy (safety and protection products), but it's not significant, and even its electronics and energy segment is more exposed to power and telecommunications, although it does have some oil and gas exposure.
3M's prospects in 2016 are more related to its ongoing ability to hold pricing even while it struggles to generate organic volume growth. So far, the company is doing an excellent job. Indeed, the fourth quarter saw a 1.2% price increase despite a 2.3% decline in organic volume -- made all the more impressive by a 0.6% increase in fourth-quarter operating margin (excluding restructuring) to 22.1%
DATA SOURCE: 3M COMPANY PRESENTATIONS.
While 3M Company faces growth challenges in 2016, oil and gas is not a significant factor.
's (NYSE: DHR) mix of defensive businesses (life science and diagnostics, dental, and environmental) generate around 70% of operating profits. Essentially, it's one of the least cyclically exposed industrial companies on the market. Meanwhile, its test measurement and industrial technologies segments don't have significant exposure to oil.
Moreover, as readers may already be aware, the key determinants of its performance in 2016 will be:
Successful integration of Nobel Biocare (dental) and Pall Corp. (mainly life sciences and diagnostics) acquisitions.
Completion of the intended split of the company into two separate entities.
Continued growth of its relatively defensive businesses.
In a nutshell, Danaher has upside from corporate actions as well as non-energy end markets -- a useful mix in 2016.
(NYSE: IR) is an often forgotten about stock in the industrial sector, but that could be one of its pluses. The company generates around 80% of its revenue from its climate segment (heating, ventilation, and air conditioning, or HVAC), with the remaining 20% coming from a curious collection of businesses (including golf carts, fluid handling systems, power tools, and compressed air systems) lumped together in the industrial segment.
Its direct oil exposure is in the low single digits, and its key North American HVAC (Trane) market looks set for decent growth in 2016. The company generates 63% of its revenue from North America. Moreover, Ingersoll-Rand has an opportunity to grow its HVAC margin to the kind of levels achieved by United Technologies' Carrier brand.
MMM EV to EBITDA (Forward) data by YCharts
Good oil, bad oil The final stock, (NYSE: HON), may seem a bit of an anomaly because oil and gas makes up 14% of its forecast sales in 2016.
IMAGE SOURCE: HONEYWELL INTERNATIONAL PRESENTATIONS
On the other hand, most of its oil and gas operations are focused on midstream (transportation and storage) and downstream (refining and processing) oil operations. Arguably, midstream and downstream are net beneficiaries of lower oil prices -- as volume increases to follow price reductions. Indeed, Honeywell expects its oil and gas operations to pass an inflection point in 2016 and start to grow by $200 million in 2017 even if oil prices stay around $30.
The article 5 Industrial Stocks With Minimal Oil Exposure originally appeared on Fool.com.
Lee Samaha has no position in any stocks mentioned. The Motley Fool has no position in any of the stocks mentioned. Try any of our Foolish newsletter services free for 30 days. We Fools may not all hold the same opinions, but we all believe that considering a diverse range of insights makes us better investors. The Motley Fool has a disclosure policy.
Copyright 1995 - 2016 The Motley Fool, LLC. All rights reserved. The Motley Fool has a disclosure policy.