5 Great Stocks on Sale Now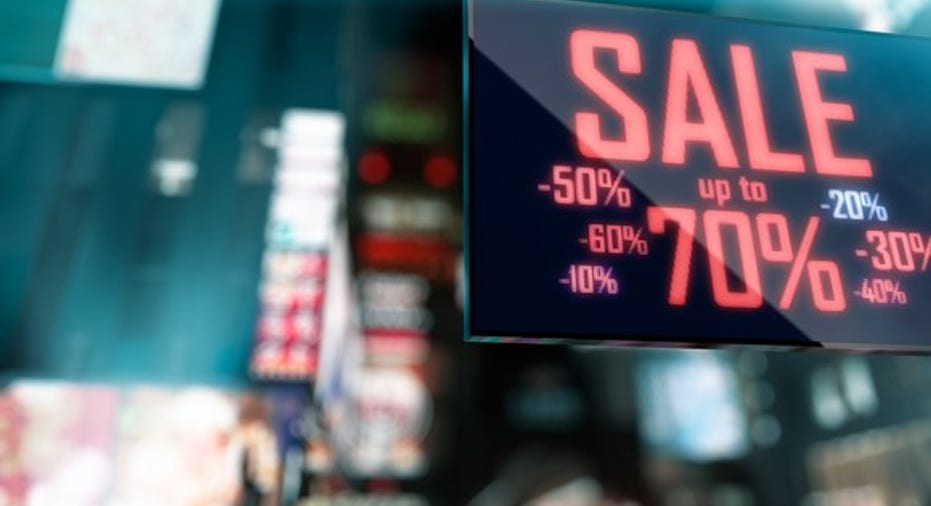 Forget the old "sell in May and go away" mantra. With the S&P 500 currently trading at almost exactly where it started 2016 despite a historically painful start through the middle of February, astute investors know there are still plenty of great stocks on sale.
So we asked five Motley Fool contributors to offer a single stock they believe offers investors a compelling opportunity to open or add to their positions. Read on to see which companies they chose and why:
Steve Symington: I think now is the perfect time for investors to grab shares of Netflix . The streaming-video titan's share price was recently knocked back after Netflix told the market it expects to grow its subscriber count by "just" 2.5 million in the second quarter -- bringing its global member base to a whopping 84 million -- including roughly 500,000 in the U.S. and 2 million from international markets.
This comes as Netflix is poised to gradually switch a huge chunk of its domestic membership base to higher pricing tiers per the terms of a grandfathering agreement put into motion when it increased prices for new members two years ago. According to Netflix, more than half its U.S. members pay just $7.99 or $8.99 for its $9.99 HD two-screen plan and will be presented with options to maintain that plan at the higher rate, downgrade to a one-screen plan for $7.99, or upgrade to a UHD four-screen plan for $11.99. And Netflix won't make any hasty moves here; rather, it's rolling out the options to members slowly over the course of the next year, management says, "so we can learn as we go." As a result -- and considering Netflix's value proposition has only continued to grow as it invests in highly regarded original content -- the company anticipates modest churn in the near term, with strong year-over-year margin expansion set to resume in the third quarter.
As a result, I think astute investors with the foresight to buy now can kick back and enjoy the show as Netflix serves up market-beating returns from here.
:Investing in fertilizer stocks may sound like a boring idea, but you'd be amazed at some of the opportunities that the industry has to offer right now. TakeCF Industries , for example, which is down more than 20% year to date while peers such as MosaicandPotash Corporationare in the green. CF's returns are astonishing when you compare the performances of these stocks over the past decade.
Focus on nitrogen has largely worked in CF's favor over the years as demand for nitrogen -- the most widely used nutrient for key crops like corn -- is relatively inelastic compared to potash and phosphate.
CF shares lost ground after the company announced its intended merger with Netherlands-based OCI last year. The complications involved -- such as the setting up of a merged company that will be based in the U.K. have made investors wary. However, investors must also know that the merged entity will be the world's largest nitrogen company and will continue to trade in the United States. The deal, expected to close by mid-2016, will expand CF's global footprint even as shifting its base to the U.K. will lower its taxes substantially. CF estimates its after-tax synergies to beworth $500 million.
I'm excited about the stock regardless of the merger. CF should continue to generate strong returns going forward given its leadership position in the North American nitrogen market and recent growth initiatives. For the growth potential, the stock is trading incredibly cheap as of this writing at less than half its 52-week highs and 11 times trailing earnings, which compares to an industry average P/E of 21. What's more, CF also offers a dividend yield of 3.6%. That makes for an excellent bargain, I'd say.
Todd Campbell: The best bargain-bin stocks are those that are being sold off because of problems that are temporary, rather than long-term. In the case of Gilead Sciences , shares are down 15% this year over decelerating sales of its hepatitis C drugs in the United States. In my opinion, those worries are short-sighted.
Last quarter, sales of Gilead Sciences' HCV drugs Sovaldi and Harvoni slipped 6% versus a year ago. That was primarily due to contractual price discounts designed to open these drugs up to patients with a less severe disease. Yes, competitors are forcing Gilead Sciences to be aggressive on pricing, especially with government payers, including the VA, but there are still 3 million people in the U.S. with HCV, and Gilead Sciences' market share remains above 90%.
In June, the FDA is expected to approve Gilead Sciences' next-generation pan-genotype HCV drug and that could insulate the company against competitors and help stabilize prices. Also, if Sovaldi gets the nod in China, where 10 million people suffer from HCV, sales could get a nice boost beginning in 2017.
Gilead Sciences is still the dominant player in HIV treatment, and it's got new cancer, hepatitis B, and NASH drugs in the works that could fuel future growth, too. Given that Gilead Sciences' bulletproof balance sheet allowed it to repurchase $8 billion in shares last quarter, boost its dividend by 10%, and still exit March with over $21 billion in cash, this is a top stock to consider buying on sale.
Any company with direct exposure to commodities or energy has been taking it on the chin for a couple of years, now and there are loads of solid companies in these parts of the market that are selling for pretty steep discounts. One company that looks especially appealing today is Helmerich & Payne .
As an owner and lessor of land rigs, Helmerich & Payne has been hit with a pretty hard blow, as the total amount of active rigs in the field has declined to the lowest levels since we started keeping track of them more than half a century ago.
US Rig Count data by YCharts
The bright side is twofold. The first is that when demand for drilling picks back up again, Helmerich & Payne's entire fleet of rigs are higher-specification ones that are capable of handling the challenges of shale drilling. These new rigs have been slowly pushing competitors' older rigs out of the market and gaining overall market share, a trend that will continue when the market does turn. The other reason the company looks attractive is that it has kept a clean balance sheet through the downturn and is at much less risk than others.
With shares trading at their lowest price to tangible book value since the 2008-2009 recession and a dividend yield of 4.2%, Helmerich & Payne looks very cheap today.
: Oh, do I have an underappreciated stock on sale in General Motors . On April 21, Detroit's largest automaker announced first-quarter results that trampled estimates. GM earned $1.26 per share compared with analysts' estimates of about $1. The company is practically printing money in North America, retaking its foreign automaker throne in China, all while staying on pace to break even in Europe this year.
Despite printing money and improving its business, Wall Street is still reluctant to buy in thanks to "peak auto sales" concerns. "Do these companies actually have to go into a recession to prove that they are really different and much healthier than they used to be?" David Whiston, an analyst at Morningstar, was quoted as saying.
I agree with Whiston wholeheartedly, but GM's growth story is one that eludes investors. As GM is the top foreign automaker by market share in China, as well as the U.S., where does its growth story come from now?
GM has made it clear that it intends to force its way into new business strategies, which was pushed into focus recently with a $500 million cash investment in ride-sharing company Lyft, as well as the acquisition of self-driving technology start-up company Cruise Automation.
While that strategy might not pay dividends for some time, investors often overlook the fact that GM Financial is set to double its profit from the end of 2015 to the end of 2018. Investors also overlook the fact that Cadillac is a top growth priority for the company, which would help drive the top and bottom lines higher.
GM is a company printing money currently with an overlooked growth story, and you can own its 4.5% dividend yield paying a forward price-to-earnings multiple of 5.4. Maybe owning a company in a cyclical industry isn't for you, but you can't argue that GM isn't on sale.
The article 5 Great Stocks on Sale Now originally appeared on Fool.com.
Steve Symington has no position in any stocks mentioned. The Motley Fool owns shares of and recommends Gilead Sciences and Netflix. The Motley Fool recommends General Motors. Try any of our Foolish newsletter services free for 30 days. We Fools may not all hold the same opinions, but we all believe that considering a diverse range of insights makes us better investors. The Motley Fool has a disclosure policy.
Copyright 1995 - 2016 The Motley Fool, LLC. All rights reserved. The Motley Fool has a disclosure policy.