5 Dividend Stocks to Buy in May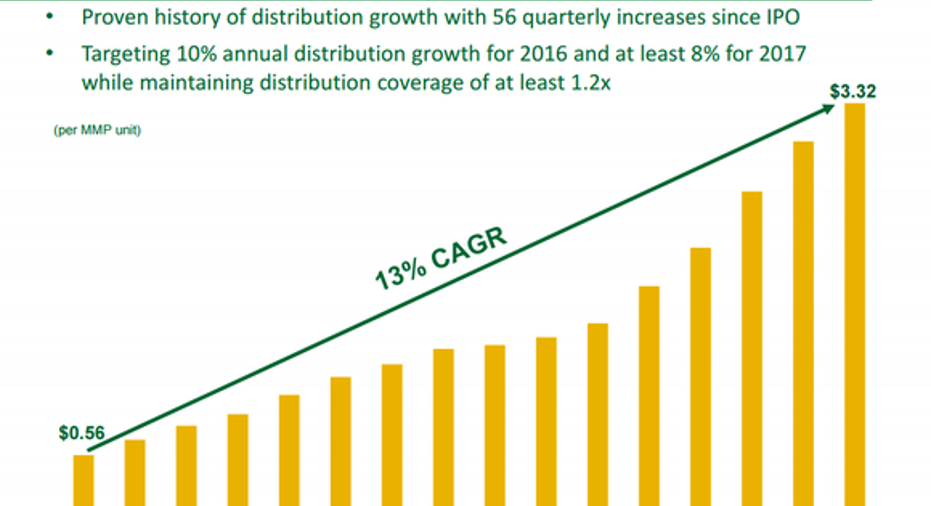 Dividend stocks are undoubtedly a powerful way to ratchet up the long-term returns of your portfolio. Even so, it can be challenging to choose the best dividend-payers, given the sheer diversity of options. To help you in this endeavor, we asked our Foolish team of dividend experts their thoughts on which income-generating stocks might be worth buying this month. Here is a look at their five picks for the month of May.
We may have seen oil and gas stocks rebound rather well in the past few months, but in comparison to where they were 18 months ago, things could get much better. Some investors may flock into more speculative investments such as independent oil and gas producers, but they will be counting almost entirely on a price rebound. If you are looking for a great dividend investment today, then oil and gas pipleine company Magellan Midstream Partners may be more up your alley.
With one of the largest pipeline networks for refined petroleum products in the nation, and a fee-based contract model, the company is mostly insulated from the ups and down of energy prices. Furthermore, those fee-based service contracts provide a steady stream of cash that has helped the company consistently increase its dividend for more than a decade since its IPO.
Image source: Magellan Midstream Partners investor presentation
While the company's shares have not been as adversely affected by the oil and gas downturn as others, its stock currently offers decent 4.4% dividend yield. It may never blow you away with huge annual gains, but for more than 15 years, Magellan has shown itself to be solid dividend payer with room to consistently grow its payouts.
Steve Symington: It may not be the first dividend-paying stock to come to mind for many investors, but I think now is a great time to pick up shares of Carter's . The children's clothing manufacturer recently turned in its 11th consecutive quarterly earnings beat, punctuated by stronger-than-expected demand for its Carter's and OshKosh brands and solid growth across its wholesale, retail, and international segments.
That said, Carter's growth outlook right now appears modest, with revenue expected to climb "just" 6% to 7% when all is said and done in 2016. But earnings should grow a more respectable 10% to 12% -- a guidance range Carter's increased last quarter from previous expectations for 8% to 10% growth -- thanks to a combination of favorable product mix and costs, and its ambitious efforts to return money to shareholders. Regarding the latter, three months ago, those efforts included Carter'sraising its dividend by 50% to $0.33 per share -- good for an annual yield of roughly 1.3% at today's prices -- and authorizing a massive new $500 million share repurchase program roughly equivalent to 10% of the company's total float. And management has made clear Carter's will keep rewarding patient, long-term shareholders in this way as part of its ongoing process of optimizing its balance sheet and using its combination of cash, cash flow, and debt as efficiently as possible, all while supporting the steady expansion of its global store base.
So with Carter's stock currently sitting almost exactly where it was a year ago, I'm convinced market-beating returns are in the cards for investors willing to buy, hold, and watch this growth story play out.
Dan Caplinger: The growth of online retail has built up an entire e-commerce industry, but how players in the space get their goods to customers remains a major logistical challenge. FedEx has aimed to take full advantage of thee-commerce growth trend, working to try to capture a greater share of shipping demand from its rivals. FedEx has had to take aggressive action on that front in part because its traditional business-to-business demand is tied to the cyclical health of the overall global economy, which has been fairly weak lately.
Many investors will find it hard to think of FedEx as a serious dividend stock, given that its current yield is less than 1%. Butthe company has a couple of things going for it that make it an attractive investment right now. First, it has traditionally announced dividend increases in late spring, and last year's 25% rise in its dividend could easily be repeated or even improved upon this year. FedEx pays out only about a quarter of its earnings as dividends, and it has a 14-year track record of annual increases. If you think that the global economy will bounce back and start growing faster, then FedEx is a great way to play that, and even a modest dividend is icing on the cake to go along with potential share-price appreciation.
George Budwell: After reporting a strong first quarter with10% revenue growth and 17% adjusted EPS growth, blue-chip biotech Amgen looks, to me, like a good dividend stock to pick up this month. Beyond its double-digit growth in the first quarter, Amgen also offers investors a reasonable dividend yield of 2.6% at current levels. Perhaps most important, though, this healthy yield appears to be sustainable for the long term, given the company's 12-month trailing payout ratio of 35.6%, and its rocketing top-line, which is being propelled by the launch of new growth products like the cholesterol drug Repatha.
While the biotech is starting to see a steep decline in the sales of its white-blood-cell boosting drug Neupogen due to the arrival of biosimilars on the market, sales of Amgen's other top drugs like Enbrel,Neulasta, andAranesp have all been exceeding expectations, helping to offset that. Now, the Street isn't expecting this trend to continue as biosimilar competitors to Neupogen gain momentum going forward, but Amgen is still forecast to grow its top line by at least 4% this year.
The net result is that Amgen is trading at a forward price to earnings ratio of less than 13, which is markedly lower than most of its large-cap biotech peers.All told, Amgen is a top-notch dividend growth stock that is probably undervalued at current levels, making it worth a deeper dive by income-seeking investors.
Neha Chamaria: Illinois Tool Works' dividend yield of 2.1% may not look like much, but I believe it remains one of the best dividend picks today, especially after the strong first-quarter earnings it released last month.
In a time of difficult business conditions, when most industrial companies are struggling to maintain profits, Illinois Tool Works' operating margin just hit a record quarterly high of 22.1% thanks to its cost-reduction initiatives. The company also upgraded its full-year earnings guidance, and now expects its 2016 earnings per share to grow 7% at the mid-point. The best part of the report was the strong Q1 cash flows: At $2 billion, Illinois Tool Works generated free cash flow 6% higher than net income during the past 12 months, which is something few companies can boast of.
So what does that mean for dividend investors? Illinois Tool Works' FCF should expand as its profits rise, enabling it to pay out greater dividends to shareholders. Moreover, its dividend payout ratio of 40% also means it has ample room to increase them. For a growing company that has already proved its mettle with 52 straight years of dividend increases, a high P/E ratio shouldn't deter income investors from considering Illinois Tool Works today.
The article 5 Dividend Stocks to Buy in May originally appeared on Fool.com.
Dan Caplinger has no position in any stocks mentioned. George Budwell has no position in any stocks mentioned. Neha Chamaria has no position in any stocks mentioned. Steve Symington has no position in any stocks mentioned. Tyler Crowe owns shares of Magellan Midstream Partners. The Motley Fool owns shares of and recommends Carter's and FedEx. The Motley Fool recommends Illinois Tool Works and Magellan Midstream Partners. Try any of our Foolish newsletter services free for 30 days. We Fools may not all hold the same opinions, but we all believe that considering a diverse range of insights makes us better investors. The Motley Fool has a disclosure policy.
Copyright 1995 - 2016 The Motley Fool, LLC. All rights reserved. The Motley Fool has a disclosure policy.