5 Charts That Explain NXP Semiconductors NV Stock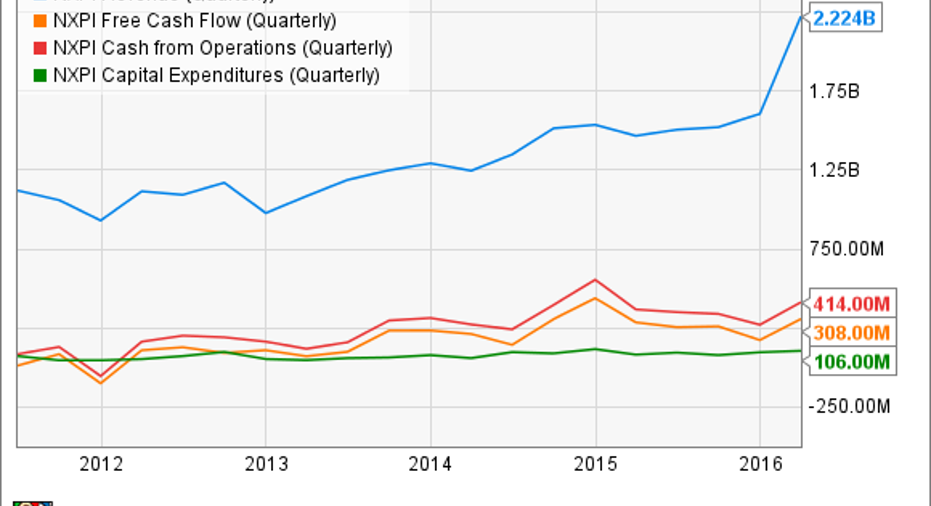 Image source: NXP.
Sometimes, there's no substitute for a good chart. Raw data can be difficult to digest, but a visual representation of the same numbers suddenly makes a ton of sense.
On that note, let's have a look at chip maker NXP Semiconductors through the lens of five important charts. Following the $12.8 billion buyout of sector peer Freescale Semiconductor, this is a company in transition. These five diagrams will show you exactly how the company is changing.
NXPI Revenue (Quarterly) data by YCharts
Let's start with the most obvious difference. Adding Freescale is a clear-cut case of growth by acquisition. In this chart (and in the four that follow), Freescale was added just before the end of the fourth quarter in 2015. So Freescale contributed about three weeks' worth of operations to the second-to-last stop on these quarter-by-quarter charts, but are fully integrated into the final plot point.
It's clear that NXP was already growing sales at a speedy clip before folding in Freescale's revenues on top. That chart-ending spike is still a serious shot of adrenaline.
NXPI Gross Profit Margin (Quarterly) data by YCharts
This one might throw you for a loop. Here, it looks like the additional Freescale revenues came at a steep cost, slashing overall gross margins in half. Fortunately, it's a temporary side effect from the merger itself. This deep dive disappears when adjusting the most recent quarters to remove one-time items, and the GAAP margins show here are sure to bounce back in short order as well.
In the fourth quarter, NXP recorded $496 million of so-called PPA effects, counting against gross profits. That amounts to 45% of the company's true gross profits, gone in an accountant's hand wave.
PPA, or purchase price allocation, is an accounting method for incorporating the price tag of a newly acquired operation into the buyer's balance sheet. These adjustments end up as an asset in NXP's goodwill balance at the end of the day. On the liability side of that ledger, most of this value becomes additional shareholder equity. Here's what that looks like for NXP:
NXPI Goodwill (Quarterly) data by YCharts
Before leaving the balance sheet, let me just point out that the Freescale acquisition brought a lot of new debt to NXP's ledgers.
Before launching into the merger process, NXP had $1.36 billion of cash on hand, balanced against $4.04 billion of long-term debt. The company took over $5.06 billion of long-term debt from Freescale's balance sheet, alongside $552 million in cash equivalents.
Peaking at the end of 2015, right after the final John Hancock, NXP sat on $9.2 billion in debt papers. Backing out the cash reserves at that point, NXP's net debt had risen nearly threefold in nine months, from $2.7 billion to $7.6 billion.
The company is now busy repaying that pile of financing instruments. Some $2.7 billion of Freescale's old debt was immediately refinanced into new loans, and the company has also made $1.1 billion of additional repayments.
NXPI Non-Current Portion of Long Term Debt (Quarterly) data by YCharts
For the last chart, I'm bringing back an old friend.
You'll recall the hockey-stick revenue line from above. It's back again as a point of reference. This time, it'll help you see how Freescale's entrance affected NXP's cash generation.
Remember, cash flow statements are not concerned with goodwill adjustments and PPA effects. Instead, they measure the bundles of green bills flowing through the company's operations.
You'll notice capital expenses holding steady, while cash flows took a brief dip and then bounced back. Strong cash flows will be "a hallmark of the new NXP," according to CEO Rich Clemmer. That's certainly true so far, and investors should hold Clemmer to those words in future quarters.
NXPI Revenue (Quarterly) data by YCharts
The article 5 Charts That Explain NXP Semiconductors NV Stock originally appeared on Fool.com.
Anders Bylund has no position in any stocks mentioned. The Motley Fool owns shares of and recommends NXP Semiconductors. Try any of our Foolish newsletter services free for 30 days. We Fools may not all hold the same opinions, but we all believe that considering a diverse range of insights makes us better investors. The Motley Fool has a disclosure policy.
Copyright 1995 - 2016 The Motley Fool, LLC. All rights reserved. The Motley Fool has a disclosure policy.