5 Brand-Name Companies That Hired at Least 15,000 People in 2016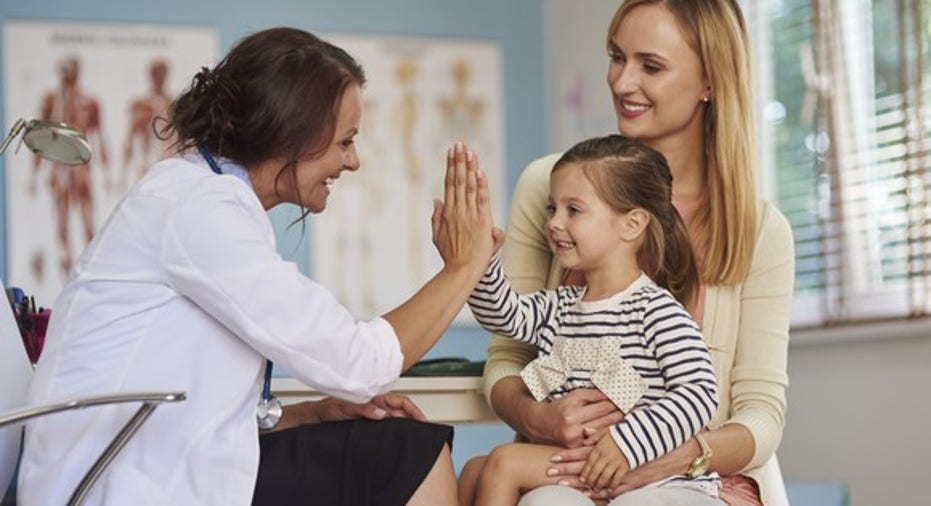 Image source: Getty Images.
While some Americans worry that the economy and the stock market are just about to crash, both appear to be quite healthy. If we're looking at headline numbers, the stock market has never been higher, and unemployment is at a level that seemed unimaginable eight years ago.
Consider that since October 2009, unemployment has dropped from 10% to 4.4% today (and not just because of a decrease in the labor force participation rate).At the same time, the S&P 500 has more than doubled.
It should be no surprise, then, that a lot of companies were hiring in 2016 -- and some high-profile companies,were on a veritable hiring spree, adding over 15,000 people to their payrolls, according to Monster.com. Below are five of them, two of which may come as a surprise, given that they've been facing serious obstacles.
Image source: Getty Images.
1. UnitedHealth Group:43,588 jobs
It's no surprise to see the nation's largest healthcare insurer on the list. Not only is UnitedHealth Group (NYSE: UNH) doing brisk business in the age of the Affordable Care Act, but its subsidiary Optum is as well.In fact, 25 of the top 100 hirers last year were from the healthcare sector.
It's far too early to tell whether the American Health Care Act -- otherwise known as Trumpcare -- will pass the Senate, let alone have a material effect on UnitedHealth's future hiring.One thing, however, is certain: Baby boomers are aging en masse, and that represents a huge opportunity for healthcare-related businesses.
Image source: Getty Images.
2. Macy's:26,759 jobs
This would be the first "surprise" on our list. If you've followed retail industry newslately, then you know Macy's (NYSE: M) has fallen on hard times. Same-store sales fell 4.6% year over year in the first quarter of 2017, and that figure slipped 2.9% throughout 2016.
Perhaps management was just hiring seasonal workers to improve service during the holiday season. And the good news was relatively short-lived: Just after the new year, the company announced it would be closing 63 stores and cutting 10,000 jobs.
Image source: Getty Images.
3. United Parcel Service:26,279 jobs
UPS (NYSE: UPS) has long been a proxy for the overall economy. When the economy is strong and consumers are feeling flush, they buy and sell more goods -- and no one delivers more of those goods than UPS.
The company finished 2016 showing strong sales growth of over 5%. Perhaps more importantly, the company announced that it would be investing heavily to meet increased shipping demands, both domestically and abroad. Clearly, those investments include expanding the company's workforce.
The bottom line is this: As e-commerce grows in popularity, so will demand for UPS's services. The company could make the list of top 100 hirers for many years to come.
Image source: Getty Images.
4. AT&T:16,421 jobs
It's important to remember that AT&T (NYSE: T) is more than just the namesake brand. The company also owns DirecTV, and it may soon acquireTime Warner (NYSE: TWX)if regulators approve the deal.
But it was the powerhouse wireless division that probably accounted for most of the workforce growth. After all, AT&T is not the only wireless provider tapping the talent pool: Sprint (NYSE: S)made the 13th-most hires last year, and T-Mobile (NASDAQ: TMUS) came in at No. 21.
With one-third of all wireless customers counting themselves as AT&T subscribers -- second only to Verizon (NYSE: VZ) -- AT&T is one of the dominant providers of a service that's becoming both ubiquitous and crucial to thriving in today's economy.
Image source: Getty Images.
5. Wells Fargo:15,950 jobs
Wells Fargo (NYSE: WFC) has been in the headlines for all the wrong reasons -- namely, for opening at least 2 million fake accounts to meet internal quotas.Remarkably, that didn't stop the bank from adding nearly 16,000 employees. Perhaps some were hired to replace the reported 5,300 that were let go in the wake of the scandal.
It's difficult to say exactly what spurred the hiring, but it's clear that while consumers were angered by the scandal, customers weren't exactly leaving the bank in droves. Have you ever had to change your bank accountand all of the related automatic payments connected to it? It takes a lot of moral outrage to make that effort feel worthwhile.
We can't read into these hiring figures too much. When companies hire by the thousands, their growth plans may prove to be a little too ambitious, which can lead to layoffs down the line. Other companies experience natural upswings and downturns in hiring due to the season or the economic cycle. That said, these massive hiring sprees at least show that management is feeling good about the future.
10 stocks we like better than UnitedHealth GroupWhen investing geniuses David and Tom Gardner have a stock tip, it can pay to listen. After all, the newsletter they have run for over a decade, Motley Fool Stock Advisor, has tripled the market.*
David and Tom just revealed what they believe are the 10 best stocks for investors to buy right now... and UnitedHealth Group wasn't one of them! That's right -- they think these 10 stocks are even better buys.
Click here to learn about these picks!
*Stock Advisor returns as of May 1, 2017
Brian Stoffel has no position in any stocks mentioned. The Motley Fool owns shares of and recommends Verizon Communications. The Motley Fool recommends Time Warner, T-Mobile US, and UnitedHealth Group. The Motley Fool has a disclosure policy.