5 Big Drugmakers With Important Catalysts in May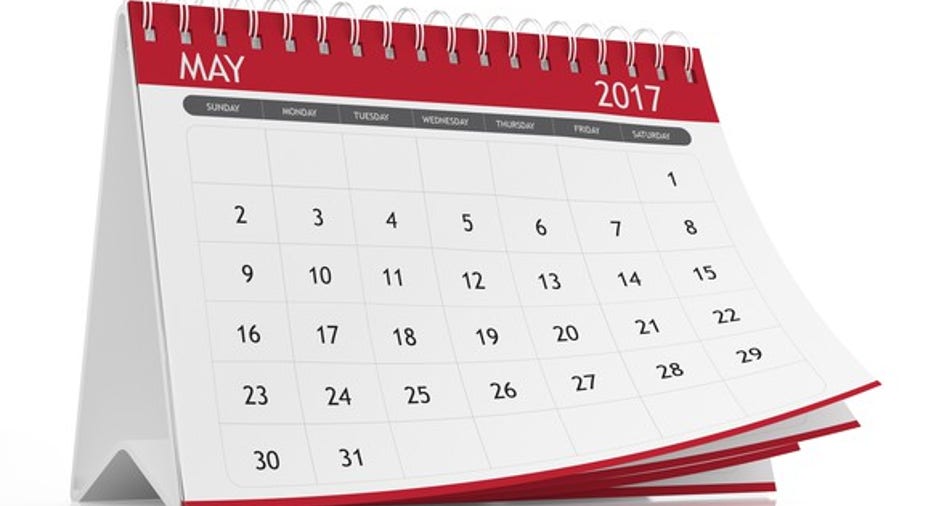 April showers bring May flowers. And as every grade-schooler knows, Mayflowers bring Pilgrims.
The month of May also brings key catalysts for five big drugmakers: Merck (NYSE: MRK), Novartis (NYSE: NVS), Novo Nordisk (NYSE: NVO), Regeneron (NASDAQ: REGN), and Sanofi (NYSE: SNY). Here's what's coming around the corner.
Image source: Getty Images.
Merck: Two decisions on the way
Merck anticipates two approval decisions by the U.S. Food and Drug Administration (FDA) in May. The more important is for Keytruda. An FDA decision on approval of the drug in combination with chemotherapy as a first-line treatment fornon-squamous non-small cell lung cancer (NSCLC) is expected by May 10.
Keytruda already won approval as a monotherapy for first-line treatment of NSCLC. However, many observers think that combination treatments could hold even greater potential for battling the disease.
The pharmaceutical company also awaits an FDA decision for Isentressin combination with other antiretroviral therapies for the treatment of HIV-1 infection. That decision is expected by May 27. Isentress first won approval for treating HIV in 2007.
Novartis: Hope for patients with two rare diseases
On Nov. 14, 2016, the FDA granted priority review to Novartis' PKC412 (midostaurin) in treating rare diseasesacute myeloid leukemia (AML) andadvanced systemic mastocytosis. That means an approval decision should be announced by May 14.
PKC412 targets treatment of adult AML patients withan FMS-like tyrosine kinase-3 (FLT3)mutation. This mutation occurs in around one-third of patients. Novartis collaborated withInvivoscribe Technologies to develop a companion diagnostic test to identify patients with the FLT3 mutation. A premarket approval application (PMA) for thiscompanion diagnostic was also accepted for review by the FDA.
If approved, PKC412 could be a game changer for both targeted indications, but particularly for AML. Treatment approaches for AML haven't changed dramatically for years. Novartis' drug could be the first FLT3-mutated AML therapy to demonstrate a survival benefit.
Novo Nordisk: Looking to expand its hemophilia franchise
Novo Nordisk already claims three hemophilia drugs on the market. The Danish drugmaker would like to make that number go up to four soon. The companyexpects an FDA decision on experimental hemophilia B drugnonacog beta pegol by May 16. The FDA's blood products advisory committee already met on April 4 to review the drug.
Efficacy shouldn't be an issue. Novo Nordisk's pivotal clinical studies involving 115 patients with severe or moderately severe hemophilia B found significant reduction in bleeding and sustained maintenance of factor IX, the clotting protein which is missing or defective in hemophilia B patients.
The primary hurdle Novo Nordisk has is the safety of nonacog beta pegol. The FDA advisory committee noted two concerns. One was related to whether the monitoring of neurologic function in Novo Nordisk's clinical studies was adequate to detect all clinically important neurologic signs or symptoms. The other was a question about whether the number of patients involved in the studies was sufficient to evaluate the safety of the drug.
Regeneron and Sanofi: The second time could be the charm
Regeneron and Sanofi got turned down by the FDA on their initial attempt to win approval for Kevzara (sarilumab) in treatingrheumatoid arthritis. The agency pointed to manufacturing issues at the Sanofi facility where the drug was made as the reason for its rejection.
The two partners hope that the second time will prove to be the charm. Regeneron and Sanofi recently announced the FDA had accepted the resubmission of the Biologics License Application (BLA) for Kevzara.An approval decision is expected by May 22.
If approved, Kevzara would add to the growing list of drugs in which Regeneron and Sanofi have partnered. The two companies already market cholesterol drug Praluent and recently won regulatory approval for atopic dermatitis drug Dupixent.
Biggest impact?
I suspect that the biggest impact of these looming FDA decisions will be the one for Kevzara. Analysts expect the drug to reach sales of $1.8 billion by 2020, if approved. A positive decision would help both Regeneron and Sanofi, but Regeneron's share price would likely benefit the most.
10 stocks we like better than Regeneron PharmaceuticalsWhen investing geniuses David and Tom Gardner have a stock tip, it can pay to listen. After all, the newsletter they have run for over a decade, Motley Fool Stock Advisor, has tripled the market.*
David and Tom just revealed what they believe are the 10 best stocks for investors to buy right now... and Regeneron Pharmaceuticals wasn't one of them! That's right -- they think these 10 stocks are even better buys.
Click here to learn about these picks!
*Stock Advisor returns as of April 3, 2017
Keith Speights has no position in any stocks mentioned. The Motley Fool recommends Novo Nordisk. The Motley Fool has a disclosure policy.