$447.8 million Powerball jackpot ticket holder can claim prize Monday: officials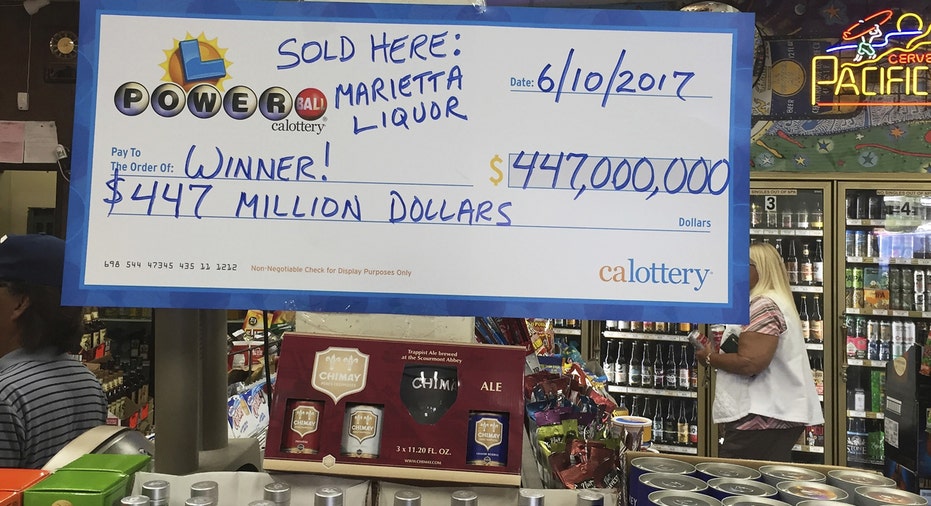 The California-based winner of this weekend's $447.8 million Powerball has yet to come forward, but the unidentified individual can claim their prize as soon as Monday morning, lottery officials said.
The ticket matching all six numbers was sold in Southern California, and whoever owns it will claim the 10th largest lottery prize in U.S. history, the California Lottery said in a statement. Lottery officials said the earliest the ticket could be redeemed is 8 a.m., and the winner has one year to claim the prize.
Drawn late Saturday night, the winning numbers were 20, 26, 32, 38 58, with a Powerball of 3. The ticket buyer can claim their prize in the form of a lump sum of $279.1 million, or receive annuity to be paid out over 29 years.
The Powerball prize had been building since April 1. The odds of winning a Powerball drawing are one in 292.2 million.
The winning ticket was sold at Marietta Liquor & Deli in the small city of Menifee, the California Lottery said in a statement. The store just off a highway caters to retirees who live in the part of Menifee known as Sun City, which was developed as a retirement community in the 1960s. It also is a common stop for motorists passing through the area about 80 miles (130 kilometers) from Los Angeles.
"We're so blessed for this to happen," said store owner Matthew Alberre, whose family will receive a $1 million bonus for selling the ticket.
Sun City residents were wondering if they might know the winner.
At a breakfast at the local Knights of Columbus organization, Armand Blais said people there hoped the ticketholder lived in their community and would assist their efforts to build a new church.
"We're hoping they're a parishioner and they'll bring us a check tomorrow," said Blais, president of the Sun City Civic Association's board.
Sun City has about 4,700 homes developed for residents age 55 and older. Today, they are part of Menifee, population 89,000, but those living in Sun City still proudly call the community by its original name, Blais said.
The homes are clustered around a golf course, and residents join in activities ranging from tai chi and swimming to woodworking and shuffleboard, according to the association's website.
Menifee Mayor Neil Winter said he hoped a local resident bought the winning ticket at the heavily visited store that has sold winners before but never for so much.
"There's a lot of good folks over there, so hopefully one of our Menifee folks won," he said.
The Associated Press contributed to this report.