$40 Billion Opportunity: 3 Biotechs Poised to Dominate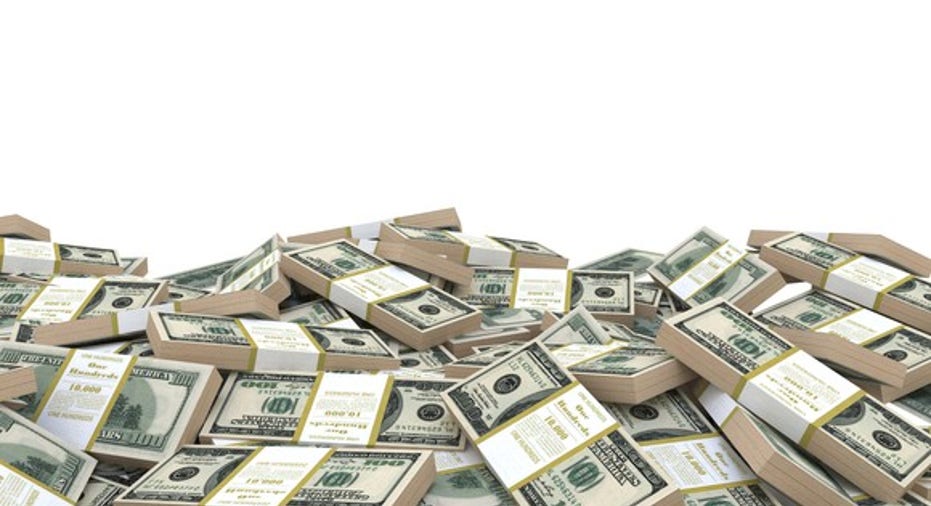 Nonalcoholic steatohepatitis (NASH) has been called "the next hepatitis C" by some. Both NASH and hepatitis C are liver diseases -- and both represent huge markets for drugmakers working on cures. While the hepatitis C treatment landscape has filled out over the past few years with multiple effective options for patients, the NASH market is still in its infancy -- but the potential is huge. It's estimated that NASH affects 2% to 5% of Americans, and analysts have projected that the global NASH treatment market could reach $40 billion by 2025. Three biotechs appear to be poised to capture large shares of the NASH market: Gilead Sciences (NASDAQ: GILD), Intercept Pharmaceuticals (NASDAQ: ICPT), and Allergan(NYSE: AGN).
Image source: Getty Images.
Following in Sovaldi's footsteps?
Gilead Sciences won big with its blockbuster hepatitis C drug Sovaldi and subsequent Sovaldi-based hep C regimens. The big biotech hopes to score again in the NASH indication and has been beefing up its pipeline to do so.
In Jan. 2015, Gilead bought Phenex Pharmaceuticals'Farnesoid X Receptor (FXR) program. FXRs can help reduce liver steatosis (fatty generation in liver cells) and can potentially prevent liver fibrosis. Earlier this year, Gilead acquired Nimbus Therapeutics, picking up the small biotech's NASH program.
With these programs added to Gilead's own development, the biotech now claims five clinical studies in progress targeting treatment of NASH. Three of those are mid-stage studies, including simtuzumab and GS-4997 as stand-alone treatments and in combination with each other.
The combination ofsimtuzumab and GS-4997 might present Gilead's best opportunity. The company recently announced mid-stage study results that showed the combination of the two drugs achieved significant fibrosis improvement in 13 of the 30 NASH patients included in the study.
Leading the race
Another FXR antagonist probably has the lead in the race to become the first NASH drug on the market. Intercept's Ocaliva has already been approved for another liver disease, primary biliary cholingitis (PBC), and is in late-stage testing for NASH.
A previously completed mid-stage study for Ocaliva showed encouraging results, with 36 of 102 NASH patients experiencing improvement in fibrosis. Intercept's late-stage NASH study, which began enrolling in September, will include 1,400 patients.
Intercept expects to have an interim analysis for the late-stage study of Ocaliva targeting treatment of NASH in the first half of 2017. The biotech also has a mid-stage study in progress, with enrollment anticipated to complete by the end of this year.
All of this activity has pushed Intercept's market cap up to over $3 billion. Considering that peak sales estimates for Ocaliva range from nearly $3 billion to more than $4 billion for both PBC and NASH indications, the biotech's stock could have more room to run.
Paying to play
Allergan decided the NASH market was too big to ignore even though it didn't have anything in its pipeline for the indication. That's why Allergan announced in September that it planned to buy tiny Tobira Therapeutics (NASDAQ: TBRA) in a deal that could be worth $1.7 billion.
Tobira has two candidates in its pipeline targeting NASH:cenicriviroc andevogliptin. Cenicriviroc failed to meet its primary endpoint of improvement in the NALFD activity score in a phase 2 study. However, Tobira is moving ahead with a late-stage study of the drug in treating NASH using another endpoint where cenicriviroc showed more promise-- improvement in fibrosis.Another early stage study of evogliptin in combination with cenicriviroc began in September.
Cenicriviroc inhibits the CCR2 and CCR5 signaling pathways. These pathways play a key role in how the body responds to liver cell damage. Evogliptin takes a different approach by inhibiting dipeptidyl peptidase-4 (DPP4), a protein that can be a factor in liver diseases including NASH.
Allergan's acquisition of Tobira is expected to complete by the end of this year. The deal will catapult the drugmaker into a prime position in the battle to win in the NASH market.
Biggest winner?
These aren't the only companies hoping to make money in the NASH indication. Others are or could become serious contenders. If I had to only pick one winner, though, I'd go with Gilead Sciences.
I won't argue that Gilead has a lead right now. It doesn't. I won't even make the case that Gilead's candidates are necessarily the best, although itssimtuzumab/GS-4997 combo probably ranks among the top echelon of potential NASH treatments.
My view is that Gilead has the cash to make sure it is a major player in the NASH market. Thanks largely to its hepatitis C success, the biotech has a stockpile of $24.6 billion in cash, cash equivalents, and marketable securities that it can use if necessary. I wouldn't be surprised at all if Gilead ultimately buys Intercept. With Harvoni's sales declining, the big biotech needs a new market. For Gilead, NASH could truly be the new hepatitis C.
A secret billion-dollar stock opportunity The world's biggest tech company forgot to show you something, but a few Wall Street analysts and the Fool didn't miss a beat: There's a small company that's powering their brand-new gadgets and the coming revolution in technology. And we think its stock price has nearly unlimited room to run for early in-the-know investors! To be one of them, just click here.
Keith Speights owns shares of Gilead Sciences. The Motley Fool owns shares of and recommends Gilead Sciences. Try any of our Foolish newsletter services free for 30 days. We Fools may not all hold the same opinions, but we all believe that considering a diverse range of insights makes us better investors. The Motley Fool has a disclosure policy.