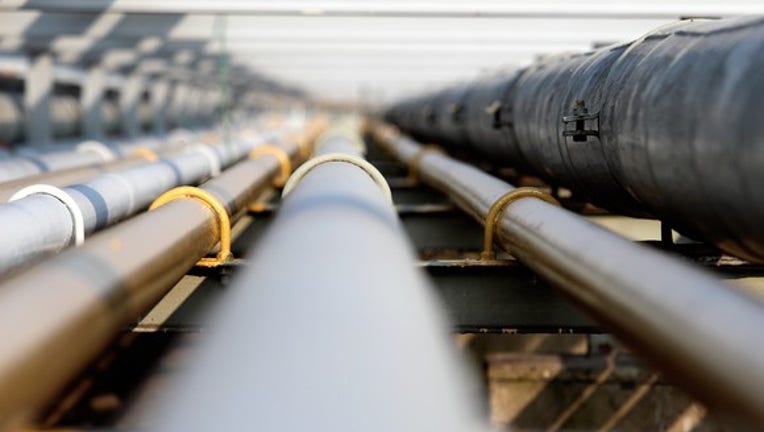 TransCanada (NYSE: TRP) recently put the wraps on another record-breaking quarter. The Canadian pipeline behemoth grew comparable earnings 16% while cash flow surged 25% thanks to a combination of acquisitions and recently completed expansion projects. That said, one of the things CEO Russ Girling made clear on the accompanying conference call is that company has plenty of growth left in the tank.
TransCanada's delivering growth that matters to investors
Girling led off his prepared remarks on the call by stating:
One thing Girling wanted to make sure investors grasp is that the company isn't growing just to grow. Instead, it's delivering growth that createsmeaningful value for investors. One piece of evidence of this was the company's ability to increase the dividend 10.6% versus last year.
Image source: Getty Images.
There's more growth on the way
That said, this year's dividend increase is only the beginning. That's because, as Girling noted:
Girling pointed out two important things about the backlog: It remains both on time and on budget. That's vital because it ensures that TransCanada earns the expected returns on these projects and that it doesn't have to wait to collect the cash flow.
The company's ability to stay on pace is an impressive feat in the current environment given the obstacles its peers have faced with completing projects. For example, Energy Transfer Partners (NYSE: ETP) faced intense opposition to its Dakota Access Pipeline. Because of that, instead of entering service and supplying cash flow at the end of last year as expected, the pipeline won't start flowing oil until next week. That delay caused some financial problems for Energy Transfer Partners, which had to get a cash infusion from its parent to bridge the gap.
TransCanada cleaned up a few things during the quarter
That said, even if TransCanada experienced an in-service delay, it wouldn't cause any undo financial stress because the company has a top-tier balance sheet. However, it isn't taking any chances.That's why it tied up a few loose ends during the quarter, just to stay ahead of the game. Girling highlighted those efforts, pointing out:
One thing Girling noted was that TransCanada completed another drop-down transaction with its MLP to raise cash for growth projects. That ability to sell assets to TC Pipelines is one reason why investors don't have anything to worry about when it comes to the company's ability to finance its backlog.
Image source: Getty Images.
TransCanada's working hard to extend its growth beyond 2020
While TransCanada's focus is on building out its current slate of expansion projects to drive 8% to 10% annual dividend growth through 2020, the company is also working to extend that plan farther out into the future. Girling noted this by saying that, "we continued to advance a number of other strategic initiatives that will enhance our competitiveness and position us for additional long-term growth."
One of those initiatives was seeking a variance so it can build the CA$1.4 billion North Montney pipeline project without the condition that it only proceeds once the companies developing the Pacific Northwest LNG project make a positive final investment decision. That's because the company has secured enough long-term contracts with a broader group of shippers so that this pipeline is no longer dependent upon the LNG project.
In addition to that, the company has restarted the Keystone XL project after receiving the Presidential Permit from the Trump administration. TransCanada is currently working with shippers to update the contracts for the project, and it also needs to receive approval from the state of Nebraska. However, if everything goes according to plan, the company could approve the construction this fall, which would give it a transformational project to fuel significant growth early next decade.
Investor takeaway
TransCanada's CEO made it very clear that the company remains on track with its growth strategy. That's giving the company increasing confidence that future dividend increases will be toward the upper end of its 8% to 10% range. Meanwhile, it's working hard to move more projects into its backlog so it can continue growing the dividend at a healthy clip well into the future.
10 stocks we like better than TransCanadaWhen investing geniuses David and Tom Gardner have a stock tip, it can pay to listen. After all, the newsletter they have run for over a decade, Motley Fool Stock Advisor, has tripled the market.*
David and Tom just revealed what they believe are the 10 best stocks for investors to buy right now... and TransCanada wasn't one of them! That's right -- they think these 10 stocks are even better buys.
Click here to learn about these picks!
*Stock Advisor returns as of May 1, 2017
Matt DiLallo has no position in any stocks mentioned. The Motley Fool has no position in any of the stocks mentioned. The Motley Fool has a disclosure policy.