4 Things Seaspan Corporation's CEO Wants You to Know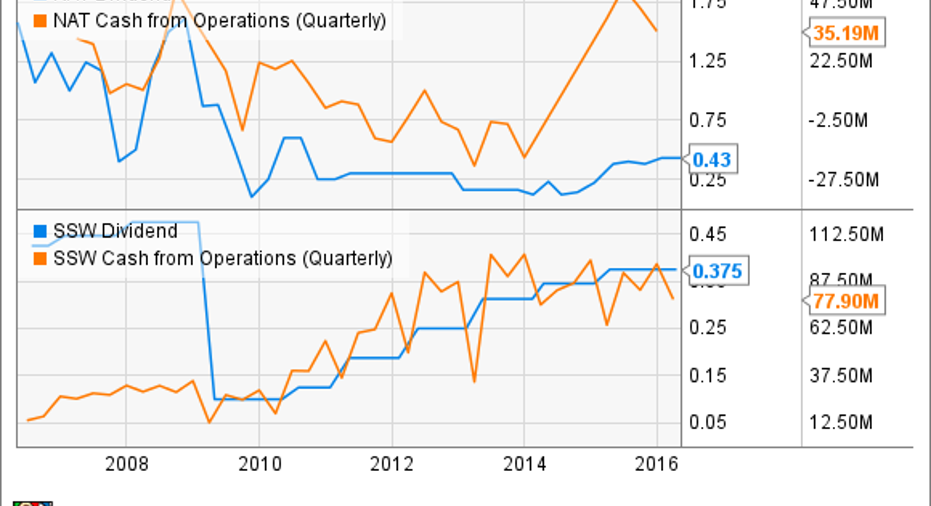 Seaspan Corporation recently reported pretty solid first quarter results, with its revenue and earnings growing by double digits over last year's first quarter. Driving this growth was progress the company has been making on its four key initiatives, which CEO Gerry Wang detailed on the company's conference call. Here are the four things he wanted investors to know about the company's progress.
1. Our growth is on trackWang started off the highlight reel by saying that,
Wang wanted investors to know that the company's growth strategy continues to progress as planned. It added another new vessel during the quarter, which when combined with the additions over the past year drove strong growth:
| Metric | Q1 2016 Actuals | Q1 2015 Actuals | Growth (YOY) |
| --- | --- | --- | --- |
| Revenue | $215.5 million | $188.5 million | 14.3% |
| Cash Available for Distribution | $100.5 million | $93.9 million | 7.1% |
| Normalized EPS | $0.33 | $0.25 | 32% |
Data source: Seaspan Corporation.
Further, with 17 additional vessels currently under construction Seaspan has clear visibility on future growth.
2. Our operations are stableNext, Wang turned to the stability of the company's operations, saying that, "we continue to showcase our stable operating platform by achieving 97.2% utilization for the quarter, or 98.3% excluding scheduled off hire." This stability is derived from the fact that the bulk of Seaspan's fleet is chartered under long-term fixed-rate contracts, which keeps its utilization high. In fact, as the slide below notes the company's average remaining charter length is about five years:
Source: Seaspan Corporation Investor Presentation.
Further, just 13 vessels representing only 2-3% of its revenue is exposed to rechartering risk this year, which provides pretty clear visibility on future revenue. Overall, the company's backlog totals $5.7 billion of future contracted revenue.
Seaspan's business model leads to much less volubility because it isn't exposing its vessels to spot rates on the market, which can be quite volatile. For example, tanker company Nordic American Tanker doesn't sign any of its vessels up to long-term contracts. As such, Nordic American Tanker has had to accept day rates of $36,000, $39,800, and $37,000 per day per ship over during the first quarter of 2016, the fourth quarter of 2015, and the first quarter of 2015, respectively. While the tanker spot market has actually been relatively stable over the past year, it hasn't always been that way, which is why Nordic America Tankers' cash flow and dividend have been so volatile in the past when compared to Seaspan:
NAT Dividend data by YChats
3. Our cost reduction efforts are really paying dividendsNext, Wang noted that it has an "effective cost control program" and that the "implementation of our cost control and efficiency program is outperforming our expectations and is helping to keep down our expenses." In particular, the company has done a good job keeping its ship operating expenses at bay, evidenced by the fact that they only grew by 6.8% last quarter despite a 12.3% increase in ownership days due to its growing fleet. While ship operating expenses will continue to grow with the company's fleet, the key for Seaspan is to grow revenue faster than expenses, which will bolster its bottom line.
4. We're focused on improving our financialsFinally, Wang noted that it is focused on financial execution, saying that,
Financially, Seaspan is focused on two things: Growing its underlying cash flow and its access to capital. The company's access to capital is especially important during the current market environment given the tightening in the credit markets due to weak global commodity prices and a slowing global economy. That's why it was important to see that Seaspan was able to stay out ahead of these concerns by entering into a lease finance agreement with a special purpose company for the MOL Benefactor, which was the vessel that was delivered during the quarter. That deal brought in $110 million of capital, which bolsters its ability to fund its newbuild fleet.
Investor takeawayThe overarching theme of the comments made by Seaspan's CEO is that the company is navigating the current market conditions quite well. Its fleet continues to steadily grow and is backed by its strong contract backlog, it is also operating well by continuing to keep a lid on its costs, while also remaining focused on improving its financials. In other words, the company is sailing along just fine right now.
The article 4 Things Seaspan Corporation's CEO Wants You to Know originally appeared on Fool.com.
Matt DiLallo owns shares of Seaspan. The Motley Fool recommends Seaspan. Try any of our Foolish newsletter services free for 30 days. We Fools may not all hold the same opinions, but we all believe that considering a diverse range of insights makes us better investors. The Motley Fool has a disclosure policy.
Copyright 1995 - 2016 The Motley Fool, LLC. All rights reserved. The Motley Fool has a disclosure policy.