4 Things Frontier Communications' CFO Wants You to Know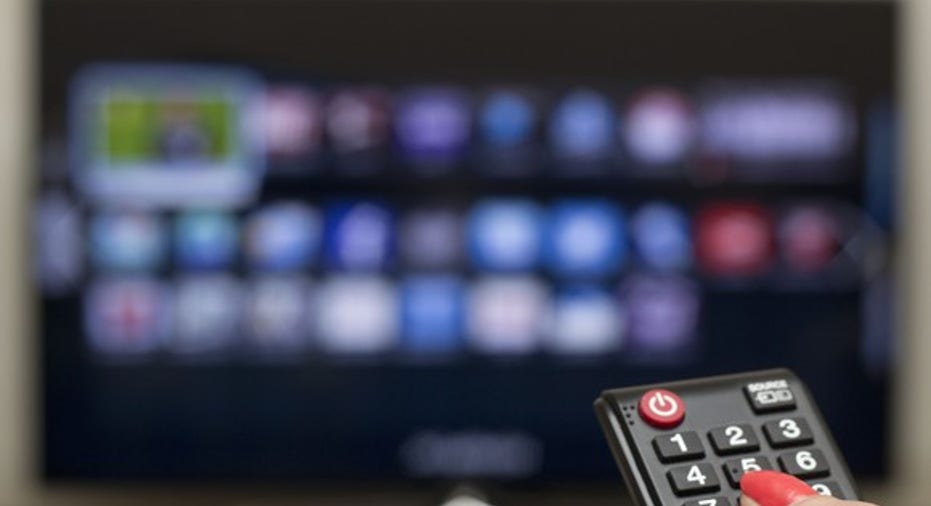 While he has only been with the company since mid-September, Frontier Communications' (NASDAQ: FTR) CFO Perley McBride hit the ground running, in part because he was familiar with the company from having done two previous stints there earlier in his career.
The new CFO has been a very public figure for the growing cable and internet company, and he continued that by representing Frontier at the UBS 44th Annual Global Media and Communications Conference. In his remarks (registration required), McBride talked about the company's immediate focus, and offered his thoughts on what will happen in 2017.
Frontier doubled in size with the Verizon deal. Image source: Getty Images.
1. Integration is not easy, but it's progressing
The CFO, who noted that the day of the speech was his 90th with his new employer, kicked things off by explaining that Frontier has faced difficulties in integrating its $10.54 billion acquisition of Verizon's (NYSE: VZ) wireline properties in California, Texas, and Florida (CTF). That deal, which completed on April 1, more than doubled the size of the company.
"The biggest thing is that there have been a number of challenges with the latest acquisition," McBride said. "We seem to be through those challenges with respect to integration and getting all of the onshoring of our call centers done."
2. New structure, more commercial revenue?
The CFO also noted that the company has changed some of its management structure to better reflect its growth after completing the Verizon deal. "What we've done there is separated the company into a consumer business unit and a commercial business unit," he said, calling the changes "critical" to Frontier's business.
Previously the company had a management setup based on regions. McBride added that he believed that the company's structure, as it stands post-Verizon CTF deal, required acknowledging that consumers and business customers behave very differently.
"With these changes, we have very high expectations from the commercial business group," he said. "It has been a very stable revenue stream, but we believe it should be growing."
3. More simple sales offers
One of the big challenges for Frontier is that in the two quarters it has owned the CTF territories, it has shown that it's not growing the subscriber base in those markets. That was to be expected in the second quarter, given that marketing efforts were shut off during the switchover and the period right after it. In the third quarter, however, the continued drop in customers was a cause for concern. McBride said that one way Frontier plans to address that problem is by simplifying its sales offers.
Traditionally, he said, the company's call centers worked down from trying to sell customers "everything" -- Frontier's top-tier packages. Now, "we've simplified the offers for the holiday season where they are just selling one or two products and trying to up-sell versus cascading down."
4. New marketing is coming
During the holiday season, McBride said, the company uses what he called "promotional marketing." The CFO noted that after the fourth quarter the company has to return to a "normal marketing cadence."
He explained that the company needs to become a constant presence in the territories it has taken over: "It doesn't have to be on television every night, but you do have to have constant interaction with consumers in the marketplace so they know that you're there."
The CFO also told the audience that the company's nearest-term metric was improving sales of its FiOS pay-TV/internet product. He said that the company expects to go from losses to gains in that segment "in the next couple of quarters," due, in part, to making a stronger marketing push.
"We expect to see continued improvement and get that back to positive," he said. "It is the best network in those markets ... We just stubbed our toe in the acquisition. I don't think it's lasting brand damage."
10 stocks we like better than Frontier Communications When investing geniuses David and Tom Gardner have a stock tip, it can pay to listen. After all, the newsletter they have run for over a decade, Motley Fool Stock Advisor, has tripled the market.*
David and Tom just revealed what they believe are the 10 best stocks for investors to buy right now... and Frontier Communications wasn't one of them! That's right -- they think these 10 stocks are even better buys.
Click here to learn about these picks!
*Stock Advisor returns as of Nov. 7, 2016
Daniel Kline has no position in any stocks mentioned. He wonders why Snoopy would have a snow-cone machine, as dogs don't really eat snow cones. The Motley Fool recommends Verizon Communications.
Try any of our Foolish newsletter services free for 30 days. We Fools may not all hold the same opinions, but we all believe that considering a diverse range of insights makes us better investors. The Motley Fool has a disclosure policy.