4 Stocks That Could Make You Rich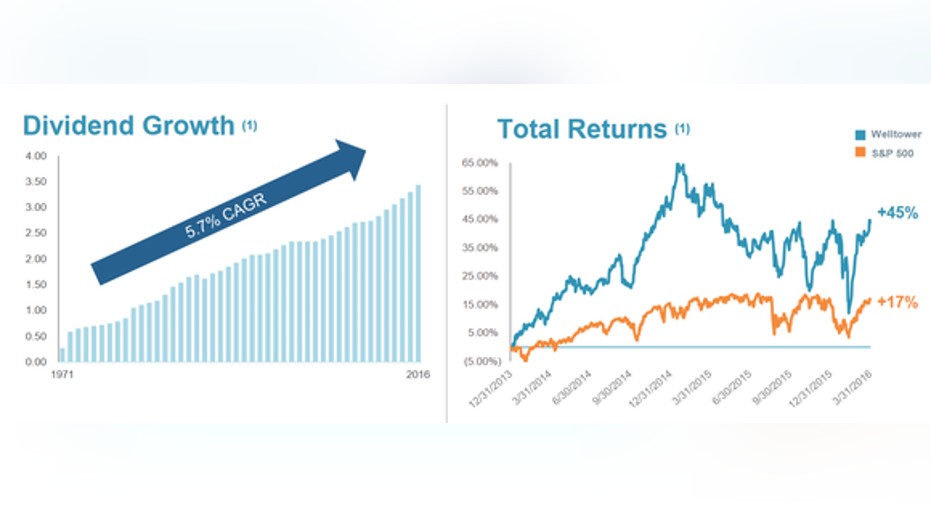 Image source: Getty Images
The vast majority of investors who become rich don't get there quickly -- rather, they consistently build wealth over long periods of time. Real estate investment trusts, or REITs, are one excellent way to do that, and healthcare real estate is a particularly strong investment opportunity right now. Here are four healthcare-focused REITs that could make you rich, and there are compelling reasons why now could be a great time to jump in.
Healthcare real estate's long-term potential
There are three main reasons I like healthcare real estate and the REITs that invest in it over the long run.
First, there will be an increase in demand over the coming decades, which implies that there will be tons of opportunity for development. The senior citizen population is projected to nearly double by 2050, which obviously means a greater need for senior housing properties, but will also result in an across-the-board need for all kinds of healthcare facilities -- hospitals, physicians' offices, long-term care, etc.
Source: HCP company presentation.
Second, healthcare costs have been rising at a faster rate than inflation, and there's no reason to believe this will change anytime soon. Since the value of commercial real estate is mainly derived from its ability to generate revenue, this implies that healthcare property values could grow more rapidly than other types.
Overall inflation rate vs. healthcare inflation rate in the U.S. Data by Ycharts.
Finally, the healthcare real estate industry is extremely fragmented. It is currently a $1 trillion industry, and no REIT has a market share of more than 3%. In addition to the growth opportunities I discussed, this means there will be lots of opportunities for consolidation in the years ahead.
Four great ways to play it
There are many REITs that invest in healthcare properties, but here are four of my favorite ways to invest in this high-potential market:
1. Welltower : A massive healthcare REIT with about 1,490 properties, Welltower is mainly focused on senior housing properties, with significant investments in post-acute and long-term care as well. Despite its size, Welltower is still growing at a rapid pace, with an average of $1.1 billion of investments per quarter over the past four years, including a particularly aggressive expansion into the U.K. and Canada.
Welltower was founded in 1970, and has one of the longest and most impressive growth records of any stock in any industry. Over its 45-year history, Welltower has produced an average 15.6% annualized total return and has increased its dividend by an average of 5.7% per year. To put this kind of sustained long-term performance into perspective, consider that a $10,000 investment in Welltower in 1970 would have ballooned to more than $6.8 million today. For this reason, Welltower is an excellent example of the long-term potential of a well-managed healthcare REIT.
Source: Welltower company presentation.
2. HCP, Inc. Another large REIT, HCP has had an interesting year so far. After reporting dismal fourth-quarter earnings that included an unexpected writedown at its HCR ManorCare unit, the stock plunged by more than 35% in the days following the announcement.
It seems as if the panic was a little unwarranted, as the stock steadily rebounded. Then, the company reported a solid first quarter and announced that it will be spinning off the troubled HCR ManorCare assets later this year in order to focus on its core property types. While there is admittedly some uncertainty here, I've written before that I believe this will lead to significant value creation for shareholders, and the stock's low valuation makes it an intriguing opportunity right now.
HCP data by YCharts.
3. Ventas, Inc. Ventas is another big player in the market, and is actually quite similar to Welltower in many ways. The majority of Ventas' portfolio is made up of senior housing, and most of its properties are located in high-barrier markets with above-average median incomes. Ventas is also still expanding rapidly, despite its size, with $5 billion in acquisitions last year.
Over the past decade, Ventas has significantly outperformed the other two big players in terms of both funds from operations (FFO) and dividend growth. However, over the long run, Ventas' performance is right on par with Welltower's in terms of total return.
Source: Ventas company presentation.
4. Medical Properties Trust : Although it's smaller than the other three companies listed here, there are several reasons to like Medical Properties Trust. For one thing, the company focuses on hospital properties, which produce better initial yields than other types of healthcare real estate. Over the past decade, Medical Properties' total return has tripled investors' money, so it's tough to argue with the investment strategy.
Medical Properties has a relatively high debt load for a REIT, but it makes up for it by having a lower valuation than peers, which I'll get to in a bit. Plus, at 6.2%, Medical Properties pays one of the sector's best dividend yields.
Healthcare real estate is cheap now
REITs are best valued by looking at their funds from operations, as opposed to net income or "earnings" that is typically used to value most other stocks. Here's a thorough explanation of why this is, but for now, let's just say FFO gives the clearest picture of a REIT's overall profitability.
With that in mind, price-to-FFO multiples for most sector-leading REITs are currently in the high teens to low 20s. For example, leading retail REIT Realty Income trades for 22.6 times 2016's estimated FFO, and apartment REIT Equity Residential trades for a P/FFO of 21.2.
In contrast, check out the valuations of these healthcare REITs:
| Company | Share price | 2016 FFO guidance | P/FFO (midpoint) |
| --- | --- | --- | --- |
| Welltower | $73.31 | $4.50-$4.60 | 16.1 |
| HCP | $34.70 | $2.76-$2.82 | 12.4 |
| Ventas | $63.37 | $4.07-$4.15 | 15.4 |
| Medical Properties Trust | $14.69 | $1.29-$1.33 | 11.2 |
Prices are current as of June 16, 2016, and adjusted or normalized FFO guidance is used when available. Data source: Company earnings releases.
Which to buy?
As I've said, I think all of the stocks mentioned here will be long-term winners, so I don't think you'll go wrong with any of them. Having said that, I tend to favor the larger names in the sector and have substantial positions in Welltower and HCP in my own retirement portfolio. However, I like to invest as opportunities come up -- for example, I added significantly to my HCP holdings after its dismal first-quarter results drove the share price down.
Finally, it's important to emphasize that these are cheaper than other REITs for a reason. Specifically, many healthcare facility operators have been struggling financially, and there is lots of political uncertainty surrounding future healthcare and Medicare legislation. While I believe that the industry will thrive over the long term despite any of these concerns, know that there is some chance for short-term volatility.
Having said that, I think that any of these four REITs could be an excellent addition to a properly diversified long-term portfolio, so take your pick.
The article 4 Stocks That Could Make You Rich originally appeared on Fool.com.
Matthew Frankel owns shares of HCP, Realty Income., and Welltower. The Motley Fool recommends Welltower. Try any of our Foolish newsletter services free for 30 days. We Fools may not all hold the same opinions, but we all believe that considering a diverse range of insights makes us better investors. The Motley Fool has a disclosure policy.
Copyright 1995 - 2016 The Motley Fool, LLC. All rights reserved. The Motley Fool has a disclosure policy.