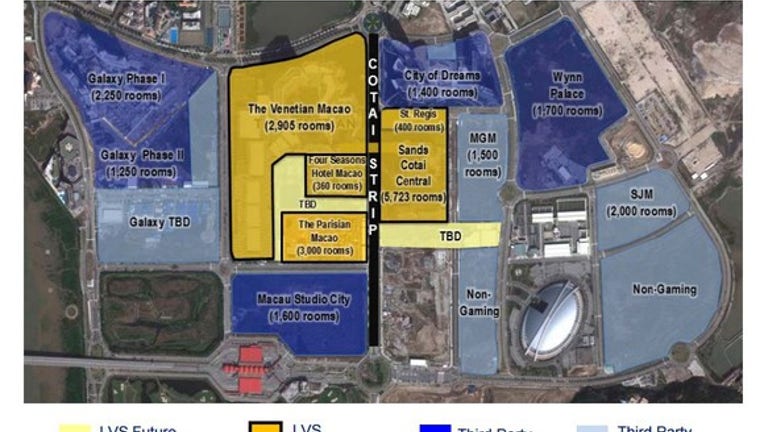 Over the past few years, shares of Las Vegas Sands (NYSE: LVS) have beenhit by ongoing probes and audits of junket operators in Macau, new capson ATM withdrawals in the region, andthe recent addition of facial recognition on ATMs by Union Pay. All these measures are part of ananti-corruption campaign started by the Chinese government in 2014 -- which sees Macau's casinos as a hotbed for unreported cash and money launderers.
However, I believe that these negative headlines have created a buying opportunity for Las Vegas Sands, which trades at a reasonable 25 times earnings and pays a generous forward dividend yield of 5%. Once these headwinds fade, investors will likely focus on the following four long-term strengths instead of any short-term weaknesses.
The Parisian Macao. Image source: Las Vegas Sands.
1. The ongoing recovery in Macau
After a painful three-year slump, gambling revenues in Macau -- which accounts for over halfof Sands' EBITDA -- roseyear-over-year for the ninth straight month with 16% growth in April. Aegis Capital anticipates 16% to 20% growth inMay.
For the full year, Fitch Ratings expects Macau's gaming revenue to risein the mid-to-high single digits, which would mark a solid rebound from its3% decline in 2016. That's why analysts expect Sands' revenue and earnings to respectively rise 8% and 11% this year.
Meanwhile, a shift from VIP gaming -- which is more vulnerable to Chinese crackdowns -- toward mass-market gaming should also provide more sustainable growth for Macau's casino operators. Moody's estimates that mass-market gaming revenues accounted for 44% of all gaming revenues across the region inthe first quarter of 2017, compared to just 27% in 2011.
2. The Parisian and new Macau properties
Sands faces a lot of competition in Macau from Wynn (NASDAQ: WYNN), MGM(NYSE: MGM), Melco (NASDAQ: MLCO), Galaxy, and SJM, but it remains the 800-pound gorilla of the Cotai Strip with four properties and two future developments.
Image source: Las Vegas Sands Investor Presentation.
The Parisian, which opened last September, is the latest addition to that central cluster. Sands reports that the Parisian has been ramping up since its opening, with sequential growth in mass gaming win and rolling chip volumes last quarter -- which generated $82 million in adjusted EBITDA for the property. Sands' growth in adjusted property EBITDA -- which is supported by its first-mover's advantage and superior scale -- has also outpaced all of its regional rivals since 2012.
Image source: Las Vegas Sands Investor Presentation.
3. The Hong Kong-Zhuhai-Macau Bridge
Las Vegas Sands CEO Sheldon Adelson has repeatedly statedthat Macau's growth is bottlenecked by transportation issues. Visitors from Hong Kong currently need to take a one-hour ferry to reach the region, but the trip should be reduced to a 20-minute drive once the Hong Kong-Zhuhai-Macau Bridge possibly opens atthe end of this year.
Once that route opens, it's likely that tour buses will start running the route between Hong Kong and Macau, while casinos might operate their own shuttle services between the two regions. In a news conference last September, Adelson stated that the bridge "will have the effect of giving Macau two airports" -- thus significantly boosting traffic to the company's high-end casinos.
4. Expansion opportunities beyond Macau
Sands also plans to expand to additional countries in the near future. At the top of that list is Japan, which is expected to draft procedures fordeveloping full-scale casino resorts by the end of the year.
Research firm Global Market Advisors estimates that a strip of full-scale gaming resorts on Osaka's Yumeshima Island could generate $10.9 billion in annual gaming revenues -- making it a top gaming destination alongside Las Vegas, Macau, and Singapore. That's why Adelson recently declared that his planned resort for the area could cost up to $10 billion -- compared to the$6 billion Sands spent on Marina Bay Sands in Singapore.
Other markets for potential expansion include Thailand, wherethe new king could reconsider the legalization of casinos, and Brazil, whichis reportedly interested in opening casino resorts to jump start its troubled economy via tourism.
It pays to bet on the house
Las Vegas Sands will likely experience near-term volatility due to capital controls and corruption crackdowns in China, but the company's long-term prospects look bright. Sands' reputation and scale give it an edge against its rivals in Macau, and it has plenty of ways to grow via new resorts, better transportation links, and overseas expansions.
10 stocks we like better than Las Vegas SandsWhen investing geniuses David and Tom Gardner have a stock tip, it can pay to listen. After all, the newsletter they have run for over a decade, Motley Fool Stock Advisor, has tripled the market.*
David and Tom just revealed what they believe are the 10 best stocks for investors to buy right now... and Las Vegas Sands wasn't one of them! That's right -- they think these 10 stocks are even better buys.
Click here to learn about these picks!
*Stock Advisor returns as of May 1, 2017
Leo Sun owns shares of Las Vegas Sands. The Motley Fool owns shares of and recommends Moody's. The Motley Fool has a disclosure policy.