4 Reasons to Buy GoPro Inc. Now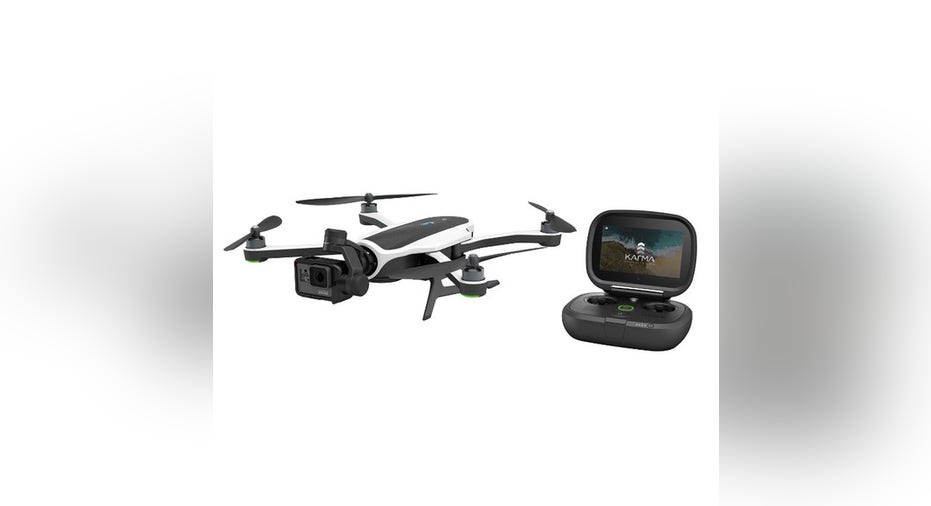 Few companies have been beaten up over the past year as much as GoPro Inc. (NASDAQ: GPRO), which has suffered from a series of self-inflicted wounds that cost it whatever confidence the market once had in it. Even after a restructuring and the successful launch of its new Hero 5 camera, the company's stock still hit a 52-week low on Monday.
Amid all of the bad sentiment, however, there are still reasons to like this stock. Here are the top five reasons investors should be taking advantage of this low to buy GoPro.
Karma drone with its remote. Image source: GoPro.
1. It has the pole position in action cameras
It shouldn't go unnoticed that GoPro has a significant lead over competitors like Garmin Ltd. (NASDAQ: GRMN) and Eastman Kodak Company (NYSE: KODK). GoPro had three of the top five digital imaging products, according to NPD in the fourth quarter of 2016, and its brand is synonymous with action cameras.
The action camera market isn't growing as quickly as it once was, but GoPro has a solid foundation upon which it can build. And below, I'll get to how it can leverage is action camera dominance to an expanded line of products.
2. No debt
Even after a couple of bad years, GoPro has a balance sheet most companies would envy. As of the end of 2016, it had $218 million in cash and equivalents and no debt. This reduces risk that the company will go bankrupt, and gives investors 100% of the upside if the company is able to turn things around.
In 2017, management is hoping to bring GoPro back to breakeven; if they can, it could bring a strong recovery to the stock. And with a strong balance sheet, the company doesn't have to tiptoe around debt maturities to stay afloat as it develops products for the future.
3. A drone that actually flies
The Karma drone was supposed to be GoPro's next great product in 2016. But after delays and an early recall, its sales have barely a blip on company's financial radar, except for costing millions to develop. Karma has been labeled a failure, but it has two notable features that few of GoPro's competitors can claim about their rival devices: It's for sale and it actually flies.
Many well-funded drone companies have failed to even launch aconsumer-market product, despite plenty of hype around the industry. The only others that have had any real success are DJI and Parrot, and neither of them have the consumer brand recognition that GoPro does.
The fact that GoPro has launched the Karma gives it something to build on. That's no small feat, and even if the next-generation Karma is only a small step forward, it could end up being a big market for the company.
GoPro Omni, a spherical image capture device. Image source: GoPro.
4. VR could be big
GoPro has quietly been building out an impressive VR offering with 360-degree and spherical cameras. They're on the higher end of the spectrum, but they give GoPro a leading position, and the software it's developing could prove valuable long term.
I think 2017 will be the year GoPro launches a reasonably priced VR camera that can capture immersive content and upload it to a growing number of VR apps. Long term, this could prove to be a camera segment that rivals the action camera market, and it's much less likely that this market will see its sales cannibalized by smartphones, which have taken some of the wind out of GoPro's sales.
5. There are opportunities ahead
If GoPro can execute, its stock could be a great buy for investors willing to hold it long term. Action cameras and a debt-free balance sheet are a foundation upon which drones and VR cameras can be built. It'll take years to see if the company can generate financial success from these markets, but if it can, the upside for the stock will be tremendous.
10 stocks we like better than GoProWhen investing geniuses David and Tom Gardner have a stock tip, it can pay to listen. After all, the newsletter they have run for over a decade, Motley Fool Stock Advisor, has tripled the market.*
David and Tom just revealed what they believe are the 10 best stocks for investors to buy right now... and GoPro wasn't one of them! That's right -- they think these 10 stocks are even better buys.
Click here to learn about these picks!
*Stock Advisor returns as of February 6, 2017
Travis Hoium owns shares of GoPro. The Motley Fool owns shares of and recommends GoPro. The Motley Fool has the following options: short January 2019 $12 calls on GoPro and long January 2019 $12 puts on GoPro. The Motley Fool has a disclosure policy.