4 Reasons Frontier Stock Could Fall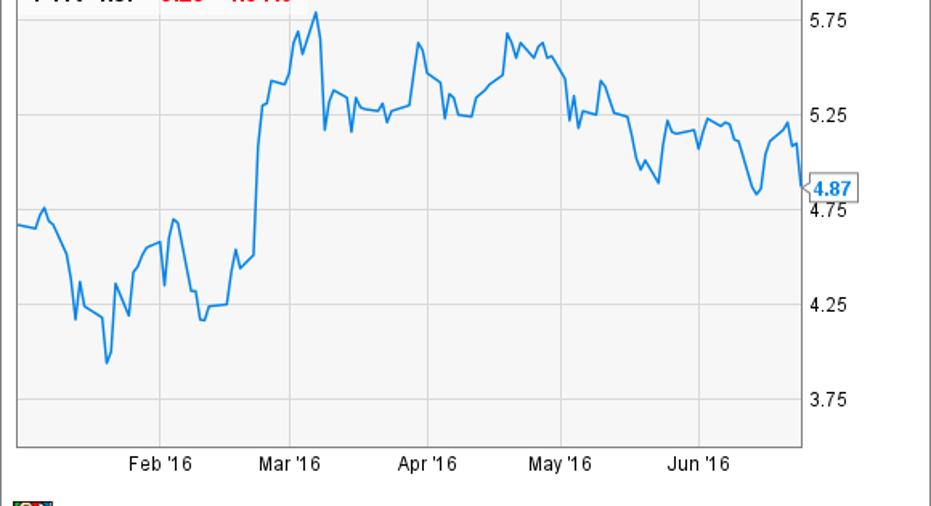 Frontier Communications has more than doubled in size with its purchase of Verizon's wireline customers inCalifornia, Texas, and Florida.
The $10.54 billion purchase was a necessary grow-or-die move. Frontier needed to get bigger, and buying 3.3 million voice connections, 2.1 million broadband connections, and 1.2 million FiOS video subscribers from Verizon accomplished that feat, but it comes with enormous risk.
Frontier has bought its way from very small player in the internet and pay-television spaces to a pretty small player. The company's purchase makes it the eighth biggest internet service provider (ISP) out of 17, according to Leichtman Research Group (LRG), though its 2.5 million subscribers put it well behind the behemoths at the top.
The challenge for Frontier is taking the next step. In its current position, the company still doesn't have the scale to really compete. It needs to get bigger, or it risks slowly bleeding away the gains it just paid dearly for. The company had to make the Verizon purchase, but that's just one perilous step on its journey toward becoming an ISP and pay-TV player.
Frontier still has a long way to go, and most signs suggest its stock will fall. Here's a look at four of the reasons to be against the brand.
Image source: YCharts.com.
1. People don't like Frontier
The biggest challenge facing the company may well be that, according to the 2016 American Customer Satisfaction Index (ACSI) Telecommunications Report (registration required), Frontier is the second least-liked company in America. As an ISP, Frontier scored a 56 on ACSI's 100-point scale. Only little-known Mediacom did worse, putting up a 54 as a pay-TV provider -- a category where Frontier is not yet ranked, though it probably will be in the 2017 report.
A 56 puts the company well behind the industry average of 65. That's a sadly low number in itself, which suggests that Frontier has poor customer service in an industry already well known for bad service. That doesn't bode well for its ability to hold on to Verizon's former customers or add new ones through word of mouth.
2. No rival wants the company
One of the big reasons a number of pay TV/internet stocks have popped over the past few years is actual or rumored interest by other companies in acquiring them. That may not happen for Frontier, because even though it has an enticing number of subscribers, much of its technology is of the older wireline variety.
It's possible to deliver top-tier TV and internet over the technology the company uses, but it's no longer state of the art. That's why Verizon wanted to sell the subscribers it did, and that might be a sort of poison pill for any potential suitor.
Frontier has a valuable subscriber base, but a bigger acquirer would probably want to migrate those users over to their networks. That would require a large capital investment on top of the price of buying Frontier.
3. Cable is a dying business
Pay television has been more resilient than expected, with cord-cutting being a slow-building phenomenon. Still, the major cable and satellite providers lost about 385,000 subscribers in 2015, according to LRG, up from 125,000 in 2015, and 105,000 in 2013.
People have so far not left pay TV in major numbers, but it's possible that things will change in the relatively near future. It's now relatively easy to cut the cord and still see most, if not all, of the programming people watch on a traditional cable subscription. At some point, it's possible that the combination of streaming choices and the predominance of set-top boxes in people's homes will cause a rapid increase in the number of people cutting the cord. If that happens, Frontier would be hurt badly, possibly irreparably.
4. Broadband customers will have better choices
Frontier has the major problem that in all its markets it's an alternative choice to a former monopoly player. The company already has to use price, promotions, and other gimmicks to get people to sign up. Going forward that could be even more of a challenge, as its larger rivals add fast fiber services and other players, such as Alphabet's Google, with its Fiber service, enter more markets.
That could leave Frontier as the slowest service on the oldest network. And that could force its prices down even further, cutting into margin, Even if no major players join the fray, Frontier already must face off with much bigger competitors, which, even if they devote the same percentage of revenue to research and development, will be spending dramatically more than the No. 8 ISP.
The article 4 Reasons Frontier Stock Could Fall originally appeared on Fool.com.
Suzanne Frey, an executive at Alphabet, is a member of The Motley Fool's board of directors. Daniel Kline has no position in any stocks mentioned. He is a relatively happy Frontier customer at his principal home and office (though the internet could be faster).. The Motley Fool owns shares of and recommends Alphabet (A shares), Alphabet (C shares), and Verizon Communications. Try any of our Foolish newsletter services free for 30 days. We Fools may not all hold the same opinions, but we all believe that considering a diverse range of insights makes us better investors. The Motley Fool has a disclosure policy.
Copyright 1995 - 2016 The Motley Fool, LLC. All rights reserved. The Motley Fool has a disclosure policy.