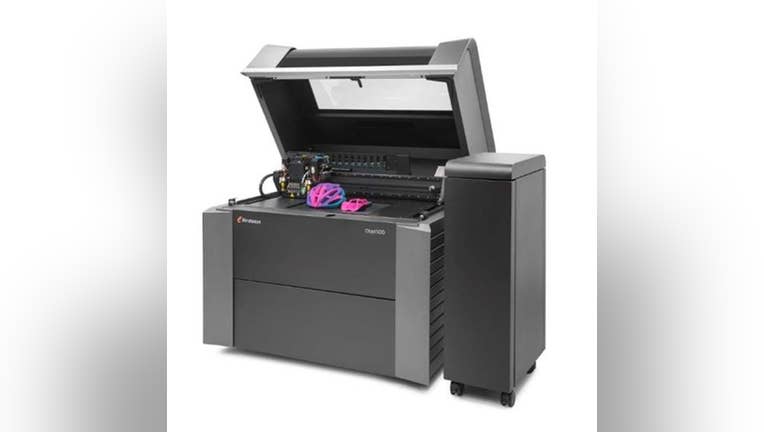 Stratasys reported its fourth-quarter and full-year 2015 results last week.In the quarter, the leading diversified 3D printing company continued to face the same macroeconomic challenges it's weathered throughout 2015. Its cost-savings efforts, however, led to adjusted earnings that crushed its guidance and analysts' estimates, and revenue that comfortably beat the consensus.
Shares of Stratasys soared 32% in the two days following the earnings release. Even with the post-earnings pop, Stratasys stock is down 55% over the one-year period through March 4. Shares of 3D Systemsrode on theirfellow industry bigwig'scoattails, rising nearly 7% on the day Stratasys released earnings. 3D Systems' stock is 57% in the red over the last year.
My purpose isn't to rehash the earnings results (you can read my take here), but to supplement the earnings release data with color from Stratasys' earnings call. Here are four things you should know.
The Objet500 Connex3 was the first 3D printer in the world to simultaneously 3D-print multiple colors and materials. Image source: Stratasys.
Average selling prices (ASPs) increased in core businessFrom CFO Erez Simha:
That core product ASPs increased was the top positive shared on the call, in my opinion, and reason for relief. Total and product gross margins declined in the quarter on both a sequential and year-over-year basis. These drops can occur for various reasons, though one of the most troubling is a decline in ASPs. While falling gross margins are never a good thing, a margin decline due to falling ASPs is particularly worrisome as it's indicative of a company losing pricing power.
This is just a small victory, however, and not reason to party like it's 2013. As Simha also noted, Stratasys had an easy year-over-year comparable because sales of its high-margin Connex line were particularly weak in Q4 2014.
The decline in gross margin was driven primarily by one-time items, including a large inventory write-off, as well as inefficiencies related to lower production volumes.
No notable changes in the market environment foreseen in 2016Said VP of Investor Relations Shane Glenn:
This one can be looked at both positively and negatively. The company doesn't see any further notable deterioration in the macroeconomic environment in 2016, though it also doesn't see any significant improvements. Stratasys, along with 3D Systems, experienced a major slowdown in purchasing among industrial customers throughout 2015. It has attributed this weak demand to overcapacity in the field due to the large number of 3D printers purchased during the previous few years.
Stratasys' 2016 guidance includes revenue in the range of $700 million to $730 million, representing year-over-year growth of 0.6% to 4.9%. CEO David Reis emphasized on the call that this slight revenue growth projection is due to the company's belief that its internal efforts will enable it to perform slightly better in 2016, not due to it projecting an improvement in the market environment.
A huge caveat: Reis emphasized that visibility into the company's 2016 prospects remains low.
MakerBot's quarterly performance and 2016 outlookSaid Simha:
Many investors likely wondered exactly how Stratasys' beleaguered desktop 3D printing unit performed in the quarter, as that data wasn't in the earnings release. MakerBot's poor showing was to be expected given the implosion that began in the fourth quarter of 2014.
Reis stated that the company expects "productivity improvements at MakerBot throughout 2016." However, that apparently doesn't mean that it foresees revenue notably increasing, as Simha later said, "There is no top-line improvement -- significant top-line improvement in MakerBot built into our guidance."
Results demonstrate the power of recurring revenue streamsFrom Simha:
Consumables revenue growth that's about flat and customer support revenue growth of 11% year over year are nothing to cheer about. Nonetheless, these figures still demonstrate how the company's razor-and-blades business model continues to generate recurring revenue from the installed base, even in a period of considerable negative growth (total revenue in the quarter decreased 20% from the year-ago period).
Though overall consumables growth declined about 1% in the quarter, there's little doubt that core consumables (excluding MakerBot) growth was at least flat and probably slightly positive. Moreover, it was even more positive from a constant-currency basis. (Simha didn't provide these two numbers as he did last quarter.)
A closing noteThere was no direct or veiled mention on the call of competitors, such as 3D Systems, or potential competitors, such as HP and well-funded start-up Carbon3D, both of which plan to launch super-speedy 3D printers for the enterprise market this year.
The article 4 Key Things From Stratasys' Q4 Earnings Call That Investors Should Know originally appeared on Fool.com.
Beth McKenna has no position in any stocks mentioned. The Motley Fool recommends 3D Systems and Stratasys. Try any of our Foolish newsletter services free for 30 days. We Fools may not all hold the same opinions, but we all believe that considering a diverse range of insights makes us better investors. The Motley Fool has a disclosure policy.
Copyright 1995 - 2016 The Motley Fool, LLC. All rights reserved. The Motley Fool has a disclosure policy.