4 Key Takeaways From Stratasys' Q1 Earnings Call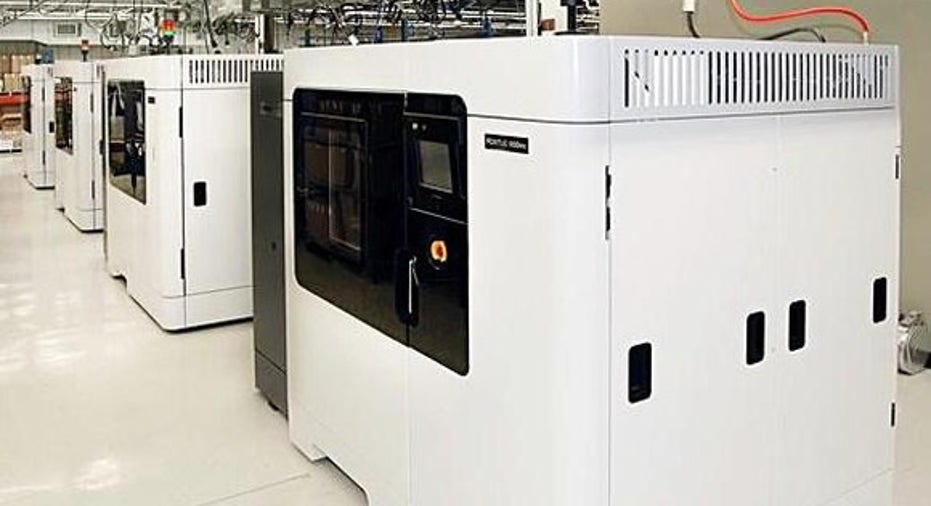 Stratasys Ltd. reported first-quarter 2016 results on Monday. The macroeconomic headwinds that the leading diversified 3D printing company and rival 3D Systems Corporation faced throughout 2015 continued in the quarter. However, cost-cutting efforts enabled Stratasys to turn in adjusted earnings per share of $0.01 -- much better than the $0.04 loss per share that analysts were projecting, though considerably worse than the $0.04 gain in the year-ago period. Revenue declined 3% year over year to $167.9 million, slightly beating analysts' expectations of $164.8 million.
Here are four key things investors should know from the analyst conference call.
Image source: Stratasys.
1.Recurring revenue streams chugged along.
From CFO and COO Erez Simha's remarks:
While Stratasys' results are still weak, they clearly demonstrate the power of its razor-and-blades business model, which results in recurring revenue streams generated from its installed base of 3D printers. Its two primary recurring revenue flows are consumables (print materials) and customer support revenue, which includes maintenance contracts on systems. These revenue streams are like gravy in good times and help provide a cushion for results in challenging times. It's worth a reminder that consumables have higher-than-company-average margins.
2. Use of installed enterprise 3D printers likely increased.
From CEO David Reis' response to a question:
Hats off to Citigroup analyst Ken Wong for asking a question that gets at the heart of Stratasys' -- along with 3D Systems' -- primary issue since the start of 2015: a major and widespread slowdown among enterprise customers in purchasing 3D printers. Stratasys had previously attributed the tepid demand to overcapacity in the field due to the large number of printers bought during the previous few years.
Reis noted that while it's difficult to break down the consumables growth (up 6% year over year) between an increased installed 3D printer base and increased use of existing installed printers, the company's analysis points to both factors being at play. If accurate, this is encouraging news, as it means that some of the excess capacity in the field is being worked off. If this trend continues, enterprise customers will eventually need to start buying new printers.
3. The desktop category presents both an opportunity and a challenge.
From Reis' remarks:
As 3D printing technology in general has advanced, so have the capabilities of desktop 3D printers, such as MakerBot's Replicator. These printers can now perform some of the functions that only enterprise-focused printers could in the past. This means that desktop printer sales are increasingly cannibalizing sales of higher-end models. However, management emphasized that it sees opportunities expanding for both MakerBot and its enterprise printer business because a greater number of entities are adopting 3D printing or are planning to expand their use of the technology.
Moreover, Stratasys sees opportunity for upselling. Management believes that a portion of customers dipping their feet into the 3D printing arena by buying a MakerBot printer will find that they eventually have needs and wants that go beyond the capability of a desktop unit.
4. More outsourcing (beyond MakerBot) is possible.
From Reis' response to a question:
As background, MakerBot announced last month that it had contracted with global contract manufacturerJabil Circuitto manufacture its 3D printers. This outsourcing is a wise business move, as I've previously opined, as it provides MakerBot with the flexibility to scale manufacturing up or down based on demand without incurring the considerable fixed costs involved in running a production facility.
Stratasys' management shared on the call that additional outsourcing is on the table. This could be a good thing for the same reasons just stated with respect to MakerBot. However, Stratasys needs to be particularly careful about using other companies to manufacture its enterprise printers. Unlike 3D Systems, whose enterprise printers have experienced some quality issues relatively recently, Stratasys has a good record on this front.
The last thing it needs after the MakerBot implosion -- which was set off by widespread quality issues -- is for its enterprise printers to experience a similar scenario. But if the outsourcing and quality control procedures are done right, additional outsourcing could be a positive, as it should help improve the company's bottom line.
The article 4 Key Takeaways From Stratasys' Q1 Earnings Call originally appeared on Fool.com.
Beth McKenna has no position in any stocks mentioned. The Motley Fool recommends 3D Systems and Stratasys. Try any of our Foolish newsletter services free for 30 days. We Fools may not all hold the same opinions, but we all believe that considering a diverse range of insights makes us better investors. The Motley Fool has a disclosure policy.
Copyright 1995 - 2016 The Motley Fool, LLC. All rights reserved. The Motley Fool has a disclosure policy.