4 Key Quotes From Procter & Gamble Co.'s Earnings Call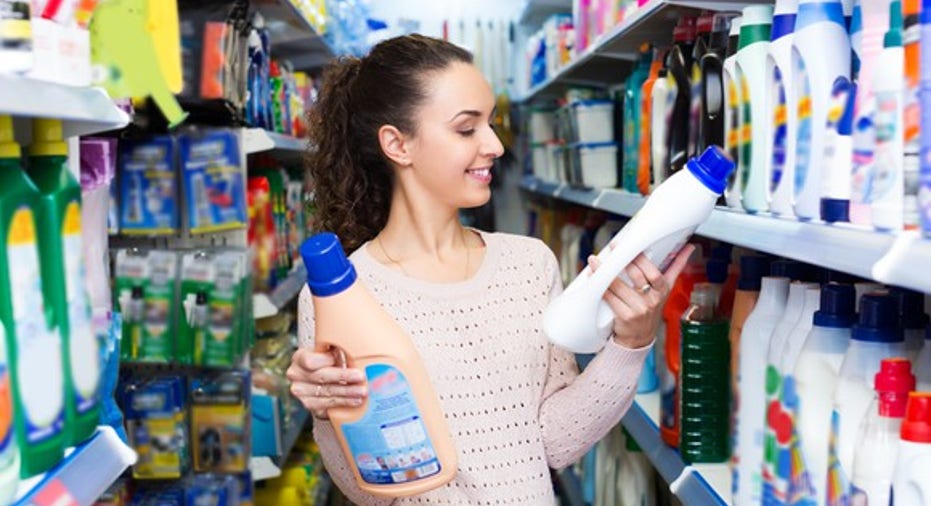 Procter & Gamble (NYSE: PG) last week announced earnings results for its fiscal third quarter. And, while the consumer goods giant didn't lower its sales growth outlook, it warned investors about slowing industry trends that will keep pressure on revenue and profits.
Chief Financial Officer Jon Moeller held a conference call with investors after the announcement to add context to those issues. Here are the key highlights from that chat.
1. A weak industry gets weaker
P&G saw its organic sales growth slip to a 1% rate after two straight quarters of surprisingly strong gains. The pinch happened both in its core U.S. market, where sales growth was cut in half compared to the prior quarter, and in developing markets, which saw their expansion pace fall to 4% from 5%.
Image source: Getty Images.
P&G said a few factors combined to drag results down in the U.S., including delayed tax returns, rising gas prices, and bad weather. Executives also noted what looked like a delay on the part of consumers in restocking their homes with consumer staples. Globally, the industry's growth slowed to a 2% pace from 3% in the first half of the fiscal year.
2. Volume led growth
On the bright side, P&G managed volume-led sales gains as pricing held flat, which set it apart from peers. In contrast, Kimberly-Clark (NYSE: KMB) competes with the company in the key diaper segment and endured a 1% drop in organic sales as it managed slightly higher volume at the expense of a significant decline in prices. Kimberly-Clark lowered its full-year outlook to just below 2% while P&G held its target in place, calling for between 2% and 3% organic gains.
P&G said a 30% boost in e-commerce sales played a key role in this outperformance last quarter as the online segment grew to represent 5% of the business.
3. Cutting costs on packaging
Moeller said P&G is dealing with an "unprecedented amount of geopolitical disruption and uncertainty, which is affecting market growth, currencies and commodities." In that context, the company is looking to dramatically reduce its expense structure to help keep profits churning higher.
Executives have identified $7 billion of savings opportunities in the cost of goods sold line item -- on top of the $7.3 billion they've cut out since fiscal 2012.
PG Cost of Goods Sold (TTM) data by YCharts.
The single biggest element of that cost plan is in packaging materials, where P&G sees $4.5 billion of savings coming through things like raw material supplier consolidation and the simplification of production lineups.
4. Things could get worse before they get better
P&G's short- and long-term challenges imply weak but steady growth. But, because the company outperformed management's expectations in the first half of the year, the latest slowdown didn't require a downgrade. The company still sees organic gains coming in at 2% to 3%, to put it just ahead of Kimberly-Clark and behind Unileverand its expected 4% gain. At the same time, P&G's management admitted that -- three-quarters of the way through the year -- they're tracking at the low end of their target range.
P&G's main growth focus is on launching what executives called "irresistibly superior products." They cited Tide Pods and Downy scent beads as two good examples; both franchises are driving industry-thumping sales and profitability boosts more than five years from their introduction.
In the current selling environment, without a string of new hits like these, whether they come from fresh products or upgrades to existing brands, P&G's industry segments will likely stagnate as its market share declines.
10 stocks we like better than Procter & GambleWhen investing geniuses David and Tom Gardner have a stock tip, it can pay to listen. After all, the newsletter they have run for over a decade, Motley Fool Stock Advisor, has tripled the market.*
David and Tom just revealed what they believe are the 10 best stocks for investors to buy right now... and Procter & Gamble wasn't one of them! That's right -- they think these 10 stocks are even better buys.
Click here to learn about these picks!
*Stock Advisor returns as of April 3, 2017
Demitrios Kalogeropoulos has no position in any stocks mentioned. The Motley Fool recommends Kimberly-Clark and Unilever. The Motley Fool has a disclosure policy.