4 Important Charts for TrueCar, Inc. Investors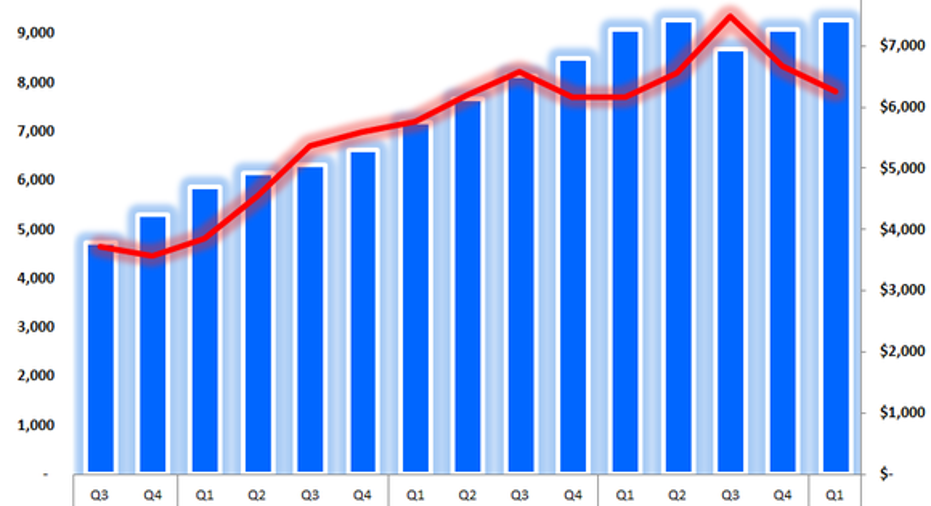 TrueCar has numerous question marks revolving around its business. These queries, inevitably, have left investors wondering about TrueCar's potential to rebound from its shares shedding nearly 60% of its value over the past twelve months.
The truth, strangely, is more cut and dry: its relationship with dealerships is a work in progress, and its growth story has screeched to a halt. Let's take a look at first-quarter results, and a handful of graphs that put long-term context around those results to get a clear picture.
Q1 highlights Before we hit some important graphs, let's review highlights from the company's first quarter. Revenue increased 6% from the prior year's first quarter to $61.9 million. TrueCar's net loss widened from $11.6 million last year to $11.7 million during the first quarter -- both equate to a loss of $0.14 per share. Its first-quarter adjusted EBITDA was $1.1 million with a 1.7% margin, compared unfavorably to last year's first-quarter adjusted EBITDA of $4.3 million with a 7.3% margin. The adjusted EBITDA figure equates to a loss of $0.07 per share, which met analysts' estimates.
But the real story here is slowing growth, and what management can do to turn the business around.
Sequential vs year-over-year TrueCar's average monthly unique visitors increased 21% over last year's first quarter to 6.7 million. And, as you can see in the graph below, there is a seasonal factor to consider.
Chart by author. Information source: TrueCar earnings presentations.
Typically, there is a slowdown in visits and units sold during the fourth quarter, which has historically rebounded strongly in the following first quarter. You can see that play out in 2013 and 2014; however, despite the number of visitors rebounding during this year's first quarter, sales units moved lower sequentially. Sure, the year-over-year units sold figure increased, but it fell short of my expectations -- for whatever that's worth. Here's another graph that further displays TrueCar's growth over the past few years.
Chart by author. Information source: TrueCar earnings presentations.
Now, to be fair, as a company sells more units over time, the comparisons become more difficult, and year-over-year increases become smaller. However, with that said, only a few years after going public TrueCar's year-over-year units sold growth has screeched to a halt, with the first quarter increasing 4% over the prior year. It's not fair to expect TrueCar to continue posting huge gains as it did during late 2013 and early 2014, but it is fair to expect upper-single-digit growth -- after all, it's still a young company.
Another graph investors should keep tabs on in the long term: the franchise dealer count versus transaction revenue per franchise dealer. When AutoNation and TrueCar ended their business partnership last year, I said TrueCar had a little leverage because its number of transactions wouldn't change from losing AutoNation dealerships. Rather, TrueCar would send its consumers to another close dealership within its network. That scenario played out in the third quarter, when TrueCar's dealership count declined but its revenue per dealership increased.
Chart by author. Information source: TrueCar earnings presentations.
Now that TrueCar has again increased its dealerships to near 9,300, its revenue per dealer has dipped lower. However, over the long term it's still at a pretty high level; investors will want to watch this going forward, because TrueCar's relationship with dealerships depends on its ability to generate incremental revenue for them -- the more per dealer, the better.
All in all, the company's first quarter wasn't a disaster, but it's still a long way away from recovering to what it was a year ago.
Looking ahead, TrueCar anticipates its revenue to check in between $64 million and $66 million during the second quarter, with its adjusted EBITDA between negative $2 million and negative $3 million. Further, for the full year, it anticipates revenue to check in between $270 million and $275 million, and adjusted EBITDA to be zero.
While those figures will be important, it will be equally important for investors to hear what management has to say about its recent "Pledge to Dealers," and how that is or isn't improving its business with dealerships and consumers. The rest of 2016 will be very telling about whether TrueCarcan turn things around.
The article 4 Important Charts for TrueCar, Inc. Investors originally appeared on Fool.com.
Daniel Miller owns shares of TrueCar. The Motley Fool recommends TrueCar. Try any of our Foolish newsletter services free for 30 days. We Fools may not all hold the same opinions, but we all believe that considering a diverse range of insights makes us better investors. The Motley Fool has a disclosure policy.
Copyright 1995 - 2016 The Motley Fool, LLC. All rights reserved. The Motley Fool has a disclosure policy.