4 Cheap High-Yield Dividend Stocks You Don't Have to Babysit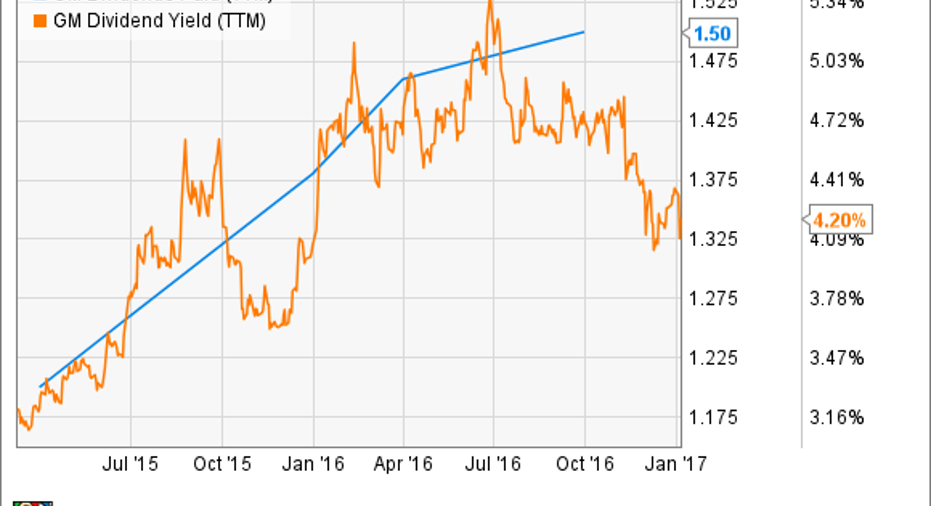 Income-focused investors are constantly on the hunt for stocks that offer highyields, low valuations, and durable business models that can be counted on in good times and bad. While very few stocks are capable of satisfying all of those requirements, there are a handful of businesses out there that match those criteria perfectly.
Want proof? Read on to see why ourteam of Fools believes that National Health Investors (NYSE: NHI),Brookfield Renewable Partners(NYSE: BEP), Verizon Communications (NYSE: VZ),andGeneral Motorsfit the bill.
Image source: Getty Images.
Make your portfolio a little healthier
Dan Caplinger (National Health Investors): Real estate investment trusts can be a good area to find high-yielding dividend stocks with relatively low-maintenance business models, but you have to know the particular space in which a REIT operates to see if its fundamentals are solid. National Health Investors specializes in providing financing for senior housing and medical facilities, including independent and assisted living facilities, memory care communities, skilled nursing facilities, medical office buildings, and specialty hospitals. Through sale-and-leaseback transactions, joint ventures, and standard debt and equity financing, National Health Investors has a portfolio of more than 200 properties across the nation and has strong relationships with operating companies to make the most of its facilities.
For investors, a yield of nearly 5% is obviously attractive, but equally important is National Health Investors' growth over time. For 14 straight years, NHI has boosted its regular dividend distributions, and it has also regularly supplemented those payouts with additional amounts as well. The demographics of the U.S. population will require more senior housing in the future, and NHI is well-positioned to provide it. With so much going for its business, National Health Investors is a good way to get regular income without having to keep tabs on the company on a daily basis just to make sure things are going well with your investment.
Just sit back and collect the cash flow
Matt DiLallo (Brookfield Renewable Partners): With a current yield of 6.2%, Brookfield Renewable Partners certainly checks off the high-yield box. Further, while may high-yield stocks appear cheap because of question marks about the sustainability of the payout, this is not the case with the hydro and wind power operator. That's because Brookfield Renewable Partners derives 90% of its cash flow from secure long-term contracts, pays out only 70% of its income through distributions, and has an investment-grade balance sheet. It's due to this firm financial footing that investors won't need to keep a close eye on this investment.
However, despite its lucrative yield and healthy financial condition, Brookfield Renewable's units are cheap compared with the underlying value of its asset base:
Source: Brookfield Renewable Partners inventor presentation.
As that slide shows, the assets Brookfield owns typically trade for a higher value in the market than investors currently value the company's units. In other words, if the company were to replicate its business on the open market, it would need to pay between $34 and $42 per unit to do so, implying that its current sub-$30 per unit price vastly undervalues the franchise.
Add it all up, and Brookfield Renewable Partners offers investors the potential for strong capital appreciation and a growing income stream without the potential headaches often associated with high-yield or value plays.
Ringing up profits
Brian Feroldi(Verizon Communications): Investors who seek safety, yield, and income should really consider giving Verizon a hard look.
With more than 143 million wireless subscribers on its network, Verizon enjoys the enviable position of being thetop dog in the U.S. cellular market. That massive subscriber base allows Verizon to crank out far more cash flow than its smaller rivals even as it vastly outspends them on network upgrades. That means shareholders can rest easy knowing that the company will maintain its lead and be able toreturn huge amounts of cash to them each year.
Better yet, despite its mammoth size, the company stands a good chance at putting up modest growth over the long term. My bullishness stems from Verizon's recent actionsto get a foothold in the growing Internet-of-Things trend. With billions of devices set to come online over the coming years, Verizon is investing now to carve out its share of the market.
Image Source: Getty Images.
Down the road, the rollout of 5G connectivity could also help get the company's top line growing. After all, 5G connectivity promises to be so fast that it could cause some consumers to ditch their cable provideraltogether and simply useultra-fast wireless connections for home broadband.
While we wait for those growth trends to play out, investors can sit back and enjoy the company's steady cash flow production and ever-rising rising dividend. With shares trading for only 15 times trailing earnings and offering up a juicy yield of 4.4%, Verizon is an income stock that has it all.
Negativity is priced into this automaker
Daniel Miller(General Motors): Despite the many stipulations this article sets forth, General Motors is probably one of the few that entirely fits the bill. Let's tackle the stipulations one at a time.
First up: cheap. It's no secret that General Motors has been posting record EBIT-adjusted profits recently. In fact, since the fourth quarter of 2015 to present, it's set a record for that individual quarter and topped it by an all-time quarterly record during the second quarter of 2016. However, rather than valuing GM with a higher price relevant to those increasing profits, the market has left the stock price stuck in neutral, which has sent its price-to-earnings multiple into the low single digits.
GM PE Ratio (TTM) data by YCharts
Next up: high yield. This one goes hand-in-hand with "cheap," and thanks to GM's willingness to continue increasing its dividend over the past two years, at a time its stock price hasn't budged much, its yield has blossomed to roughly 4.3% -- which is lower than it's been recently thanks to a small post-election rally.
GM Dividends Paid (TTM) data by YCharts
Last up: babysitter not required. This might be the toughest stipulation, at least for many investors, when it comes to General Motors. However, the company has done an incredible job of making better and more efficient decisions. Its fleet sales accounted for under 20% of total sales this year, a very low level historically. It also has plans to substantially reduce its number of global platforms, and it has a goal to keep a cash pile of $20 billion on hand for rainy days.
As we march through 2017, GM will need to again prove it can continue to balance inventory and keep a lid on incentive spending, all while investing intelligently for the future of autonomous vehicles and smart mobility projects. But for now we have to give management the benefit of the doubt that no babysitter is required after an impressive post-bankruptcy turnaround.
10 stocks we like better than Verizon Communications When investing geniuses David and Tom Gardner have a stock tip, it can pay to listen. After all, the newsletter they have run for over a decade, Motley Fool Stock Advisor, has tripled the market.*
David and Tom just revealed what they believe are the 10 best stocks for investors to buy right now... and Verizon Communications wasn't one of them! That's right -- they think these 10 stocks are even better buys.
Click here to learn about these picks!
*Stock Advisor returns as of January 4, 2017
Brian Feroldi has no position in any stocks mentioned. Dan Caplinger has no position in any stocks mentioned. Daniel Miller owns shares of General Motors. Matt DiLallo owns shares of Brookfield Renewable Energy Partners and Verizon Communications. The Motley Fool recommends General Motors and Verizon Communications. The Motley Fool has a disclosure policy.