4 Charts That Explain CyberArk Software Stock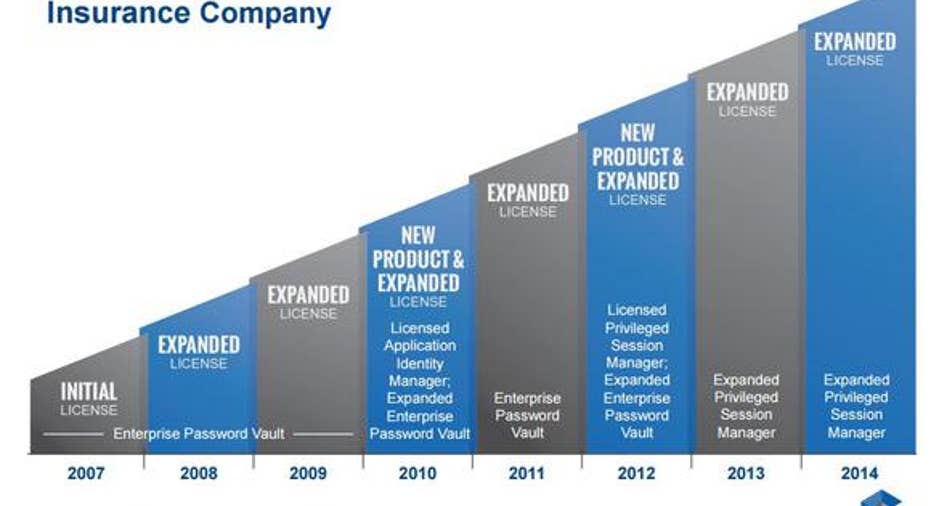 CyberArk Software recently posted solid first quarter earnings which indicated that demand for its privileged account solutions was soaring. Revenue rose 42% annually to $46.9 million, beating expectations by $3.5 million. Non-GAAP net income rose 46% to $8.3 million, or $0.23 per share, topping estimates by seven cents. GAAP net income rose 2% to $4.3 million, or $0.12 per share.
Those solid numbers helped CyberArk stock stay afloat on May 6 after FireEye dragged down multiple cybersecurity stocks with a sales miss followed by weak guidance for the current quarter and full year. In a previous article, I discussed four reasons CyberArk was a compelling buy: its "best in breed" reputation in privileged account protection, its widening moat, its consistent profitability, and its buyout potential. Today, we'll discuss four key charts from CyberArk's recent investorpresentation to better understand the company's future.
1. CyberArk dominates its nicheCyberArk's greatest strength is that it dominates the privileged accounts niche of the cybersecurity market. Many cybersecurity companies focus on securing the external perimeter with threat prevention solutions or firewalls, while larger IT companies offer monitoring solutions within the network. CyberArk, however, counters hackers who gain access to privileged employee accounts to steal data.
Image source: CyberArk investor presentation.
Almost 8% of all data breaches in 2015 were caused by the misuse of privileged accounts, according to Verizon's Data Breach Investigations Report. That might only seem like a small slice of the cybersecurity pie, but CyberArk doesn't face much competition in that space. Research firm IDC calls the company the "PAM (privileged account management) pure-play 'big gorilla' with the most revenue and largest customer base."
2. "Land and expand" business modelCyberArk uses a "land and expand" model to generate more revenue from each customer. For example, the company first sells a customer an initial license for its enterprise password vault product. That license can be expanded as the business grows, and CyberArk will offer new services on top of the original license, like its licensed application identity manager and expanded privileged session manager services.
Image source: CyberArk investor presentation.
This case study of an insurance company illustrates how the "land and expand" model works. If customers keep following this path, revenue becomes stickier over the years and widens CyberArk's moat against potential challengers.
3. Who are CyberArk's customers?CyberArk has over 2,500 customers worldwide. They include 40% of the Fortune 100, 20% of the Global 2000, and 17 of the 20 biggest banksin the world. Most of its revenue comes from the U.S. and its biggest clients are in financial services. However, the company also has a growing presence in other regions and sectors.
Image source: CyberArk investor presentation.
CyberArk's heavy exposure to the financial and healthcare sectors complements Verizon's report, which lists those two sectors -- along with the public sector -- as those most prone to insider and privilege misuse. Verizon notes that "disgruntled insiders" are major threats since they're already behind company firewalls. In addition to protecting these privileged accounts, CyberArk also isolates an account or computer if it detects a breach.
4. Solid sales and earnings growthCyberArk's dominance of a rapidly growing niche market translates to robust sales and earnings growth. This chart illustrates its revenue and non-GAAP operating income growth over the past five years.
Image source: CyberArk investor presentation.
The company finished last year with a non-GAAP operating margin of 27% -- up from 21% in 2014 and 14% in 2013. CyberArk's non-GAAP net income rose from $8.5 million in 2013 to $35.3 million in 2015.
CyberArk is also profitable on a GAAP basis, while many of its industry peers aren't. Palo Alto Networks' GAAP netloss narrowed from $226.5 million to $165 million between 2014 and 2015, while FireEye's GAAP netloss widened from $443.8 million to $539.2 million. Both companies reported big annual increases in stock-based compensation in 2015. CyberArk's stock-based compensation expenses also rose, but they claimed just 4% of its overall revenues in 2015.
Should you buy shares of CyberArk?Shares of CyberArk have fallen nearly 40% over the past 12 months due to concerns about enterprise spending and competition from larger IT companies. However, its strong control of a niche market, robust growth figures, responsible spending, and built-to-last business model indicates that CyberArk shouldn't have been sold off with its industry peers.
The only drawback is that CyberArk's forward P/E of 36 looks a bit high for a companywhich is expected to post 26% earnings growth this year. Therefore, investors should patiently buy some shares on the dips to average into this volatile but promising stock.
The article 4 Charts That Explain CyberArk Software Stock originally appeared on Fool.com.
Leo Sun owns shares of CyberArk Software and Verizon Communications. The Motley Fool owns shares of and recommends FireEye and Verizon Communications. The Motley Fool recommends CyberArk Software. Try any of our Foolish newsletter services free for 30 days. We Fools may not all hold the same opinions, but we all believe that considering a diverse range of insights makes us better investors. The Motley Fool has a disclosure policy.
Copyright 1995 - 2016 The Motley Fool, LLC. All rights reserved. The Motley Fool has a disclosure policy.