4 Big-Brand Investing Tips That Could Earn You Thousands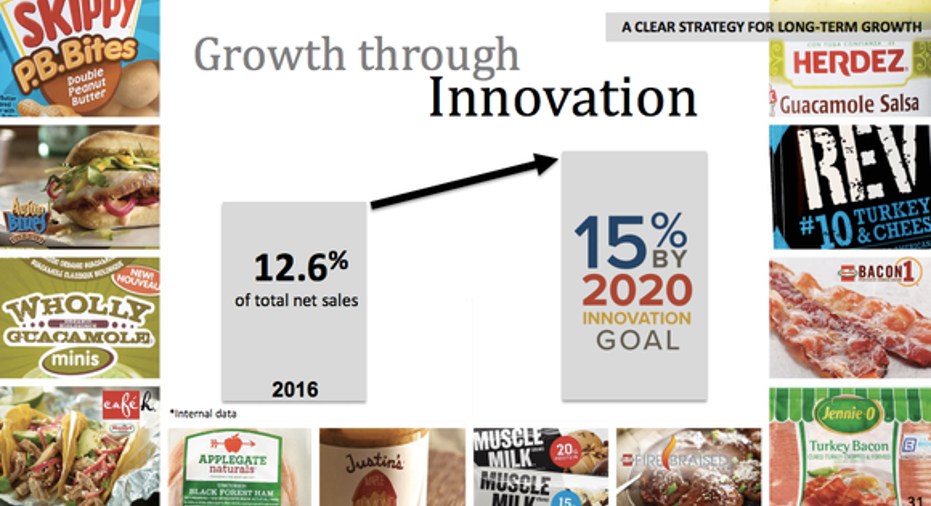 You've no doubt heard of General Motors, Kodak, Hormel Foods (NYSE: HRL), and L Brands (NYSE: LB). Well, you might not know the name L Brands, but you probably have heard of at least its Victoria's Secret brand. And you might be excited to learn that you can buy stock in any of these big-brand names as each is publicly traded on the stock market.
But a big name isn't enough to build an investing thesis on. Let's take a look at four big-brand investing tips using these four stocks to help make the points.
1. There's more to a company than a name
Ever heard of General Motorsor Kodak? I know you have; they are storied companies with incredible brands and histories...and shareholders of each were wiped out when these big-brand companies took their respective trips through bankruptcy court.
Image source: Hormel Foods.
GM and Kodak are different companies today, but the real takeaway here is that, even if you know the name, you should understand a company's business before you buy its stock. For example, L Brands owns the Victoria's Secret, Bath & Body Works, PINK, La Senza, and Henri Bendel brands -- and you probably know at least a couple of those names -- and its stock offers an impressive 4.5% dividend yield. Yet it's struggling with sluggish sales as consumers buy more online and less at malls.
Before buying shares, investors should understand how the businesses are under pressure. Otherwise, you might be sideswiped by bad news that you could have seen coming. You have to get past the brand name to see the full picture.
2. Change should be a constant
One of the problems big brands often succumb to is complacency. Take Kodak, the famed photo company that saw its business destroyed by digital photography. Kodak actually invented the digital camera, but it didn't pursue it because its film business was so lucrative. In hindsight, that was a disastrous choice.
You can see some retail companies falling behind in the same way today as sales have shifted online and they have failed to make the move quickly enough to meet shoppers where they are. What should you be looking for? Try to find companies that are always looking to get better in some way.
Hormel is a good example. This company is best known as the maker of Spam, but were you aware that it recently added Muscle Milk, Wholly Guacamole, and Justin's nut butters to the mix? These are up-and-coming brands that fit more closely with changing consumer tastes. The company is giving people the products they want as they try to eat more nutritious foods. Basically, Hormel is shifting with the market so it stays relevant.
Innovation is a constant for Hormel. Image source: Hormel Foods.
If you focus on companies that are always looking to be better, you're more likely to see increasing share prices over time.
3. Low debt loads can make all the difference
Change is easier if you have a reasonable debt load. One of the core reasons I own Hormel stock is because long-term debt makes up just 5% of its shareholders' equity. That allows the company to branch out into new areas without having to worry about whether it can afford the investment.
Compare that to L Brands, which has negative shareholder equity. L Brands recently reported $5.7 billion in long-term debt compared to $1.9 billion in cash and cash equivalents. With debt at high levels, L Brands' ability to adjust to the changing marketplace is constrained. It's an important piece of information that makes the changing retail landscape more concerning -- and the stock's hefty dividend less secure.
HRL Times Interest Earned (TTM) data by YCharts.
4. Focus on dividends
One of the ways to quickly find big-brand stocks worth looking at is by examining their dividends. L Brands has increased its dividend for six consecutive years. That's not bad, but nowhere near as impressive as Hormel's 51-year streak. For reference, Kodak no longer pays a dividend, and General Motors' current dividend streak is only three years long.
The reason to focus on a long history of regularly increased dividends is that it shows a commitment to shareholders and improving performance. Indeed, a company can only increase its dividend over the long term if its business is doing reasonably well. You can't expect a company to do well every year, but looking at dividends will help you identify the cream of the crop. And, of course, you get to collect that growing income stream along the way, too.
Names matter, but not always
In the end, you can't just buy a company based on its name alone. There are other factors you have to consider, including the business it's in and the business environment it's dealing with. The company's ability to change over time is another key factor, since the world never sits still. Financial stability, meanwhile, is what allows a company to prosper in good times and bad since it allows the company the flexibility to change. And dividends are a great way to quickly identify the companies you'll want to consider.
These tips may sound basic, but they are easy to forget. Remembering these tips and applying them could help you earn thousands by pointing you in the direction of strong companies that will pay out dividends and see their stock prices rise over the years.
10 stocks we like better than Hormel FoodsWhen investing geniuses David and Tom Gardner have a stock tip, it can pay to listen. After all, the newsletter they have run for over a decade, Motley Fool Stock Advisor, has tripled the market.*
David and Tom just revealed what they believe are the 10 best stocks for investors to buy right now...and Hormel Foods wasn't one of them! That's right -- they think these 10 stocks are even better buys.
Click here to learn about these picks!
*Stock Advisor returns as of May 1, 2017.
Reuben Brewer owns shares of Hormel Foods. The Motley Fool has no position in any of the stocks mentioned. The Motley Fool has a disclosure policy.