4 Best Stocks to Invest in Drones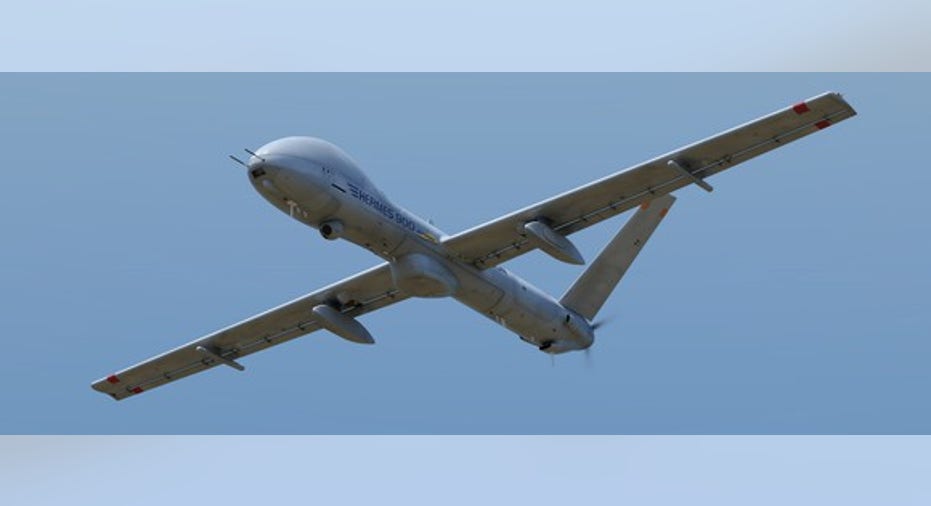 Image source: Elbit Systems.
Sales of unmanned aerial vehicles -- drones -- will exceed $12 billion in 2021, according to Business Insider, up from just over $8 billion last year. Consumer demand will surge, spurned on by new technologies and an improving regulatory environment. At the same time, drone-related military spending will remain elevated.
The coming drone revolution offers investors an opportunity. It's difficult to predict who will benefit the most from drones, but a few companies appear well-positioned. The following four stocks give investors a way to add drone exposure to their portfolios.
AeroVironment manufacturers drones for the military
Last quarter, almost 90% of AeroVironment's (NASDAQ: AVAV) revenue came from the sale of drones. The company manufactures a variety of them for the U.S. military. Most of its drones are fairly small, and can be carried by troops to the front lines of combat. AeroVironment's Raven, for example, weighs just 4.2 lbs and has a wingspan of only 4.5 feet. It's a reconnaissance machine, intended to aid in scouting and information gathering. AeroVironment's Switchblade is small enough to fit in a backpack and can be used like a missile.
Despite the increasing popularity of combat drones, AeroVironment hasn't enjoyed much sales growth in recent years. Its drone-related revenue actually contracted 3.5% on an annual basis last quarter. The potential for the company, and by extension its stock, may lie with corporations rather than the Department of Defense.AeroVironment's management has been vocal about its desire to use its drones in commercial endeavors. Currently, it's targeting four industries for deployment: agriculture, energy, transportation, and utilities.
Unfortunately, to date, the company has produced little in the way of tangible results. "...we continue our investment to develop solutions for the commercial [drone] opportunity, which we will introduce to the market once we are confident our solution is robust and scalable," CEO Wahid Nawabi said during the company's June earnings call.
To its credit, AeroVironment has managed to secure several small customer contracts. Currently, the company is working with an energy company to help survey a pipeline. Still, the company hasn't disclosed sales data or provided much in the way of guidance. "...[W]e have a fairly optimistic view on our commercial sales in general, but we have not guided to the product level." Nawabi said.
GoPro will launch its first consumer drone later this year
GoPro (NASDAQ: GPRO) plans to enter the market for consumer drones later this year. "Karma, our new drone, is on track to launch later this year," said CEO Nick Woodman during the company's July earnings call.
GoPro believes it can leverage its relationship with retailers, its household name, and its cameras to take a leading position in the consumer drones market. "...[W]e recognize we're not the first to market in this category," admitted Woodman. "But...the leading brands there now are not household names. And thankfully GoPro is globally a household name. And the drone category grew...thanks to GoPro, with GoPro being the original enabling camera on drones....many people think we already make drones..."
GoPro has been an incredibly disappointing stock since it entered the public markets in 2014. Shares are down more than 70% in the last 12 months alone. That's mostly been driven by falling sales:GoPro believes it will generate between $1.35 billion and $1.5 billion of revenue this year, down from $1.6 billion last year. Exactly how much of that will be attributable to Karma management won't say, but if it succeeds with consumers, it could provide some upside for GoPro in the quarters ahead.
Elbit Systems is a military contractor with significant drone exposure
Elbit Systems (NASDAQ: ESLT) is a similar company to AeroVironment, but with much less exposure to drones. It's a general defense contractor, and it sells a variety of defense solutions. Still, drones generate much of the company's revenue -- Elbit's airborne systems segment accounted for almost 40% of the company's revenue last quarter.Elbit offers a variety of different drones, including the Hermes 450 and Skylark II. Both are medium-sized drones larger than most of AeroVironment's offerings.
Elbit has exposure to many geographies. It's an Israeli company, and its products are popular with the Israeli military (Israel generated about one-fifth of Elbit's sales last quarter), but it also sells to countries in Europe, Latin America, Asia, and North America. Its drones have seen some commercial uses, but the company's management remains committed to its core defense business.
As countries around the world look to add drone technology to their military arsenals, Elbit Systems could reward shareholders.
Ambarella provides chips used in many drones
Ambarella (NASDAQ: AMBA) doesn't manufacturer any drones, and it doesn't plan to anytime in the near future. Yet the company's business remains inextricably linked to the drone industry.
Ambarella makes chips that are used in image processing. Many companies that make HD digital video cameras, including GoPro, use Ambarella's chips in their products. Most drones, particularly most consumer drones, include high-end digital video cameras. Many of Ambarella's chips, therefore, can be found in drones available for purchase today. During Ambarella's most recent earnings call, CEO Dr. Fermi Wang highlighted Xiaomi's new Mi Drone as a product that utilized Ambarella's chips.
Ambarella serves many other markets, including home security, wearables, and action cameras. But drones are on track to generate over one-fifth of the company's revenue in 2016. Shareshave performed well this year, rising more than 18%. That gain has been driven by the drone industry: Ambarella's management cited strong drone-related demand to explain its better-than-expected gross margin last quarter.
A secret billion-dollar stock opportunity The world's biggest tech company forgot to show you something, but a few Wall Street analysts and the Fool didn't miss a beat: There's a small company that's powering their brand-new gadgets and the coming revolution in technology. And we think its stock price has nearly unlimited room to run for early in-the-know investors! To be one of them, just click here.
Sam Mattera has no position in any stocks mentioned. The Motley Fool owns shares of and recommends Ambarella and GoPro. The Motley Fool recommends AeroVironment. Try any of our Foolish newsletter services free for 30 days. We Fools may not all hold the same opinions, but we all believe that considering a diverse range of insights makes us better investors. The Motley Fool has a disclosure policy.