3 Ways This $30 Billion Market Is Bristol's for the Taking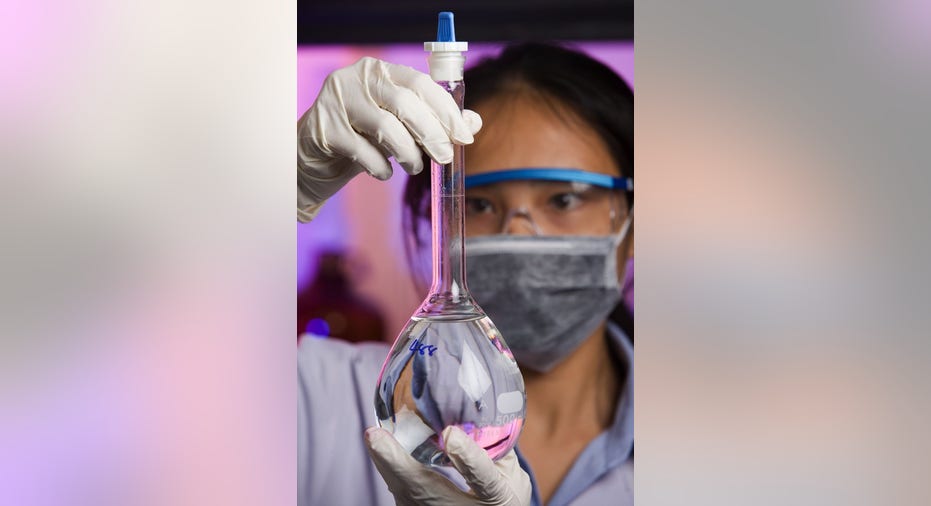 Image source: Bristol-Myers Squibb.
Just three years ago, Bristol-Myers Squibb took a huge gamble selling its diabetes unit in a $4 billion deal to refocus its efforts on immuno-oncology (or "I-O" for short), a novel approach aimed at using drugs to boost the immune response to cancer. For a sluggish "Big Pharma" attempting a turnaround, this was a big bet in new and relatively unknown territory.
Fast-forward to 2016, and that $4 billion bet is paying off big-time. Bristol-Myers reported $4.39 billion in revenue in the first quarter of 2016, a 9% jump compared to the same period last year. This earnings surprise was largely due to $704 million in sales from wonder drug Opdivo. Approved in 2014, this cancer treatment quickly snagged market share and raked in $942 million in2015, leaving competitors in the dust.
Oncologists are still learning how to best harness the power of the immune system, and as such, the field of immuno-oncology is still in its infancy. Some analysts expect the entire I-O class, which includes products from Merckand Roche, to rake in over $30 billion by the year 2022.So, how exactly can Bristol-Myerscontinue to dominate and capture more of this multibillion-dollar market?
Here are three key areas essential to Bristol-Myers Squibb'slong-term position as leader of the immuno-oncology pack.
1. Opdivo, Opdivo, Opdivo
As a PD-1 inhibitor, Opdivo works by "unmasking" cancer cells that evade detection by exploiting the PD-1 pathway. As the anchor to Bristol-Myers' entire I-O franchise, Opdivo has won numerous Food and Drug Administration approvals for use in advanced melanoma, lung cancer, kidney cancer, and most recently as the first checkpoint inhibitor approved for Hodgkin's lymphoma.
But can Bristol-Myersposition Opdivo to become a first-line therapy across multiple cancer targets? First-line therapy indications are generally recognized by the medical community as the initial treatment for a given type and stage of cancer. A critical first-line label approval not only boosts sales from a volume perspective but helps in obtaining top-tier formulary coverage from insurers, both of which are key areas for sustainable growth. In biopharma, many investors tend to focus on "first-to-market" advantage, but the real key to sustainable commercial success is whether a physician will prescribe a given therapy over available alternatives.
Opdivo has already scored a first-line indication in advanced melanoma, but all eyes are now on an important first-line indication for the most common form of lung cancer, non-small cell lung cancer (NSCLC). First-line data from the Checkmate-026 trial is expected to be released in the third quarter of 2016, and if sufficient for a new approval, some analysts estimate Opdivo sales could skyrocket as high as $9.5 billion by 2020.Keep in mind though, Bristol-Myers Squibbis not the only name chasing this indication in NSCLC, so expect first-line competition to be fierce in the months and years ahead.
2. Immuno-Oncology 2.0
Just "releasing the brakes" on the immune system with checkpoint inhibitors may not be sufficient for all patient and tumor types. Studies show that more difficult-to-treat cancers, such as head and neck and gastrointestinal cancers, may also require drugs to "floor the gas" of the immune system. As such, the next generation of I-O treatments will likely consist of a cocktail of two or three different agents, each with different targets, in order to be effective.
With its safety and efficacy profile largely well-defined, Opdivo has now become a pipeline within a pipeline. Opdivo is being evaluated in over 20 late-stage trials and nearly 25 different tumor types, many of which are for combo regimens. Opdivo combos are taking aim at tough-to-treat cancers like glioblastoma, an aggressive form of brain cancer where the prognosis is generally fewer than 15 months.
Bristol-Myersis also evaluating six additional I-O candidatestargeting a broad range of different immune system pathways. So, even for those who may not respond to checkpoint-based therapies alone, Bristol-Myersis aiming to develop an entire suite of I-O products that could be tailored for a multitude of tumor types.
3. Coverage abroad
Opdivo is already approved in over 50 markets globally, including the U.S., Japan, and the European Union. The key to continued expansion is gaining drug coverage approvals.
Known as National Institute for Health and Care Excellence, NICE is the United Kingdom's independent "cost-effectiveness watchdog" that determines if a given therapy is worth its price tag. NICE determines which treatments are ultimately available in England and Wales, with other countries in the EU generally following suit.
Recently, Bristol-Myerssuffered a setback when NICE issued a recommendation rejecting Opdivo's use as a lung cancer treatment, stating that the "drug was not cost-effective" at a price tag of nearly $45,000 for a 26-week treatment. Given that this was a draft recommendation, NICE could reverse its decision, but I wouldn't bet on it. Instead, Bristol-Myerswill likely need to redefine its pricing and reimbursement strategy, especially in lung cancer, in the EU.
Overall, Bristol-Myers Squibb's long-term prospects appear bright. At the forefront of oncology's fastest growing field, the companyis a proven winner. Assuming it can execute in these three key areas, Bristol-Myersshows no signs of slowing down anytime soon.
The article 3 Ways This $30 Billion Market Is Bristol's for the Taking originally appeared on Fool.com.
Shannon Jones has no position in any stocks mentioned. The Motley Fool has no position in any of the stocks mentioned. Try any of our Foolish newsletter services free for 30 days. We Fools may not all hold the same opinions, but we all believe that considering a diverse range of insights makes us better investors. The Motley Fool has a disclosure policy.
Copyright 1995 - 2016 The Motley Fool, LLC. All rights reserved. The Motley Fool has a disclosure policy.