3 Top Stocks We're Excited About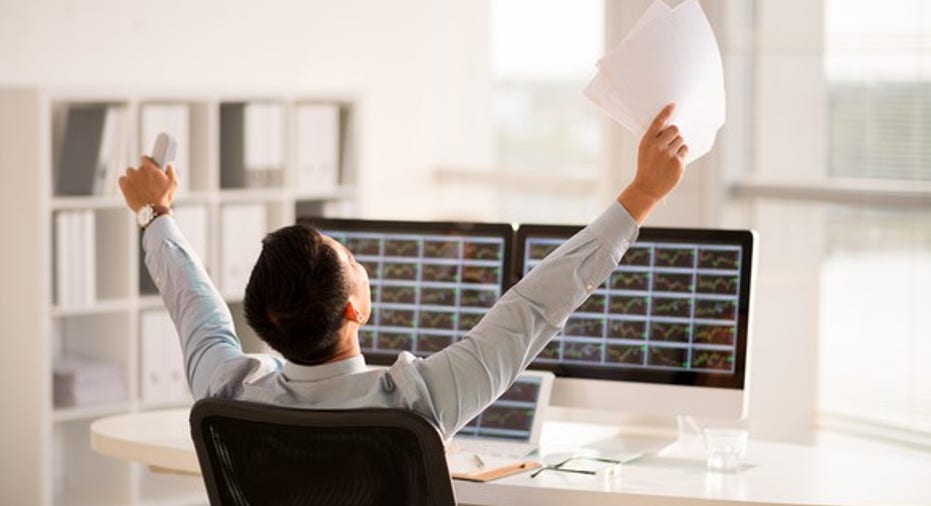 Image source: Getty Images.
Investing can be really exciting. It's one of the few ways to grow a small initial investment into a really nice nest egg. For those looking to get in on this fun, we asked some of our contributors for the stocks that get them the most excited right now. Here's what they said.
Daniel MillerIt's easy for investors to get excited about young companies with enticing growth prospects, and Blue Buffalo Pet Products definitely fits that description. If you haven't heard of the company, it's a market leader, and a billion-dollar brand based on sales, in the "Wholesome Natural pet food" market.
As a premium pet food company focusing on healthy and natural ingredients, one of the critical components for its message and financial success is to educate consumers. After all, if you don't understand why you're paying a premium for a product, you aren't likely to purchase it. In my opinion, Blue Buffalo has taken a large step in this task last year when it entered the $1.6 billion U.S. Veterinary Market.
The company's two goals for entering that market are to educate the veterinarian community about the benefits to its products, and to have that recommendation filter down to the consumer. Beyond that goal, Blue Buffalo intends to build a deep pet food business with a line of prescription products with "ingredients that pets and pet parents prefer."
Those two goals within the veterinary market should help the company's growth prospects, but it also has its eyes on other places. At the end of last year, Blue Buffalo expanded its international footprint by entering the Japan and Mexico markets. It's very early into the international scene, but if it can export the success it's had in the U.S. market, Blue Buffalo should have an exciting growth story ahead of it.
Matt DiLalloWith oil prices on the rise, I'm starting to get more excited about oil stocks. One of my favorites is ConocoPhillips because of its strong balance sheet, globally diversified asset base, and solid growth opportunities.
One of the things that speaks to the strength of ConocoPhillips' balance sheet was its ability to raise $4.6 billion in low-cost debt last quarter. What made that debt offering such a pillar of strength was the fact that ConocoPhillips didn't need the cash, but instead chose to access the credit markets in order to protect itself against weaker oil prices. Furthermore, just a handful of energy companies even have access to the credit markets right now because banks and investors have basically shut off the taps on providing credit to energy companies due to weak oil prices.
With its balance sheet now flush with cash, ConocoPhillips is very well positioned to ramp up its investments in new oil projects once it's comfortable with the price of crude. It has ample opportunities to invest to grow its production given its diversified asset base, which has a lot of upside to shale plays. That puts the company in the position to really cash in on higher oil prices, because it can quickly put cash back to work to grow its production and returns.
In my opinion, ConocoPhillips is a great oil stock to own for the long run. It has the strength and size to endure the volatility of the oil market, but with a lot of upside to higher prices given its shale-focused growth opportunities.
Although Celgene's stock hasn't done much to speak of this year, and is arguably "expensive" based on its trailing price-to-earnings ratio of an eye-popping 50, I still think this blue chip biotech is a great buy for patient investors. The bottom line is that Celgene is one of the most innovative biotechs in existence, and its managerial team has shown a keen eye when it comes to value-creating M&A and partnering opportunities.
Right now, Celgene is on track to more than double its net product sales from roughly $9 billion to $21 billion for the period covering 2015 to 2020. To do so, the biotech is relying on a mixture of growing sales for its core products like Revlimid, Abraxane, Pomalyst, and Otezla, as well as bringing important new products to market such as its experimental ulcerative colitis drug, ozanimod, that it acquired through its recent buyout of Receptos. Viewed this way, Celgene doesn't come off as particularly expensive, and is perhaps a bargain for investors willing to take a long-term view.
Apart from these built-in value drivers, Celgene also sports a number of exciting research partnerships in the rapidly emerging immuno-oncology space. For example, Celgene made a huge investment in the adoptive T cell therapy company Juno Therapeutics, and inked another research deal with AstraZeneca to assess its PD-L1 inhibitordurvalumab in blood-based cancers last year. Taken together, these two deals shouldhelp the biotech maintain its dominant position in the high-growth hematology market for the long haul. That's why I remain upbeat about this top biotech stock, despite its unusually weak showing halfway through 2016.
The article 3 Top Stocks We're Excited About originally appeared on Fool.com.
Daniel Miller has no position in any stocks mentioned. George Budwell has no position in any stocks mentioned. Matt DiLallo owns shares of Celgene and ConocoPhillips. The Motley Fool owns shares of and recommends Celgene. The Motley Fool recommends Juno Therapeutics. Try any of our Foolish newsletter services free for 30 days. We Fools may not all hold the same opinions, but we all believe that considering a diverse range of insights makes us better investors. The Motley Fool has a disclosure policy.
Copyright 1995 - 2016 The Motley Fool, LLC. All rights reserved. The Motley Fool has a disclosure policy.