3 Top Stocks to Buy With Your Tax Refund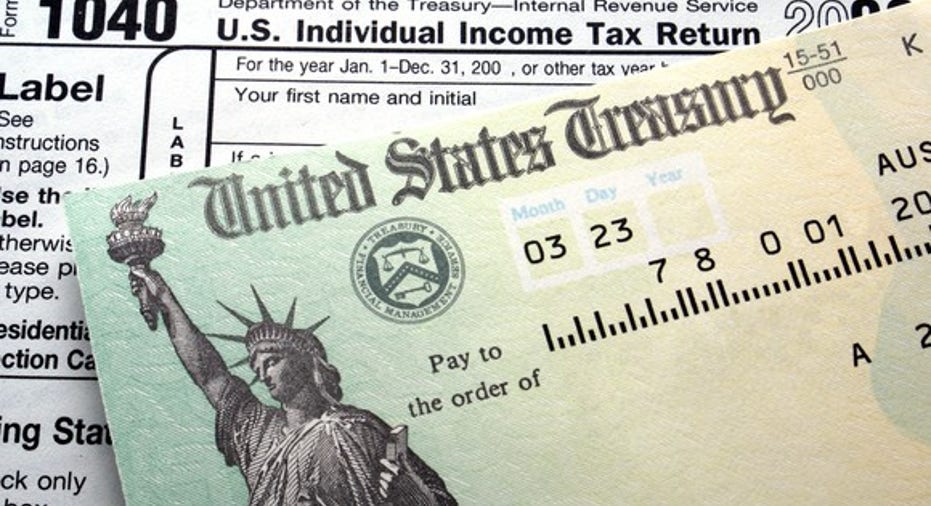 Roughly 70% of U.S. tax filers are expected to receive a tax refund this year, according to data from wallethub.com. More importantly, the average refund check is expected to come in at just under $2,900, which is plenty of capital in which to invest.
So what stocks should you buy with that money? Here's why I think that Abiomed (NASDAQ: ABMD), Celgene (NASDAQ: CELG), and MercadoLibre (NASDAQ: MELI) are excellent choices.
Image Source: Getty Images.
Pumping out gains
Abiomed is amedical-device company that helps heart attack victims survive. The company sells a tiny pump that's implanted during heart surgery or after aheart attack that helps toregulate blood flow.
Abiomed's pump has been rapidly adopted by healthcare providers because they have been clinically shown to reduce a patient's risk of deathwhile simultaneously reducing a hospital's costs. The combination has led to soaring revenue and profit growth, which in turn has powered terrific shareholder gains.
There are plenty of reasons to believe that Abiomed's growth cycle is still in early innings. Management estimates that its market share in the U.S. is only 7% and that it has barely scratched the surface of what's possible in international markets such as Japan and Germany, where it has already received regulatory clearance and established reimbursement.
Between its market share gains in the U.S. and international expansion, market watchers are expecting profit growth in excess of 25% annually over the next five years. While shares are currently trading at a premium, it wouldn't surprise me to see this company continue to pump out healthy gains from here.
A dependable biotech
While biotech investing isn't for the faint of heart, even conservative investors should consider taking a position in Celgene. This company is best known for its megablockbuster blood cancer drug Revlimid. Sales of Revlimid rose by 20% last year to a mind-boggling $7 billion. That's a stunning figure that continues to grow by leaps and bounds thanks to an ever-increasing amount of new patient starts.
Beyond Revlimid, Celgene also offers investors a number of other fast-growing drugs. Pomalyst/Imnovid is another blood cancer drug that has crossed the billion-dollar mark; it grew by 29% last year. Otezla, an oral treatment for plaque psoriasis, also become a blockbuster drug in 2016 thanks to triple-digit sales growth. When added together, these drugs promise to push Celgene's top-line high for years to come.
Like any good biotech, Celgene also boasts a terrific pipeline. My favorite drug to watch is Ozanimod, a hopeful treatment formultiple sclerosis. Ozanimod looks like the real deal, and if it wins approval next year it will compete in a market that does more than $19 billion in annual sales.
In all, Celgene is a top-notch company that should post double-digit revenue and profit growth for the foreseeable future. With its shares trading around 14 times forward earnings estimates, right now is a fine time to consider getting in.
Ride the internet boom in Latin America
Did you know that almost half of the 625 million people who live in Latin American still lack access to the internet? That's far shy of the 89% penetration rate in the U.S., which means local e-commerce providers still have a long runway ahead of them before they come close to saturating the market. That, in a nutshell, is a great reason to consider buying MercadoLibre.
MercadoLibre is the leading e-commerce platform in Latin America. Customers can use the company's platform to buy or sell items, ship packages, make digital payments, and even post classified ads. Offering all of these services under one roof is a big reason MercadoLibre has grown to become the region's top dog.
Despite its size, MercadoLibre continues to post results that show its platform is as popular as ever. In 2016, the number of items sold on its sites grew by 40%, while total payment volume surged by 80% in currency neutral terms. Meanwhile,thenumber of registered users grew by "only" 20%. These numbers mean that consumers are usingMercadoLibre's sites more often, which is a great news for bulls.
The only knock against investing in MercadoLibre's stock right now is that the share price has nearly doubled over the past year. That has pushed MercadoLibre's forward P/E ratio above 37, which is a premium price. Still, there is so much to like about the company's long-term prospects and competitive position that I think the premium is justified. If you agree and are bullish on Latin America over the long haul, MercadoLibre is an excellent investment candidate.
10 stocks we like better than CelgeneWhen investing geniuses David and Tom Gardner have a stock tip, it can pay to listen. After all, the newsletter they have run for over a decade, Motley Fool Stock Advisor, has tripled the market.*
David and Tom just revealed what they believe are the 10 best stocks for investors to buy right now... and Celgene wasn't one of them! That's right -- they think these 10 stocks are even better buys.
Click here to learn about these picks!
*Stock Advisor returns as of April 3, 2017
Brian Feroldi owns shares of Celgene and MercadoLibre. The Motley Fool owns shares of and recommends Celgene and MercadoLibre. The Motley Fool has a disclosure policy.