3 Top Stocks to Buy for Your Grandkids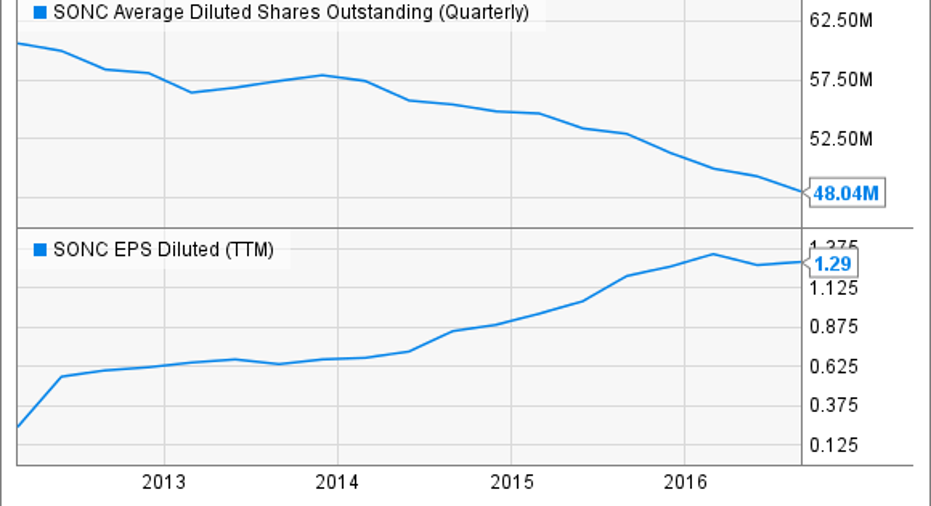 A great way to get kids interested in money, investing, and the importance of saving early in life is to give them some hands-on training. If you're considering gifting some money to your grandchildren, you might want to consider giving them stock, rather than cold, hard cash.
Our top Motley Fool contributors love that idea, and in the spirit of helping grandparents narrow down their list of possible stocks to give their grandchildren, they've identified three stocks that they think have long-haul potential.
Read on to find out howSonic Corporation (NASDAQ: SONC), Under Armour (NYSE: UA), and Microsoft (NASDAQ: MSFT) could get your grandkids' portfolio off to a good start.
IMAGE SOURCE: GETTY IMAGES.
America's Drive-In
Brian Feroldi(Sonic Corporation): The restaurant sector in general is a great place to look for stock ideas for kids (or grandkids), since these businesses are easy to understand and you can visit the stores with them at anytime.
One restaurant stock that I think is a bargain right now is Sonic, the nation's largest quick-service drive-in restaurant. Sonic's stock had been on a tear over the last few years, but more recently the restaurant sector in general has been facing some headwinds over the last year, which has caused comparable sales at many stores to suffer. Sonic hasn't been able to buck the trend, as its same-store salesrecently turned negative. That's caused the company's stock to head in reverse.
Thankfully, even with the slowdown in comparable sales, the company's net income per share continues to grow. That's owed to the company's push to have 95% of its store base franchised -- which is a highly profitable business model -- and management's commitment to buying back huge amounts of stock. This simple combination has worked like a charm over the long term.
SONC Average Diluted Shares Outstanding (Quarterly)data byYCharts
Looking ahead, market watchers believe that the push to franchise its stores will help Sonic to grow its EPS by more than 15% annually over the next five years. That's an upbeat forecast for a company that's only trading at 21 times earnings, which makes right now a great time to consider buying this stock to your grandkids.
IMAGE SOURCE: UNDER ARMOUR.
Protect their future with this market beater
Steve Symington (Under Armour C shares): Under Armour's official slogan is "Protect This House," and that's exactly what I think grandparents can do by purchasing shares of the athletic apparel and footwear specialist for their grandchildren.Of course, it also helps that Under Armour is exceedingly popular with those grandchildren, thanks largely to the company's years-long concerted effort to shed its old image as a brand for primarily hardcore athletes.
Incidentally, you can also pick up Under Armour stock at a relative discount right now; both its Class A (trading with the UAA ticker) and Class C (trading as UA) shares have fallen more than 20% since late October, when its third-quarter 2016 report disappointed Wall Street.
That said, the non-voting class C shares (UA) are significantly more attractive, trading at a roughly 14% discount to their voting class A counterparts right now. And yes, while those voting rights certainly carry some inherent value -- andin keeping with what Iwroteafter Under Armour changed its tickers in early December -- they don't matter to the vast majority of retail investors, considering Under Armour founder and CEO Kevin Plank still still owns all outstanding B shares, and so controls 65.3% of the company's total voting rights.
And that's not to say Under Armour's actual results were weak. Revenue for the quarter grew 22% year over year, to $1.47 billion, good for its 26th straight quarter of at least 20% top-line growth. Net income rose 28%, to $128 million, and net income per share grew 26%, to $0.29. Those results were largely in line with expectations, leaving Under Armour comfortable enough to reiterate its full-year 2016 guidance for revenue to grow 24%, to $4.925 billion.
If you're wondering what went "wrong," look no further than Under Armour's longer-term goals. While Under Armour also reiterated its longer-term target of reaching $7.5 billion in revenue by 2018, management upset Wall Street last quarter when it noted that apparel industry growth rates are slowing. As a result, Under Armour is investing more heavily to foster stronger growth opportunities such as footwear, international, and direct-to-consumer sales, which meant reducing its longer-term goals to call for "just" 15% growth in operating income through 2018 -- something for which I already voiced support when I singled out Under Armour as a top stock to buyfor patient, long-term investors last month.
Nothing has happened to change my stance since then. And given the decidedly long-term investing time frames your young grandkids enjoy, I think Under Armour is a compelling choice for them today.
IMAGE SOURCE: GETTY IMAGES.
Investing in innovation
Todd Campbell (Microsoft): It's hard to guess what the future may look like, but software will remain the driving force behind innovation, and when it comes to software, Microsoft remains the Goliath.
Microsoft's operating software remains the dominant player in business computing, and a big push into cloud-based solutions is fueling sales growth and offsetting sluggish sales tied to consumers ongoing shift from PCs to mobile devices. The company is also integrating its software across gaming (Xbox), search (Bing), and operating systems in ways that are only scratching the surface of what we may see in the coming decades.
Over the past 10 years, optimism over Microsoft's ability to evolve and profit from future tech has caused its shares to climb 165%. That's much better than the 94% return for the S&P 500 in that period, and frankly, I think the company's only in the early stages of investor friendly earnings expansion.
If I'm right, then gifting this company's stock to your grandkids could allow them to benefit from ongoing technological advancement, while also teaching them about the benefits of dividend investing. Currently, Microsoft's shares are yielding 2.48%, and with solid track-record of dividend growth, this stock could be a solid source of future income.
10 stocks we like better than Microsoft When investing geniuses David and Tom Gardner have a stock tip, it can pay to listen. After all, the newsletter they have run for over a decade, Motley Fool Stock Advisor, has tripled the market.*
David and Tom just revealed what they believe are the 10 best stocks for investors to buy right now... and Microsoft wasn't one of them! That's right -- they think these 10 stocks are even better buys.
Click here to learn about these picks!
*Stock Advisor returns as of Nov. 7, 2016
Teresa Kersten is an employee of LinkedIn and is a member of The Motley Fools Board of Directors. LinkedIn is owned by Microsoft. Brian Feroldi owns shares of Under Armour (C Shares). Steve Symington owns shares of Under Armour (C Shares). Todd Campbell owns shares of Microsoft. The Motley Fool owns shares of and recommends Under Armour (C Shares). The Motley Fool has a disclosure policy.