3 Top Obamacare Stocks to Buy in 2016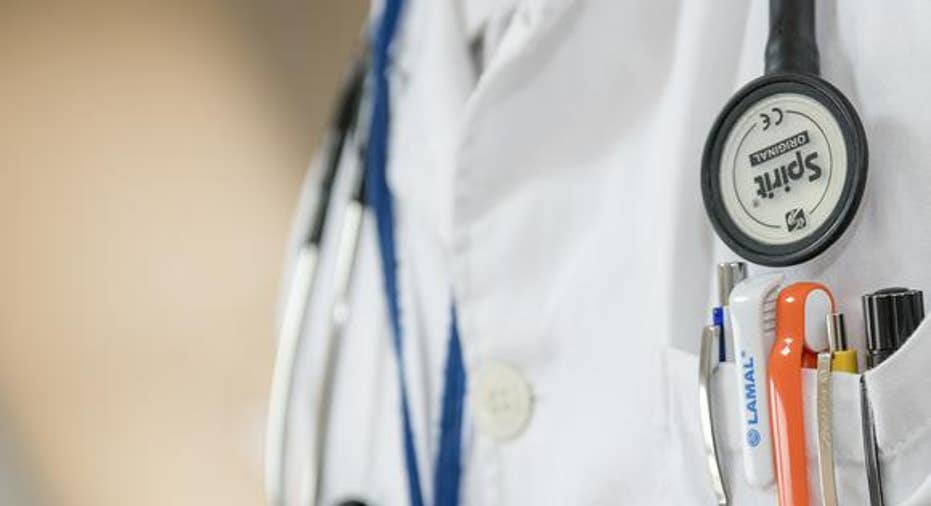 Image source: Picserver.org.
Like it or not, Obamacare certainly seems to be working. A problem in the early years was a lack of young people signing up, as they're healthier, and their low demand for services was needed to offset the cost of older, sicker enrollees. But with non-coverage penalties rising to $695 and higher this year, more young people have signedup, and the estimated cost of Obamacare is falling -- with the Congressional Budget Office estimating that Obamacare will cost $1.207trillion between 2016 and 2025, down 11% from an earlier estimate of $1.35 trillion.
So, which companies will be benefiting from Obamacare in 2016 and beyond? Here are three to consider.
Image source: marketplace.cms.gov.
Sean Williams: Obamacare has grand goals this year, and it's looking to end 2016 with more than 10 million paying customers. (It narrowly missed this mark in 2015.) Initially, you might think insurers and hospitals are in line to benefit from the increase in enrollment, but I believe these companies are where the biggest cost question marks lie. I have more confidence in a health information services company such as Inovalon .
Inovalon's job is pretty simple: Take copious amounts of patient data, and turn the chaos into order. Its cloud-based programs and analytics help optimize patient care for hospitals, clinics, and health-benefit providers.
Why Inovalon? Obamacare is an expense wildcard for insurers, hospitals, and clinics. No one is sure if consumers are going to be visiting the doctor more often now that they have easier access to healthcare, and in turn, businesses are worried about whether or not they'll be reimbursed for care given.
That's where Inovalon comes in.
Inovalon's products do cost money, but they're designed to optimize efficiency for clients, presumably improving margins and eliminating a lot of wasteful spending. For instance, the collaborative efforts between Quest Diagnosticsand Inovalon recently led to a new product, Data Diagnostics. It will enable physicians to order patient-specific analyses ondemand with the click of a button and have answers within seconds, thus helping them assign the desired treatment(s) quicker than ever.
With an expected growth rate of roughly 27% in 2016, Inovalon is a potential Obamacare beneficiary to keep your eye on.
Imag source: Pixabay.
Selena Maranjian: Cerner Corporation is another Obamacare-related stock worth considering for your portfolio in 2016. It's in the business of electronic health records (EHRs), which have been promoted by the Obama administration. To understand what EHRs are and can do, imagine going to your primary care physician, a specialist, or an emergency room, with whoever examines you having access to your records electronically. Since they'll be able to see your prescriptions, health issues, treatments, immunizations, lab results, and more, they'll likely be able to make better decisions and deliver better care.
Healthcare-oriented information technology is a growing field, and EHRs are expected to become more widely used -- partly due to the Health Information Technology for Economic and Clinical Health (HITECH) Act, which was part of the American Recovery and Reinvestment Act of 2009. The HITECH Act offers both financial carrots and sticks to spur adoption (such as offering billions of dollars in incentive money for providers to be using EHRs in "meaningful" ways), and that has helped companies in the EHR business grow. Indeed, as of October 2015, close to 500,000healthcare providers received incentive payments for EHR participation.
Cerner Corporation is a key player in EHRs, and it's also ready to help medical practices with tasks such as scheduling and payments. Its revenue has nearly doubled over the past four years, it's free-cash-flow positive, and its net marginsrecently topped 12%. The company's bookingshit an all-time high of $1.6 billion in the last quarter, up 44% year over year. At recent levels, Cerner stock doesn't appear to be a screaming bargain, but with a forward-looking P/E ratio around 26, well below its five-year average of 40, it offers a lot of potential for long-term believers.
Image source: Healthcare.gov
George Budwell:Allscripts Healthcare Solutionslooks like a good Obamacare play in 2016 because of its focus on the emerging electronic health record business. As Selena notes, the Affordable Care Act, or Obamacare, places a major emphasis on the digitization of medical records in order to cut costs and improve the quality of care, making companies developing these types of technologies worth a deeper look from investors.
Although Allscripts Healthcare Solutionsis a relatively small company compared to most of its peers operating in the emerging healthcare information technology space, it does offer a number of digital solutions for medical service providers that span the entire continuum of care. In particular, the company'sSunrise EHR solution has become the chosen platform for several major medical service providers recently because of its ability to serve a variety of patients types, such as those ininpatient, ambulatory, emergency and surgical settings.
Another bit of good news is that Allscripts' balance sheet is in respectable shape, with a debt-to-equity ratio of only 46% at last count. By contrast, some of Allscripts' closest competitors have taken on eye-popping levels of debt to build out their overall business, meaning they are burdened with hefty interest payments weighing on their bottom lines.
So, with digital medical records rapidly becoming a permanent fixture in the U.S. healthcare landscape, I think Allscripts is a good stock to consider adding to your portfolio next year because of its diversity of offerings for healthcare providers in general and its comparatively clean balance sheet.
The article 3 Top Obamacare Stocks to Buy in 2016 originally appeared on Fool.com.
George Budwell has no position in any stocks mentioned. Sean Williams has no position in any stocks mentioned. Selena Maranjian owns shares of Cerner. The Motley Fool recommends Cerner. Try any of our Foolish newsletter services free for 30 days. We Fools may not all hold the same opinions, but we all believe that considering a diverse range of insights makes us better investors. The Motley Fool has a disclosure policy.
Copyright 1995 - 2016 The Motley Fool, LLC. All rights reserved. The Motley Fool has a disclosure policy.