3 Top Medical Device Stocks to Buy in 2017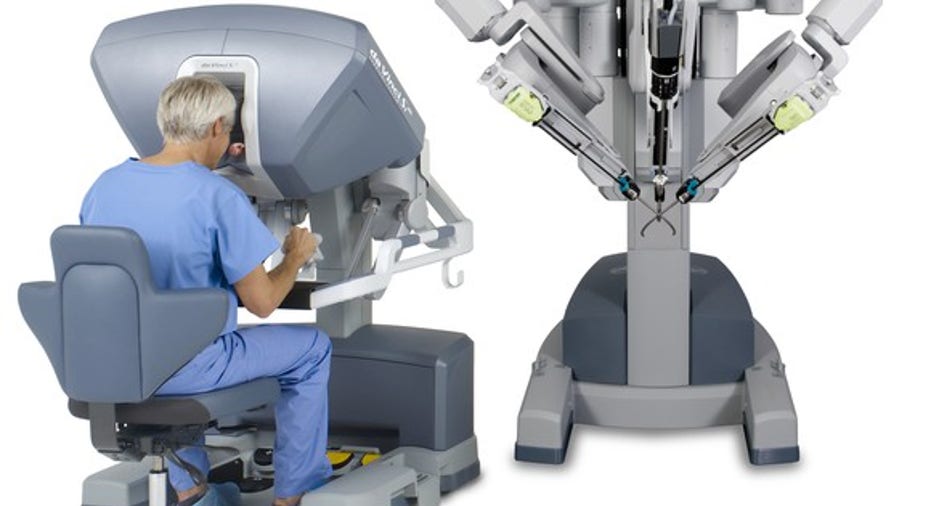 Medical device stocks could be hot over the next few years. From aging baby boomers to expanding middle classes in developing nations, there are plenty of factors that should drive demand for medical devices higher.
If you're looking for top medical device stocks to buy in 2017, three warrant especially close attention: Align Technology (NASDAQ: ALGN), Intuitive Surgical (NASDAQ: ISRG), and Natus Medical (NASDAQ: BABY). Here's why these three stocks could be big winners over the long run.
Image source: Intuitive Surgical.
Align Technology: Smiles all around
How many teenagers (or adults, for that matter) want to wear metal braces? Few, if any. Align Technology's Invisalign clear aligners eliminate the need for metal braces for most patients. These aligners straighten teeth with virtually invisible aligners that don't require metal, ceramic brackets, or wires.
Align's earnings have more than quadrupled over the last five years as its Invisalign aligners have grown in popularity.Some smart acquisitions also helped fuel this growth, particularly the 2011 buyout of Cadent, which added the iTero intraoral scanners to Align's product lineup. These scanners are used to create 3D models of patients' teeth, which the company relies upon to develop digitized treatment plans and manufacture clear aligners customized for each patient.
Two growth opportunities for Align really jump out. First, the company is working hard to increase its international sales. As the middle class grows in developing nations such as India, demand for clear aligners should increase.Second, Align plans to roll out new aligner products that address more complex cases of malocclusion (misalignment of teeth when biting or chewing). This should expand the addressable market.
Wall Street analysts project that Align's earnings should increase by an annual average rate of nearly 23% over the next five years. Those estimates seem to be quite achievable, making Align Technology a great medical device stock for the future.
Intuitive Surgical: Surgery for the 21st century
Since Intuitive Surgical's launch of the first generation of its da Vinci robotic surgical system in 1999, more than 4 million surgeries have been performed using the technology. Over 750,000 of that number were performed just last year.
Da Vinci allows surgeons to see a clear and magnified image inside a patient's body. Surgeons control the robotic medical instruments from a few feet away. Every movement of the surgeon's hands translate to smaller (and more precise) movements of the da Vinci instruments. This allows complicated surgeries to be performed through small openings less invasively than traditional surgeries.
Intuitive Surgical's pathway to growth isn't too different from Align Technology's. The company still generates most of its revenue from the U.S., so international expansion opportunities exist over the long term. Perhaps even more important, though, are the prospects for Intuitive Surgical to address more complex types of surgeries.
Analysts expect Intuitive Surgical to grow earnings by an average annual rate of almost 12% over the next five years. That's significantly higher than its recent earnings growth. Even better days should be ahead for this company that is revolutionizing surgery in the 21st century.
Natus Medical: Monitoring for all ages
Natus Medical's stock ticker, BABY, reflects the company's background as a leader in screening and monitoring technology for newborns. However, Natus has expanded its products and services through the years and now offers medical devices that help care for people of all ages.
The company makes nearly two-thirds of its total revenue fromneurology products and services, with more than a third of revenue stemming from the newborn care market. Neurology products and services includemonitoring brain activity of critical-care patients and screening patients for sleep apnea. Natus' newborn care products and services include hearing tests, jaundice management, and brain monitoring.
Natus is growing earnings in large part by making smart acquisitions. Most recently, the company acquiredGN Otometrics, a leader inhearing diagnostics and balance assessment equipment, disposables, and software.
Wall Street analysts think that Natus should grow earnings over the next five years by 22% annually on average. Assimilation of GN Otometrics combined with demographic trends providing more patients that could potentially need Natus' products and services make this a solid medical device stock to buy now.
10 stocks we like better thanWal-MartWhen investing geniuses David and TomGardner have a stock tip, it can pay to listen. After all, the newsletter theyhave run for over a decade, the Motley Fool Stock Advisor, has tripled the market.*
David and Tomjust revealed what they believe are theten best stocksfor investors to buy right now... and Wal-Mart wasn't one of them! That's right -- theythink these 10 stocks are even better buys.
Click hereto learn about these picks!
*StockAdvisor returns as of March 6, 2017The author(s) may have a position in any stocks mentioned.
Keith Speights has no position in any stocks mentioned. The Motley Fool owns shares of and recommends Align Technology, Intuitive Surgical, and Natus Medical. The Motley Fool has a disclosure policy.