3 Top Healthcare Stocks to Own If Donald Trump Becomes President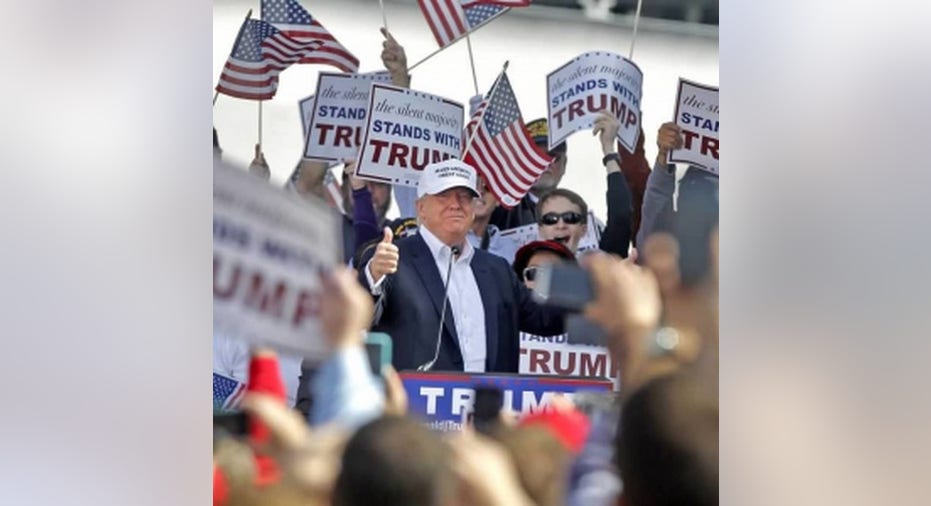 Just a few days ago, FiveThirtyEight baseball columnist Rob Arthur wrote that the Chicago Cubs had a smaller chance of winning the World Series than Donald Trump had for winning the presidency. Now the Cubs are champions. And Trump has a reasonably good shot at winning also.
What are good investment options if the Marine band is playing "Hail to the Donald" in 2017? Three healthcare stocks -- Celgene (NASDAQ: CELG), Ligand Pharmaceuticals (NASDAQ: LGND), and UnitedHealth Group (NYSE: UNH) -- look like great picks if Trump wins the election.
Image source: DonaldJTrump.com.
Make biotech stocks great again
Biotech stocks in general have taken a beating lately. Celgene is no exception. Shares of the big biotech are down 14% year to date, even as Celgene has reported plenty of good news in recent months.
Celgene's top-selling drug, Revlimid, is firing on all cylinders. Third-quarter sales for the blood cancer drug soared 28% compared with the prior-year period. Celgene expects 2017 sales to be even higher than initial projections of $8 billion.
A couple of other drugs in Celgene's lineup are also seeing sizzling sales growth. Sales for Otezla, which is approved for treatment of psoriatic arthritis and psoriasis, more than doubled in the third quarter compared with the same period in 2015. Sales for multiple myeloma drug Pomalyst jumped 33% year over year.
So why is Celgene a smart pick if Trump becomes president? Probably the main reason the stock is down is that Hillary Clinton has promised to lower the period for exclusivity of biologics and allow federal watchdogs to fine drugmakers for price increases found to be objectionable. Those plans are enough to make shareholders of any biotech stock nervous. A Trump win should make biotech stocks great again.
Celgene's current products and its pipeline give the company ample opportunities to drive earnings growth for years to come. If macro uncertainties are removed, this biotech's stock should soar.
E pluribus unum
The motto for the U.S., e pluribus unum -- "out of many, one" -- could also serve as the motto for Ligand Pharmaceuticals. Ligand's technology is used in 11 products already on the market. Another four await regulatory approval. Nine products using the company's technology are in late-stage development, and 20 are in mid-stage clinical studies.
How many of these drugs does Ligand market by itself? Zero. The company's business model is to license its drug development technologies to other entities. Ligand has over 90 partners and licensees, including many of the world's leading biotechs and pharmaceutical companies.
Ligand's revenue in the first half of 2016 increased nearly 49% compared with the prior-year period. Much of that growth came from higher royalties from Amgen's cancer drug Kyprolis and Novartis'bone marrow stimulant Promacta.
Like Celgene, Ligand stands to gain from a Trump victory. Buying shares of Ligand is almost like buying a fund of biotech stocks. Ligand's fortunes aren't dependent on one drug; the company's portfolio is diversified across numerous target indicationsand partners.
Crossing the lines
One of Donald Trump's primary healthcare proposals is to allow health insurers to compete across state lines. If he's able to make this happen, UnitedHealth Group (NYSE: UNH) could be one of the biggest beneficiaries.
UnitedHealth is the largest health insurer in the country. The insurer currently must work with each state separately to market its products. Trump's proposal, in theory at least, would take remove some of the hassle for insurance companies.
Another potential positive for UnitedHealth from a Trump presidency is the proposal to allow individuals to fully deduct health insurance premium payments from their tax returns. This could open the door for picking up more individual insurance business.
What about Trump's promise to repeal Obamacare? A reversal of the Medicaid expansion could hurt UnitedHealth to some degree. However, the big insurer is already pulling out of most of the Obamacare exchanges. Removal of Obamacare's minimum-benefits requirements could allow UnitedHealth and its peers to build benefit plans that appeal to more Americans.
Regardless of who wins the presidential election, UnitedHealth's Optum business segment should thrive. OptumRx is the nation's third-largest pharmacy benefits manager (PBM). Demand for the prescription-drug cost containment PBMs offer should increase in the future under policies of either of the two major-party candidates for president.
Hair apparent?
It's not a foregone conclusion that Donald Trump will be elected president. Hillary Clinton has been the odds-on favorite for quite a while and still appears to have an edge in the Electoral College.You should still be able to chalk up investing wins with certain healthcare stocks under a Clinton presidency.
The Chicago Cubs managed to win the World Series by taking it to seven games. And then they survived by scoring one more run than the Cleveland Indians in extra innings. The contest between Hillary Clinton and Donald Trump might be just as close.
A secret billion-dollar stock opportunity The world's biggest tech company forgot to show you something, but a few Wall Street analysts and the Fool didn't miss a beat: There's a small company that's powering their brand-new gadgets and the coming revolution in technology. And we think its stock price has nearly unlimited room to run for early in-the-know investors! To be one of them, just click here.
Keith Speights owns shares of Celgene. The Motley Fool owns shares of and recommends Celgene. The Motley Fool recommends UnitedHealth Group. Try any of our Foolish newsletter services free for 30 days. We Fools may not all hold the same opinions, but we all believe that considering a diverse range of insights makes us better investors. The Motley Fool has a disclosure policy.