3 Top Gun Companies to Buy in 2017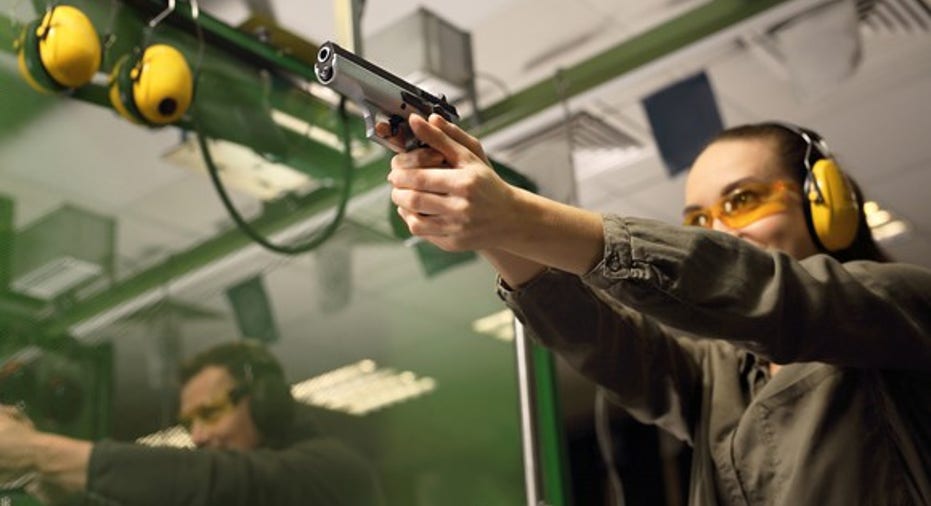 The gun industry's "Trump slump" story has been breathlessly and endlessly reported, which makes it seem as though an investor should avoid any company in the space at all costs. If people aren't buying guns, manufacturers can't profit, and their stocks will tank.
While there is indeed a slowdown under way and the stocks of gunmakers have borne the brunt of it, the industry is inherently cyclical and the current downtrend is nowhere near as apocalyptic as has been portrayed. The industry still offers several attractive investment opportunities, made even more so because of the hits their stocks have taken, but also because of their strong management teams and otherwise great operations.
Image source: Getty Images.
Let's take a look at three of the top publicly traded gun companies: American Outdoor Brands (NASDAQ: AOBC), Sturm, Ruger (NYSE: RGR), and Olin (NYSE: OLN).
American Outdoor Brands
Until this year it was known as Smith & Wesson Holding, but American Outdoor Brands still produces the storied firearm under its well-known and respected brand name, and with good reason: Smith & Wesson is the biggest firearms brand in the country and has the greatest name recognition of any firearms on the market. One of every two revolvers owned in the U.S. is a Smith & Wesson. That's something you don't want to mess with.
CEO James Debny has remarked the slowdown everyone is talking about is really just a normalization trend. The past year or so of outsize gun sales is the anomaly; the new pace the industry is setting is more in line with historical patterns, and that still means growth. Not in comparison with 2016, perhaps, and maybe not even 2015, which was also a banner year, but overall the trends of gun ownership and sales are rising.
Image source: Getty Images.
Yet American Outdoor Brands also represents a play on the growing and much larger rugged outdoors market that closely parallels the shooting-sports industry, one it's targeting through acquisitions. It made three last year, and investors can expect more to come. There's also the promise of a "transformative" acquisition being made, though in what area still remains a question mark.
The gunmaker remains financially sound and still produces exceptional amounts of free cash flow, which over the trailing 12 months totaled $168 million. With an enterprise value of $1.17 billion, American Outdoor Brands is trading at less than seven time its free cash flow, making its stock exceedingly discounted. It also trades at eight times earnings and 11 times next year's estimates, and when you factor in analyst long-term earnings growth forecasts, the stock goes off at just a fraction of what they're predicting. This gunmaker's stock is cheap, and buying in ahead of the next upturn in the cycle will richly reward investors.
Sturm, Ruger
Sturm, Ruger has many of the same superlatives attached to it as industry peer Smith & Wesson. A well-known and respected brand, it also happens to be the biggest gunmaker in the country. Not only does it produce pistols and revolvers, but its rifles earn high marks and its 10/22 in .22LR rimfire is one of the most ubiquitous, dependable rifles on the market.
Rifles also account for the majority of its revenues, or $265 million in 2016, more than pistols ($250 million), or revolvers ($105 million). That it also produces three times as many rifles as does Smith & Wesson bodes well as gun sales have begun moving away from handguns and toward long guns, something American Outdoor's Debny acknowledged in his most recent earnings conference call with analysts, saying the switch caught him by surprise.
Image source: Sturm, Ruger.
Many of those rifles being purchased are probably modern sporting rifles, typically (but incorrectly) called "assault rifles," and Ruger's AR-556 has been an extremely popular model since it was introduced a little over two years ago, helping to push the gunmaker's revenue to new highs.
Ruger is an even more financially sound gunmaker than its rival as it has no debt. While its stock is not as discounted as American Outdoor Brands, it still trades at a low 11 times earnings, and its enterprise value is a discounted 13 times its free cash flow.
Shares of the gunmaker enjoyed a run up over the past few weeks, as it stock became heavily shorted, but with its strong financial footing, it should handily survive the reported industry weakness and come out fine when the rebound occurs.
Olin
Not a gun manufacturer, Olin makes ammunition, and its Winchester brand accounts for 13% of its total $5.5 billion in sales. Obviously, if people are buying fewer guns they'll also be buying less ammunition, and CEO John Fischer said last month he's witnessed an ammo slowdown, too, as dealers overbought in anticipation of a different outcome in the November elections and leaving themselves with excess inventory on hand. But that's not the whole story.
Image source: Winchester.
The boom in the gun business increased not just the supply of firearms in the market, but also the number of shooters coming to the sport. Recent National Shooting Sports Foundation data shows women are the fastest growing demographic in the sport, and between 2009 and 2014, 17 million new target shooters were brought in, a 50% gain. Furthermore, new shooters are younger, with 68% of new shooters between the ages of 18 and 34 compared to 31% of established shooters, meaning the industry will benefit from them for years to come.
What this means for Olin and other ammo makers is there will be continued demand for ammunition even if gun sales don't grow. Citing NSSF data, Winchester recently noted that women shooters in particular "hit a range for target practice at least once a month" and it quotes economic research firm Southwick Associates as saying "nearly half of all active target shooters introduce a newcomer to the range or field each year."
Just because you're not buying a gun doesn't mean you're not brushing up on your shooting skills, and that will take ammo to do so. Certainly there may be an excess of inventory at the moment, but once that's worked through sales should pick up again.
It should be noted that Olin isn't just an ammo maker, but also a specialty chemicals company too, which holds favorabletrends as well. Olin's stock has doubled over the past year and is up 27% so far in 2017, but there's good reason to believe Olin will continue to rise going forward too.
10 stocks we like better than Sturm, Ruger and CompanyWhen investing geniuses David and Tom Gardner have a stock tip, it can pay to listen. After all, the newsletter they have run for over a decade, Motley Fool Stock Advisor, has tripled the market.*
David and Tom just revealed what they believe are the 10 best stocks for investors to buy right now... and Sturm, Ruger and Company wasn't one of them! That's right -- they think these 10 stocks are even better buys.
Click here to learn about these picks!
*Stock Advisor returns as of February 6, 2017
Rich Duprey has no position in any stocks mentioned. The Motley Fool has no position in any of the stocks mentioned. The Motley Fool has a disclosure policy.