3 Top Biotech Stocks to Buy on Sale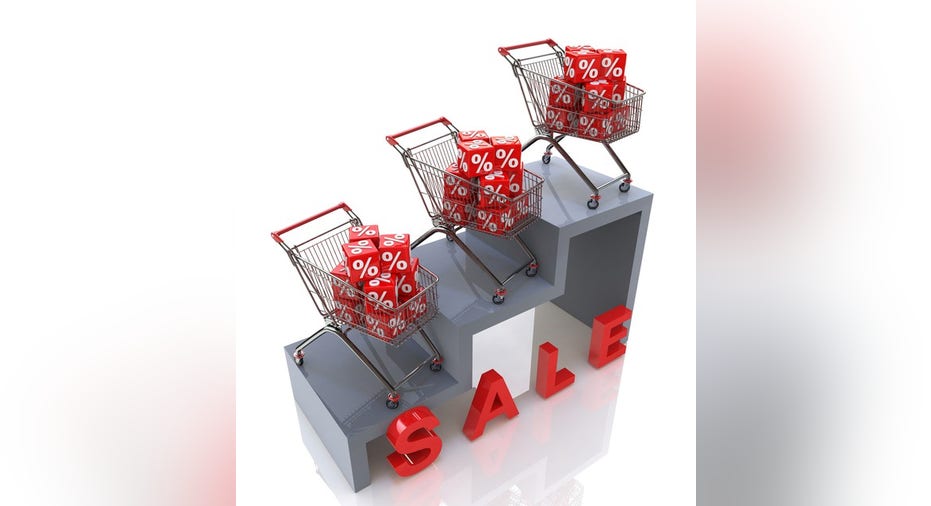 How can you know if a biotech stock is a bargain?
It's not an exact science, but one of the best ways to identify biotech bargains is to evaluate companies' growth prospects compared with their current stock price and earnings. The price-to-earnings ratio can point out stocks that are relatively inexpensive now. Throwing expected earnings growth into the mix helps find the ones that are bargains based on what their earnings could be.
AbbVie (NYSE: ABBV), Celgene (NASDAQ: CELG), and Jazz Pharmaceuticals (NASDAQ: JAZZ) come out looking quite attractive when these factors are considered. Here's why these are three top biotech stocks to buy on sale.
Image source: Getty Images.
AbbVie: What's not to like?
AbbVie's stock currently trades at roughly 16 times trailing-12-month earnings. That's not bad on its own. But consider also that Wall Street analysts expect the biotech to grow earnings by more than 14% annually over the next five years. AbbVie is a deal for investors if analysts' projections are right.
There's little reason to think they're not at least close. AbbVie's lead drug, Humira, generated $16 billion in revenue last year -- and sales continue to grow at a solid pace. Imbruvica made over $1.8 billion in 2016, more than doubling sales in the previous year. AbbVie thinks the cancer drug can reach peak annual sales of $7 billion.
The biotech's pipeline also seems likely to produce more winners. AbbVie has 10 late-stage clinical studies in progress. Several of the candidates have blockbuster potential, including experimental endometriosis and uterine fibroids drug elagolix, autoimmune-disease drug risankizumab, andcancer drug veliparib.
In addition to its solid earnings growth prospects, AbbVie also offers one of the best dividends around. Its dividend yield currently stands at 4.22%. Over the past four years, the biotech has increased its dividend by 60%.
Celgene: Growth, growth, and more growth
Celgene has grown earnings by an average of 25% over the past five years. Much of that success has stemmed from its lead drug, Revlimid, which is currently approved for treating blood diseasesmyelodysplastic syndrome, multiple myeloma, and mantle-cell lymphoma.
The biotech expects to continue its strong growth into the future, with projected average annual earnings growth of 22%. That's right in line with what Wall Street thinks Celgene will achieve. While shares might look expensive right now based on its earnings multiple of 44, Celgene's growth makes the stock a bargain.
But can Celgene really grow earnings as much as it thinks it can? I think so. Sales for blood-cancer drugs Revlimid and Pomalyst are increasing. Autoimmune-disease treatment Otezla is Celgene's real rising star, with sales more than doubling in 2016 over the prior year.
Celgene's pipeline is also loaded. The biotech has 15 late-stage clinical studies in progress. Key candidates among these that could help drive more growth for Celgene include autoimmune-disease drugs GED-0301 and ozanimod, the latter of which is also being evaluated in a late-stage study for treating multiple sclerosis.
Jazz Pharmaceuticals: Catalysts on the way
Wall Street thinks Jazz Pharmaceuticals will grow earnings by an average of 17% over the next five years. Assuming the biotech can meet those expectations, the stock claims an inexpensive valuation despite its current price-to-earnings multiple of 22.
Several catalysts are on the way that should help show whether Jazz can grow its earnings as projected. The biotech expects to announcetop-line results from two late-stage studies evaluating JZP-110 in excessive sleepinessin obstructive sleep apnea in the first quarter. Results from another late-stage study of the experimental drug in treating excessive sleepinessassociated with narcolepsy should be reported in the second quarter of 2017.
Assuming the results from these studies are positive, Jazz expects to file for regulatory approval for JZP-110 later this year. The company also plans to submit for U.S. regulatory approval forVyxeos in treating high-riskacute myeloid leukemia in the first quarter. Jazz intends to file for European approval for Vyxeos in the second half of the year.
In the meantime, Jazz continues to get great results from narcolepsy drug Xyrem. The drug appears to be on track to deliver 16% year-over-year sales growth for 2016.
Risks
All three of these biotech stocks look like strong picks that should perform well in the coming years. However, it should be noted that they all have some risks.
AbbVie, Celgene, and Jazz Pharmaceuticals face the possibility that clinical studies will flop or that regulatory approvals won't be obtained. All three currently depend largely on one drug to generate a large portion of revenue. That's an especially significant risk for Jazz, since the FDA recently approved a generic version of Xyrem. Jazz is fighting to keep the generic rival off the market.
Which has the best risk-versus-reward profile? I'd go with Celgene. Revlimid shouldn't have any serious competition in the near future. The company's current lineup is solid. Celgene's pipeline is among the best around, in my view. The biotech's growth potential makes it a great pick.
10 stocks we like better than CelgeneWhen investing geniuses David and Tom Gardner have a stock tip, it can pay to listen. After all, the newsletter they have run for over a decade, Motley Fool Stock Advisor, has tripled the market.*
David and Tom just revealed what they believe are the 10 best stocks for investors to buy right now... and Celgene wasn't one of them! That's right -- they think these 10 stocks are even better buys.
Click here to learn about these picks!
*Stock Advisor returns as of February 6, 2017
Keith Speights owns shares of AbbVie and Celgene. The Motley Fool owns shares of and recommends Celgene. The Motley Fool has a disclosure policy.