3 Thriving Amazon-Proof Retailers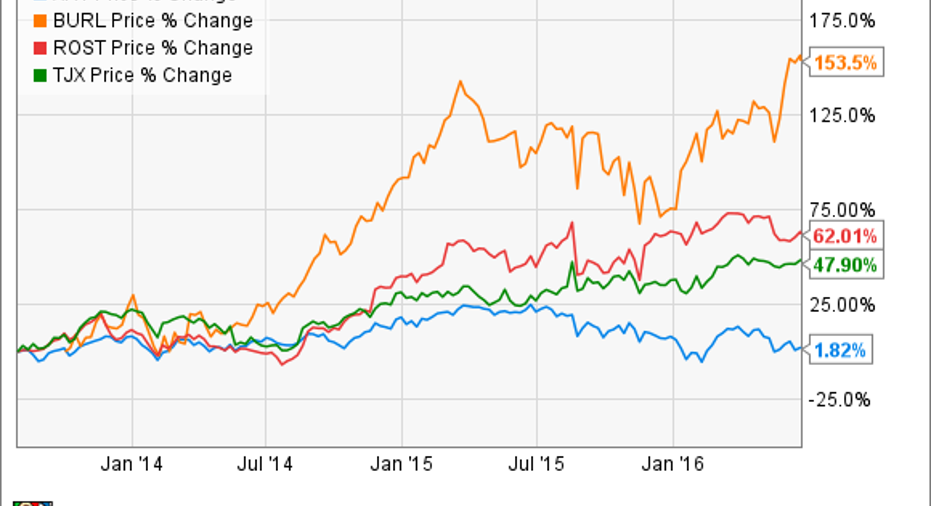 Image source: Pexels.com.
The first half of 2016 has not been kind to retailers. Sports Authority can attest to the challenging times as it begins its bankruptcy liquidation. Meanwhile,Restoration Hardwarerecentlyreduced its 2016 earnings outlook by $0.90 to $1.00 per share. The market reacted accordingly sending the stock down 24%.
Despite the struggles of some retailers, sales in the industry are actually looking positive. On June 14, the U.S. Commerce Department reported surprisingly strong May numbers as retail and food service sales increased 2.5% over last year. Year to date, total retail sales are up 3.2% over the same time period in 2015.
Despite the positive results, the share prices of many retailers have not kept pace. The SPDR S&P Retail ETF, an ETF which offers broad exposure to the US retail market, is down 17% for the year, lagging the S&P 500, which is essentially flat.
However, three brick-and-mortar companies have defied the odds. Burlington Stores , Ross Stores , and The TJX Companies -- which operates TJ Maxx, Home Goods, Sierra Trading Post, and Marshall's -- are firing on all cylinders. Delivering positive comps, adding store locations, and increasing shareholder wealth are not exactly synonymous with publicly traded brick-and-mortar retailers these days, but these three off-price department stores are defying the trends.
| Company | Q1 2016 Comparable-Store Growth (YOY) | Store Locations Added | 52-Week Stock Performance |
| --- | --- | --- | --- |
| Burlington Stores | 4.3% | 24 | 23.4% |
| Ross Stores | 2% | 74 | 9.5% |
| TJX Companies | 7% | 47 | 14.3% |
Data source: Company filings and Yahoo! Finance.
And over the past five years, the performance is even stronger.
Who needs e-commerce?
A common notion when selling goods and services to consumers is that if you are not online, you do not exist. For the businesses that do have a strong online presence, beware of Amazon. However, Burlington, Ross, and TJX have all produced successful results with zero to little dependence on e-commerce.
Of TJX Companies' four U.S. brands, customers can only place orders online with TJ Maxx and Sierra Trading Company. However, TJ Maxx only offers free shipping on orders of $75 and more. It also has a not-so-friendly return policy where it charges customers $9.99 for returns by mail. Sierra Trading Post, on the other hand, stocks products that are difficult or restricted from shipping such as air rifles, knives, and pre-assembled bicycles.
Burlington Stores also sells merchandise online, but it is not a great value proposition as the free shipping threshold is also $75. Furthermore, it is common practice for publicly traded retailers to break out e-commerce numbers from brick-and-mortar locations. Judging from the fact that Burlington lumps them both together, I'm guessing that online revenue at the company is not a meaningful part of its business.
Ross, which is the largest of all the off-price department store brands, does not even have an online store.
The business model of off-price retailers is not very conducive to e-commerce. According to research from Cowen and Co., the average retail spending of Ross customers is only $10, while TJX customers typically spend $14 to $15. With operating margins in the single digits to low teens, selling online does not leave much of a profit when accounting for shipping costs and returns. Furthermore, off-price retailers purchase excess brand-name inventory from a wide variety of merchandise vendors and manufactures. The amount and style of merchandise is broad but any one particular item or size may be of limited supply. Advertising a wide selection of products in limited supply could prove rather frustrating for both the customer and retailer.
While it may seem like a focus on brick-and-mortar locations is a recipe for failure, it has been anything but these off-price retailers. In fact, business is booming. Take a look at their sales growth the past three years compared to department store juggernauts Wal-Mart Storesand Target.
Company

Revenue Growth (YOY)

2013

2014

2015

Burlington Stores

7.1%

8.7%

5.8%

Ross Stores

5.2%

7.9%

8.1%

TJX Companies

6%

6%

6.4%

Target

-0.1%

0%

1.6%

Wal-MartStores

1.5%

2%

-0.1%
Data source: Company filings.
The allure of the rack
Although Burlington, Ross, and TJX have not been able to replicate their business online doesn't mean Amazon can't. After all, the company sells plenty of items under $10 and pays little mind to how it may negatively effect profit margins. Yet the online giant has not appeared to impact these retailers like it has so many others.
Although deals are aplenty at Amazon, what cannot be replicated is the experience of sifting through racks to find a hidden gem at a bargain price. When a consumer finds a branded item and sees a price up to 60% below the normal retail price, it brings a sense of compulsive joy that can't be imitated online. In fact, the term "Maxxinista" has been coinedfor TJ Maxx shoppers who love to find bargains at its locations.
Is the price right?
Sales are easily found on the racks of these three successful retailers, but are investors finding the same steals with the retailers' respective stocks?
Given its successes, the stock prices of Burlington, Ross, and TJX have run up quite a bit the past few years. As a result, the stocks of each of these companies do not appear to be cheap. All three retailers are trading at or above the average price-to-earnings ratio of the specialty retail sector which currently sits at 21.6 times trailing-12-month earnings. All three companies are also trading well above projected earnings growth for the next three to five years.
| Company | P/E (TTM) | Projected EPS Growth (3-5 years) | PEG Ratio |
| --- | --- | --- | --- |
| Burlington Stores | 29.0 | 17.2% | 1.7 |
| Ross Stores | 21.5 | 11.3% | 1.9 |
| TJX Companies | 22.7 | 9.9% | 2.3 |
Data source: S&P Global Intelligence.
With the exception of Ross, the companies' stocks are trading within a couple dollars of their all-time highs. However, this is not a reason to avoid the stocks. Strong business performance is the reason these companies trade richly. If the businesses continue in this vein, today's prices may turn out to be something from the clearance rack. However, any small hiccup and the lofty prices may come down sharply, providing better bargains to the patient investor.
The article 3 Thriving Amazon-Proof Retailers originally appeared on Fool.com.
Palbir Nijjar owns shares of Amazon.com. The Motley Fool owns shares of and recommends Amazon.com. The Motley Fool recommends Restoration Hardware. Try any of our Foolish newsletter services free for 30 days. We Fools may not all hold the same opinions, but we all believe that considering a diverse range of insights makes us better investors. The Motley Fool has a disclosure policy.
Copyright 1995 - 2016 The Motley Fool, LLC. All rights reserved. The Motley Fool has a disclosure policy.