3 Things You Need To Know About This Marijuana Stock's First Quarter Performance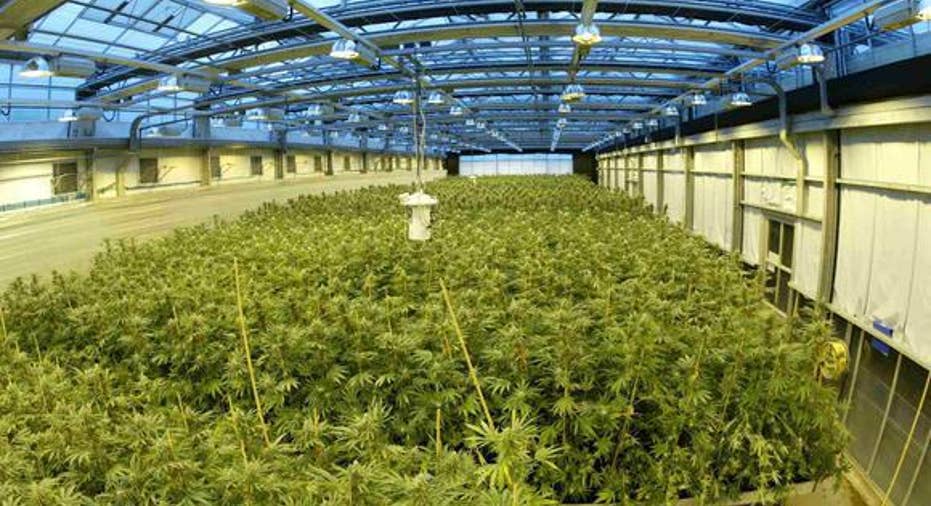 SOURCE: GW PHARMACEUTICALS
After updating investors on its first-quarter financials,investors may be wondering if marijuana drug developer GW Pharmaceuticals' shares should be bought or sold. Here are 3 key takeaways from GW Pharmaceuticals report that offer insight into whether this company is worth owning in portfolios.
No. 1: Revenue elusiveDespite GW Pharmaceuticals already commercializing a THC derived drug, Sativex, in Europe, sales continue to be more of a trickle than a flood. In Q1, GW Pharmaceuticals reports that total revenue clocked in at only $9.1 million. That's down from $20.7 million (at current exchange rates) a year ago. Muddying the decline, however, is the fact that most -- if not all -- of the drop is associated with an end to collaboration revenue on Sativex that had been tied to studying it as a therapy for cancer pain. Those payments from co-developer Otsuka stopped rolling in once Sativex's three phase 3 trials failed to outperform placebo last year.
No. 2: Cash is kingPerhaps no company has made as big a push to scientifically prove that marijuana can effectively treat disease. GW Pharmaceuticals has been researching the use of marijuana based medicine in various conditions since the 1990s. Although that research has been costly, capital raised via stock offerings in the past two years has allowed management to salt away a nice cash stockpile. While spending on existing trials caused that stockpile to shrink last quarter, GW Pharmaceuticals still has $277 million on its books, and that should be plenty enough to fund its ongoing programs -- at least for a while. Last quarter, the company spent $37 million on R&D and $4.6 million on selling, general, and administrative expenses.
No. 3: Improving careGW Pharmaceuticals THC based medicine may have failed in cancer pain, but another marijuana cannabinoid could significantly improve treatment in rare forms of epilepsy.
Earlier this year, GW Pharmaceuticals reported data from a study of Epidiolex, a purified formulation of CBD, in patients with Dravet syndrome. In that study, patients receiving Epidiolex saw a 39% reduction in monthly seizures.
A second trial evaluating this drug in Dravet syndrome patients is expected to have data available in June. And, later this year, results from studies evaluating Epidiolex in Lennox-Gastaut syndrome should be available too.
Assuming these trials back up the findings of this first trial, GW Pharmaceuticals should be able to put together an application for Epidiolex's approval in the United States. A decision on whether or not to grant that approval would come roughly 10 months after the paperwork is accepted by the FDA, unless the agency grants Epidiolex priority review.
Looking aheadSo far, 23 states have passed laws allowing patients with certain indications to use marijuana as part of their treatment, and if GW Pharmaceuticals can scientifically prove that marijuana improves outcomes in Dravet syndrome, it could increase momentum for marijuana's use across all epilepsy indications. However, there's no guarantee that will happen. Late stage trials often fall short, and there's no certainty that remaining epilepsy trials will confirm GW Pharmaceuticals previous studies or that the FDA will ultimately approve this drug. If Epidiolex does win approval, then it could become a standard of care in treating Dravet syndrome patients, but I'm not sure what the commercial sales opportunity for this drug will be. After all, Epidiolex may have to compete against CBD products being marketed by marijuana dispensaries and that could impact Epidiolex's pricing and market share. Overall, this story is worth watching, but I'm less convinced that GW Pharmaceuticals' stock is worth owning. After all, the company is already valued at $740 million, and that suggests that Epidiolex will need to be a nine figure drug to justify this stock's market cap.
The article 3 Things You Need To Know About This Marijuana Stock's First Quarter Performance originally appeared on Fool.com.
Todd Campbell has no position in any stocks mentioned. Todd owns E.B. Capital Markets, LLC. E.B. Capital's clients may have positions in the companies mentioned. Like this article? Follow him onTwitter where he goes by the handle@ebcapitalto see more articles like this.The Motley Fool has no position in any of the stocks mentioned. Try any of our Foolish newsletter services free for 30 days. We Fools may not all hold the same opinions, but we all believe that considering a diverse range of insights makes us better investors. The Motley Fool has a disclosure policy.
Copyright 1995 - 2016 The Motley Fool, LLC. All rights reserved. The Motley Fool has a disclosure policy.