3 Things You Need to Know About Kite Pharma's First Quarter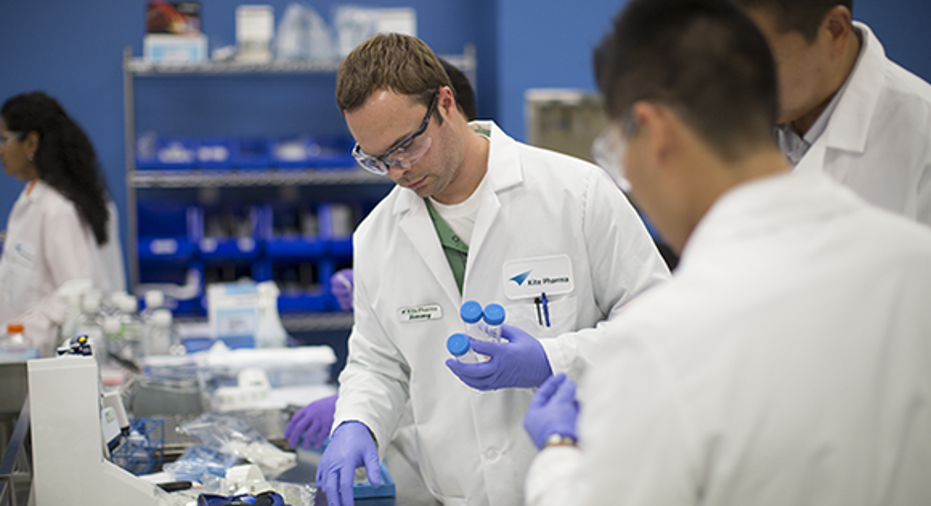 Image source: Kite Pharma.
After reporting its first-quarter financials, investors might be wondering if Kite Pharma's shares should be bought or sold. Here are three key takeaways investors should consider before pressing the buy or sell buttons.
No. 1: First-mover advantageKite Pharma's management expects to report data from a pivotal phase 2 trial evaluating its CAR-T therapy KTE-C19 in aggressive non-Hodgkin lymphoma (NHL) patients later this year. KTE-C19 is a therapy that reengineers a patient's immune system to find and destroy cancer cells expressing the C19 antigen, and if results are positive, then Kite Pharma plans to file for FDA approval before the end of the year.
Delivering on that aggressive timeline could position Kite Phama as the first CAR-T therapy on the market, and that could pave the way for the company reporting substantial revenue by the end of next year.
Previously, Kite Pharma reported that 22 of 41 patients with aggressive NHL treated with KTE-C19 achieved complete responses, and that durable complete responses are stretching out as long as three years. Also, Kite Pharma reported recently that one of seven patients with chemorefractory NHL remained a complete responder nine months after KTE-C19, and that two other patients in this subgroup were still complete responders after six months. These findings are remarkable given that historically, median overall survival in tough-to-treat NHL patients is about 3.6 months.
Because patients with chemorefractory NHL have a poor prognosis and few treatment options, Kite Pharma is already laying the groundwork for potential KTE-C19 commercialization. Last quarter, management made advances in prepping for commercial-scale production of KTE-C19 that it estimates will allow it to produce between 4,000 to 5,000 personalized patient therapies annually. The company's c-suite is also planning market and payer strategies now so it can hit the ground running if the FDA gives it the go-ahead next year.
No. 2: Pipeline expansionIn addition to advancing KTE-C19 in advanced NHL, the company is also making progress in expanding the number of studies it has under way so its therapies can address more patients.
For example, a collaboration with Roche that will combine Roche's atezolizumab, a checkpoint inhibitor, with KTE-C19 is expected to begin recruiting patients later this year.
Also, the company plans to study KTE-C19 in follicular lymphoma, chronic lymphocytic leukemia, and in earlier stages of diffuse large B cell lymphoma. And, the company is making progress on T-cell receptor (TCR) therapies that may someday offer hope to patients diagnosed with solid tumors. The company hopes to file an IND with the FDA later this year so it can begin human clinical studies of MAGE A3 soon.
Image source: Amgen.
Finally,Kite Pharma and Amgen agreed in January 2015 to combine Kite Pharma's extensive CAR-T knowledge with Amgen's extensive array of cancer targets to developnext-generation CAR-T therapies. That collaboration is progressing ahead of schedule, and that's got Kite Pharma thinking it'll be able to file the first IND from this collaboration in 2017.
No. 3: Financial firepowerDeveloping therapies that reengineer a patient's T-cells to better target cancer cells is incredibly complex and expensive. Fortunately, Kite Pharma's financial footing appears stable.
Last quarter, the company spent $34.4 million on research and development and $16.5 million on general and administrative expenses. Overall, that spending translated into a cash burn rate of $37.3 million in the quarter, and based on the pace of spending, management is guiding for total cash burn of at least $235 million this year.
That's a lot of money, but Kite Pharma exited March with $575 million in cash and investments on its books and no debt, and that cushion prompted Kite Pharma's CFO, Cynthia Butitta, to say on the earnings conference call that "current cash and investments are sufficient to fund our operations through commercial launch of KTE-C19."
Obviously, that statement depends on getting a green light from the FDA next year, but assuming that happens without a hitch, it appears unlikely that there are any dilutive stock or debt offerings on the horizon.
Tying it togetherMore than 90% of cancer drugs fail in clinical trials, and many of those failures occur in late-stage trials when medicines get tested in larger patient populations. Given that failure rate, there's no certainty KTE-C19's current studies will confirm those from prior studies. Another risk is that the FDA will balk at approving KTE-C19 without it conducting a larger study. The FDA has to weigh efficacy against safety, and since life-threatening cytokine responses have been observed with CAR-T therapies, there could be reason for regulators to press pause.
Nevertheless, Kite Pharma is at the forefront of CAR-T development, and the potential for it to win first-mover advantage in a patient population that has a big unmet need might make this a stock worth owning.
The article 3 Things You Need to Know About Kite Pharma's First Quarter originally appeared on Fool.com.
Todd Campbell has no position in any stocks mentioned.Todd owns E.B. Capital Markets, LLC. E.B. Capital's clients may have positions in the companies mentioned. Like this article? Follow him onTwitter, where he goes by the handle@ebcapitalto see more articles like this.The Motley Fool has no position in any of the stocks mentioned. Try any of our Foolish newsletter services free for 30 days. We Fools may not all hold the same opinions, but we all believe that considering a diverse range of insights makes us better investors. The Motley Fool has a disclosure policy.
Copyright 1995 - 2016 The Motley Fool, LLC. All rights reserved. The Motley Fool has a disclosure policy.