3 Things to Watch When Spirit Airlines Reports Earnings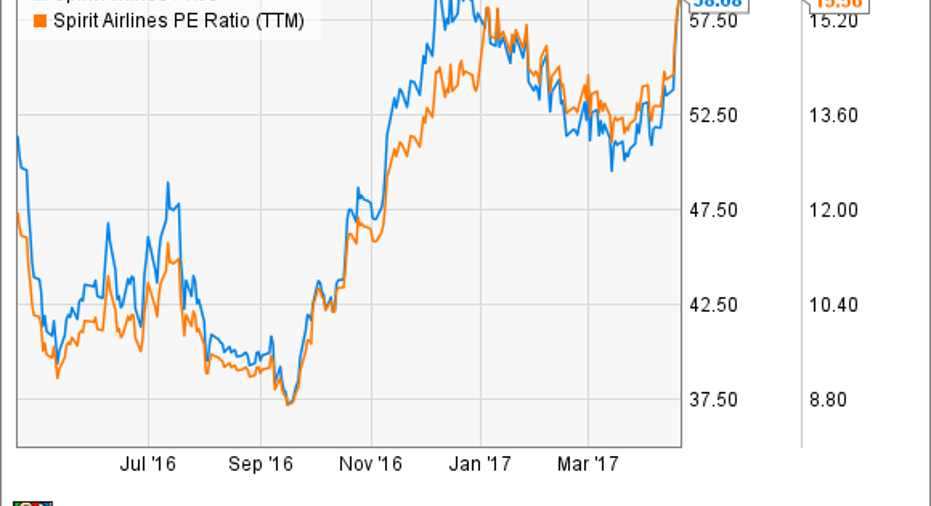 Spirit Airlines (NASDAQ: SAVE) will release its first-quarter earnings on April 28. While the discount airline's stock is currently trading near its 52-week high, a lot of Spirit's current investor enthusiasm is based on expectations that the company's revenue picture will improve dramatically in 2017. Let's take a look at a few areas to watch to help gauge whether Spirit's recovery is still on track.
1. Unit revenue needs to keep moving in the right direction
This is far and away the most important thing most investors want to see from Spirit right now. The last two years saw Spirit's competitors price fares quite aggressively, leading to dramatic declines in Spirit's unit revenue (revenue per available seat mile, or RASM) for several consecutive quarters.
Image source: Spirit Airlines.
However, after bottoming out in the first quarter of 2016, Spirit's RASM has been trending back toward positive growth ever since. Spirit is seeing the fare wars abate a bit as the whole industry begins to focus on improving unit revenues, and the company has made several pricing tweaks of its own to raise fares wherever it can. While Spirit has already preannounced a RASM decline of 4.3% for the first quarter of 2017, the company has repeatedly stated that it expects to finally achieve positive RASM growth in the second quarter, and that unit revenue growth should continue for the remainder of the year. If management makes similar comments again, it would be a good sign that Spirit's turnaround is progressing according to plan.
2. Spirit needs to show it can sustain healthy operating margins
Spirit has long boasted some of the best operating margins in the business. In 2015 and 2016, the company posted adjusted operating margins north of 20%. However, in the fourth quarter of 2016, higher fuel, labor, and maintenance costs caused adjusted operating margin to fall all the way to 16.2%, a drop of 6.6 percentage points from the previous year.
Spirit has noted that it expects its margins to remain under pressure as several carriers have rolled out a comparable class of service to compete with Spirit's ultra-low fares. The company has also stated that margins will likely be a little lumpier going forward, and that the slower first and fourth quarters will generally be lower than the second and third quarters, which encompass the peak travel season. However, regardless of the competition or economic environment, Spirit says it's managing the business to deliver a "mid-teens or higher" operating margin. While its margins may come in lower for the first quarter due to seasonality, investors should look for any signs that margins may slip beneath management's mid-teens goal for 2017.
3. Continued progress on the customer service front would be a bonus
In his first year on the job, CEO Bob Fornaro made some remarkable progress to improve Spirit's public perception. He quickly made it a personal priority to improve the airline's historically lousy performance and customer service metrics. The company has already dramatically lowered its rate of complaints to the Department of Transportation and boosted its on-time performance to be nearly on par with the industry average.
Fornaro has stated that he sees improving Spirit's reputation among travelers as an 18-month process, and is adamant that the company won't raise costs in its attempt to do so. While this is unlikely to send the stock price immediately higher, investors should look for any signs of continued progress on this front, as an improved reputation could help attract more first-time flyers to Spirit in the long run.
Spirit trades at a P/E ratio of around 15.5 today. For an airline that believes it can expand capacity (available seat miles) at 15% to 20% per year for the next five years with industry-leading operating margins, that just seems too low to me. If the company returns to RASM growth soon and can make continued strides to improve its poor perception, I think Spirit is set to fly even higher.
10 stocks we like better than Spirit AirlinesWhen investing geniuses David and Tom Gardner have a stock tip, it can pay to listen. After all, the newsletter they have run for over a decade, Motley Fool Stock Advisor, has tripled the market.*
David and Tom just revealed what they believe are the 10 best stocks for investors to buy right now... and Spirit Airlines wasn't one of them! That's right -- they think these 10 stocks are even better buys.
Click here to learn about these picks!
*Stock Advisor returns as of April 3, 2017
Andy Gould owns shares of Spirit Airlines. The Motley Fool recommends Spirit Airlines. The Motley Fool has a disclosure policy.