3 Things to Watch When Home Depot Inc Posts Earnings Next Week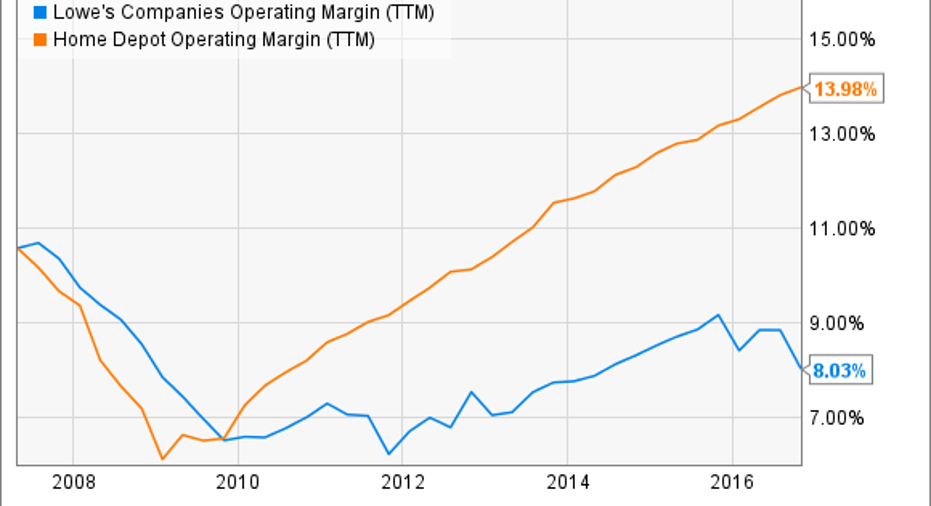 Home Depot (NYSE: HD) is set to report its fourth-quarter earnings results before the market opens on Tuesday, Feb. 21. Judging by the stock's run toward record highs after trailing the market in 2016, investors are growing more optimistic about its home improvement business.
Below, I'll highlight the important trends that might add to that positive momentum -- or stop the retailer's rally in its tracks.
Customer traffic gains
Comparable-store sales growth is a big deal for any retailer, but it's even more critical to Home Depot since its store footprint isn't expanding. In fact, the company hasn't added a new warehouse in the U.S. in years, while rival Lowe's (NYSE: LOW) opened 40 locations in 2016 alone.
Image source: Getty Images.
It's a good thing Home Depot has its smaller peer beat in growth at existing locations, then. Comps accelerated to a 6% pace last quarter to double Lowe's result.
Home Depot is targeting a 5% overall comps number for the full 2016 year, compared to Lowe's 4%. In addition to seeing that goal hit, investors will want to be sure that the gains come from a healthy mix of customer traffic growth and higher average spending per trip. Lately the retailer has had to lean more heavily on rising spending as traffic gains slowed to a 2% pace from 4% last year.
Earnings growth
Home Depot is spending aggressively on initiatives like building out its e-commerce infrastructure and integrating newly acquired businesses like the Interline Brands segment. Those investments really haven't hurt the bottom line -- yet. Thanks to surging profitability, net income is up double-digits over the last nine months to $6.2 billion. Its 14% operating margin already trounces Lowe's 8%, but CEO Craig Menear and his executive team aim to slowly boost that figure toward 15% by fiscal 2018.
LOW Operating Margin (TTM) data by YCharts.
Investors should brace for volatility on this metric since management has a packed pipeline of projects aimed at keeping long-term sales growth chugging higher. One recent example is the option it just rolled out for customers to order products online and have them delivered directly from their local store.
Home Depot is also pouring resources into optimizing its supply chain so that it always has the products in hand at just the right time. Other national retailers, including Wal-Mart and Target, have had to dial back earnings expectations due to similar spending. Home Depot enjoys much higher profit margins then they do, which is a big reason why earnings should jump 16% this year to $6.33 per share. Yet the company might project weaker profit growth ahead due to spending on the business.
Dividend raise
Investors can expect hefty cash returns from Home Depot this quarter, considering that management in November boosted its 2016 stock repurchase spending target by $2 billion to $7 billion. Toss in the $3.5 billion it's expected to dish out in dividends, and shareholders should be looking at a total capital return of over $10 billion for the year.
Home Depot targets delivering 50% of earnings to its owners as dividends each year, and so shareholders will likely see a double-digit boost to the annual dividend as part of next week's earnings announcement. A year ago, the company hiked its payout by 17% following the prior year's 26% jump.
Executives are using debt to help fund its massive stock buyback program. That choice has increased interest payments as debt has ballooned to $22 billion from less than $10 billion in 2011. It has been a smart use of capital, given that interest expenses are still less than 1% of sales, and the company's recently borrowed funds at its lowest rate on record.
10 stocks we like better than Home DepotWhen investing geniuses David and Tom Gardner have a stock tip, it can pay to listen. After all, the newsletter they have run for over a decade, Motley Fool Stock Advisor, has tripled the market.*
David and Tom just revealed what they believe are the 10 best stocks for investors to buy right now... and Home Depot wasn't one of them! That's right -- they think these 10 stocks are even better buys.
Click here to learn about these picks!
*Stock Advisor returns as of February 6, 2017
Demitrios Kalogeropoulos owns shares of Home Depot. The Motley Fool recommends Home Depot. The Motley Fool has a disclosure policy.