3 Things to Expect From Crescent Point Energy Corp. in 2017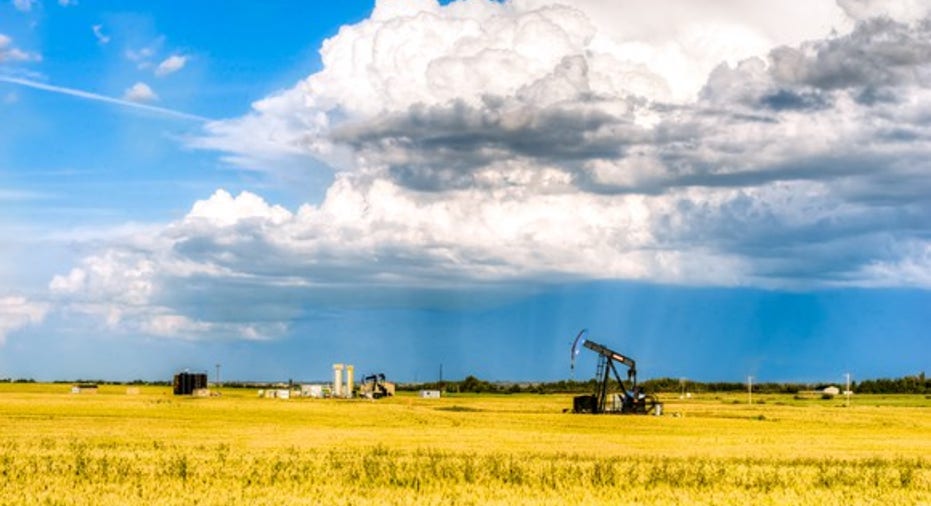 Crescent Point Energy Corp. (NYSE: CPG) has a simple three-part business strategy. First, it intends to develop its existing assets and enhance its recovery factors through optimization and improved technology. Second, it plans to continue to acquire additional resources with a lot of upside. Finally, it hopes to achieve its other priorities by managing risk. Given that strategy, here's what the company expects to do in 2017 to ensure it stays on track.
Develop and enhance
Crescent Point Energy has a long history of developing its resources and growing production. Since 2010, for example, it has increased production per share by a 4% compound annual rate. For 2017, the company plans to continue that trend, guiding to deliver 10% growth in production by the end of the year versus its 2016 exit rate. That's a healthy growth rate for a company of its size during the current environment.
For perspective, similarly sized Canadian rival Enerplus (NYSE: ERF) only expected output to rise 6.2% this year over that same time frame. The company, though, recently completed an asset sale, which will result in a decline in output. That fate is not likely in the forecast at Crescent Point given that it has never missed a production estimate.
Image source: Getty Images.
In addition to developing its resource base, the company will also test out new technologies to enhance its ability to extend growth in the future. This year, it's testing an injection control device system to improve its response time on new waterflood. In initial tests, it has seen a production response in just six months compared to 12 to 18 months with existing technology. If future tests prove this technology to be superior, then it'll likely begin fieldwide implementation, which could boost production above expectations.
Acquire
Aside from developing its existing resource base, Crescent Point Energy also intends to keep making acquisitions that increase its opportunity set. While the company didn't make any notable deals last year, it has been an active acquirer in the past. For example, in 2015 it spent 1.53 billion Canadian dollars to acquire Legacy Oil + Gas, which brought with it 20,000 BOE/d of existing production along with 940 future drilling opportunities. It also bought Coral Hill in 2015 for CA$258 million, which added 3,200 BOE/d and 100 future drilling locations.
With CA$1.9 billion of available credit and a low leverage ratio, Crescent Point has ample financial flexibility to make additional deals. Furthermore, like Enerpus, the company is reviewing non-core assets, looking for opportunities to sell properties that no longer fit within its portfolio. Any future sales would increase its financial flexibility and therefore its ability to make additional acquisitions that bolster core areas.
Manage risk
One reason Crescent Point Energy has never missed a production target is that it manages risk to ensure it has the capital needed to invest in production growth. One part of that strategy is to hedge a significant portion of its output. In 2017, for example, it has hedged 42% of expected first half production to reduce cash flow volatility. That has proven to be a wise move given that oil prices have been more volatile than anticipated since the start of the year.
The other way the company manages risk is by maintaining a healthy balance sheet. It does that by living within cash flow. Last year, for example, it only spent 89% of funds from operations and this year it expects to maintain a 91% ratio. Because of this, Crescent Point Energy sees its leverage ratio improving over the course of the year, going from 2.2 times net debt to funds flow to 2.0 times by the end of the year.
Investor takeaway
Crescent Point Energy has delivered consistent growth over the years by doing three things: developing and enhancing its resources, making smart acquisitions, and managing risk. Given the success it has had in the past, it's no surprise to see that the company built its 2017 priorities around that strategy. It's a formula for success that should continue to pay dividends for investors in the future.
10 stocks we like better than Crescent Point Energy Trust UnitsWhen investing geniuses David and Tom Gardner have a stock tip, it can pay to listen. After all, the newsletter they have run for over a decade, Motley Fool Stock Advisor, has tripled the market.*
David and Tom just revealed what they believe are the 10 best stocks for investors to buy right now... and Crescent Point Energy Trust Units wasn't one of them! That's right -- they think these 10 stocks are even better buys.
Click here to learn about these picks!
*Stock Advisor returns as of April 3, 2017
Matt DiLallo has no position in any stocks mentioned. The Motley Fool has no position in any of the stocks mentioned. The Motley Fool has a disclosure policy.