3 Things That Could Hurt NVIDIA Corp.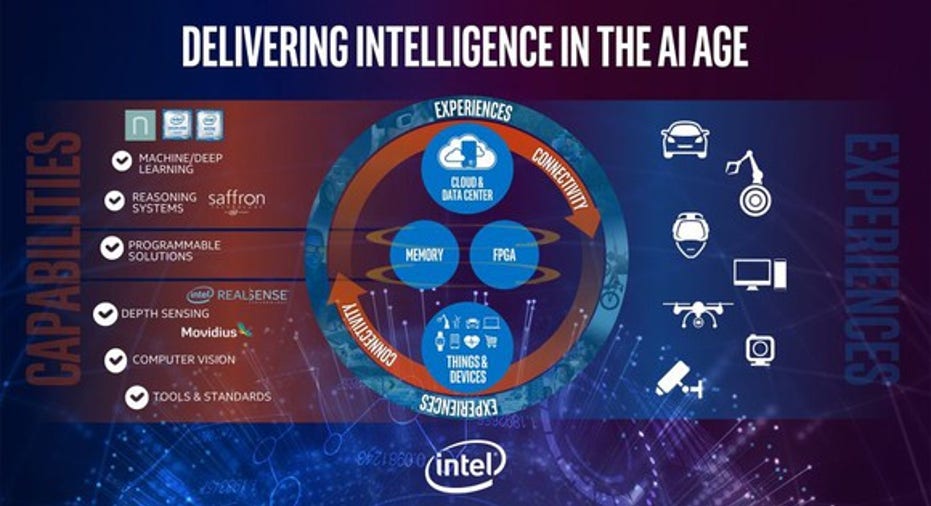 There's a lot for NVIDIA Corp. (NASDAQ: NVDA) and its investors to be optimistic about at the moment. The company grew data center revenue by three times in its fiscal second quarter; it retains the dominant position in the graphics processing unit (GPU) market against rival Advanced Micro Devices (NASDAQ: AMD); and it's quickly building on massive opportunities in both self-driving cars and artificial intelligence (AI).
But it can be tempting to think that the good times will continue simply because that's what's happening right now. I've argued in recent articles that NVIDIA is in a great position to benefit from its endeavors, but sometimes it's also good to step into the contrarian role for just a minute in order to evaluate things more critically.
Image source: Getty Images.
To do that, let's take a look at three pessimistic possibilities for the company: how AMD could gain market share against NVIDIA's GPUs; what Intel's (NASDAQ: INTC) doing to take on NVIDIA in the AI space; and how Intel's proposed purchase of Mobileye (NYSE: MBLY) could thwart NVIDIA's driverless car tech plans.
1. AMD's new Vega GPUs could help boost market share
At the end of 2016, AMD had a market share of29.5% in discrete desktop GPUs, and NVIDIA controlled the rest.. Obviously, NVIDIA is dominating here, but investors should be aware that just two years before, NVIDIA'sGPU market share was more than 78%. Take a look:
Data source: Jon Peddie Research and AnandTech.
AMD has mainly made its gains in mid-range GPUs, but expect that to change in the second quarter of this year, when the company releases its new Vega GPU architecture.
Admittedly, it's a bit early to know how well AMD's new GPUs will compete against NVIDIA's. But one recent move by NVIDIA -- it released a new, high-endGTX 1080 Ti with 20% to 45%higher performance than original version -- might be an indicator that the segment leader is preparing for serious competition.
AMD has already managed to take significant market share away from NVIDIA over the past couple of years, and with Vega, it will go directly after NVIDIA's high-end GPU dominance. If Vega is even mildly successful in wooing some customers away from NVIDIA's GPUs, it will be a win for AMD.
2. Intel'sMobileye acquisition ratchets up the driverless car tech competition
NVIDIA has a huge opportunity in the self-driving car space with its Drive PX 2 supercomputer. Drive PX uses machine learning and visual processing to interpret all of the things around a driverless car, giving it situational awareness. About 80 automotive suppliers and car companies are using variants of NVIDIA's Drive PX already, and the company expects the driverless car segment to be an increasingly important part of its business.
Image source: Intel.
About a year ago,I wrote that Intel was aiming to take on NVIDIA in driverless cars, but that it wasn't doing enough to achieve its goal. That may have changed last week when Intel announced a deal to buy the Israel-based autonomous driving tech company Mobileye for $15.3 billion.
Mobileye's self-driving technology consists of cameras, sensors, machine learning, and cloud software, and the company already has 70% of the worldwide market share for advanced driver assistance systems (ADAS).
The purchase will not only propel Intel toward the front of the self-driving car tech space, but also give the chipmaker more opportunities to embed its own processors in the hearts of autonomous cars -- and possibly hurt NVIDIA's push for GPU-based self-driving tech.
3. Intel is taking on NVIDIA's artificial intelligence business too
NVIDIA's GPUs are also used in some of the most sophisticated AI and deep learning systems available right now, including its own Drive PX2 and DGX-1 supercomputers. Graphics processors are uniquely adept at processing AI information, and NVIDIA could end up being a big winner in this market.
A recentinvestor note published by Goldman Sachs' Toshiya Harisaid that NVIDIA's total addressable market in the AI and deep learning space could be as large $5 billion to $10 billion.
Intel is easily the leader in the server chip space, with 99% market share, but its chips have not been the go-to components for the growing AI data center market. To change that (and to better compete with NVIDIA) Intel has been busy building out its own AI strategy.
Image source: Intel.
This year, the company will begin selling its new AI-focused chip -- the Knights Mill Xeon Phi processor -- which it says it can process deep learning data faster than NVIDIA's GPU (though NVIDIA has disputed that claim). And Intel recently acquired an AI company calledNervana Systems, which makes anapplication specific integrated circuit (ASIC) that it believes can increase AI computing power.
Intel CEO Brian Krzanich said in a blog post a few months ago, "We expect Nervana's technologies to produce a breakthrough 100-fold increase in performance in the next three years to train complex neural networks, enabling data scientists to solve their biggest AI challenges faster."
Intel'sAI capabilities are still behind NVIDIA's right now, but the company is clearly making this segment a priority, and NVIDIA investors should recognize that the massive potential size of the AI market means that competition in it is only going to increase.
Should NVIDIA investors be worried?
There's not much for NVIDIA investors to be worried about right now, but that doesn't mean they should take a hands-off approach to this stock. The company will need to continue dominating in the discrete desktop GPU space, and innovate faster in AI and driverless car tech to maintain its dominant positions. So far, NVIDIA has proven that it can do this well, but investors would be wise to keep a close eye on how NVIDIA's competitors are mounting their attacks.
Find out why Nvidia is one of the 10 best stocks to buy now
Motley Fool co-founders Tom and David Gardner have spent more than a decade beating the market. (In fact, the newsletter they run, Motley Fool Stock Advisor, has tripled the market!*)
Tom and David just revealed their ten top stock picks for investors to buy right now. Nvidia is on the list -- but there are nine others you may be overlooking.
Click here to get access to the full list!
*Stock Advisor returns as of February 6, 2017
Chris Neiger has no position in any stocks mentioned. The Motley Fool owns shares of and recommends Nvidia. The Motley Fool recommends Intel. The Motley Fool has a disclosure policy.