3 Things That Could Derail NVIDIA's Automotive Ambitions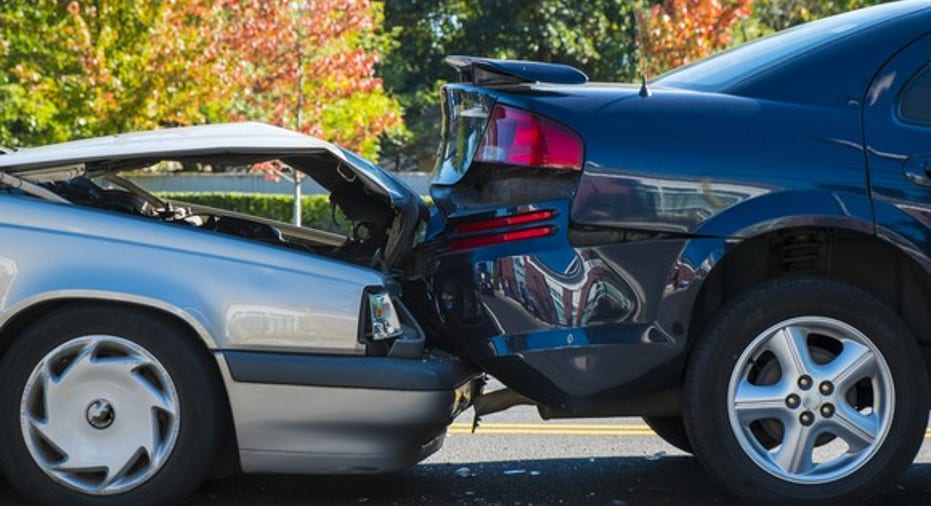 Image source: Getty Images.
There's no denying NVIDIA has become a major player in future of automobile technology. The company has built out its driverless car technology through two generations of its Drive PX system, continues to win spots in infotainment solutions through its processors, and just introduced a new supercomputer (the DGX-1) that could help process driving information for autonomous cars from the cloud.
NVIDIA earned $113 million from its automotive segment in Q1 2017, an increase of 46% year over year. Automotive revenue represented just 8.6% of its total revenue in the quarter.
The company wants to continue building its automotive segment into a bigger business, but here arethree simple things that could push those plans off track.
1. Slower-than-expected driverless car adoption rates
NVIDIA's Drive PX 2 system incorporates the company's high-end graphics processing units (GPUs) so that driverless cars can quickly process outside information (collected from cameras and sensors) and make sense of their surroundings.
The company already has 80 automakers and Tier 1 suppliers using and/or testing Drive PX, and Volvo will use the technology in its 100-vehicle autonomous car tests in Gothenburg this year.
But it's stil unclear exactly how the public is going to respond to driverless cars. IHS Automotive predicts that 10% of light vehicles sold worldwide will be autonomous by 2030,but there's some research showing that consumers may be leery of giving control over to artificially intelligent vehicles.
A recent AAA survey showed that 75% of drivers have a fear of driverless cars. And only 1 in 5 respondents said they would trust a driverless car with them inside of it.
Most of those fears can be overcome when users test out certain semi-autonomous and autonomous driving features, but that could take a long time. And that means NVIDIA could be waiting a while to see significant revenue from its driverless car technologies.
2. Increased driverless car competition
Let's assume for a moment that the driverless car revolution goes off without a hitch. NVIDIA could still face some fact some significant problems even in that scenario.
The main thing I'm concerned about is NVIDIA's ability to take on the rising driverless car technology competitors. NXP Semiconductors is probably NVIDIA's biggest threat in the space right now.
NXP introduced a new driverless car product last month called BlueBox. It's an off-the-shelf semi-autonomous system for automakers to easily implement driverless car technology into their vehicles. While NVIDIA's Drive PX 2 essentially provides the brains for driverless cars, BlueBox provides the processors, sensors, and cameras as one compete system.
BlueBox allows cars to have reach SAE Level 4 automation, which is just one step below a fully autonomous vehicle. NXPI says 4 of the top 5 automakers are already testing the technology and that it will be on the road by 2020. NVIDIA's Drive PX 2 (which could eventually be paired with its DGX-1 supercomputer) certainly isn't a lightweight in the driverless car world, but NXP's complete package is sure to test NVIDIA's position in the automotive market.
3. The company's automotive semiconductors aren't safe, either
Much of NVIDIA's automotive revenue comes from selling its GPUs to car companies to run their on-board infotainment systems. But NVIDIA is facing new competition from NXP on this front as well.
NXP closed its acquisition of Freescale Semiconductor earlier this year, making it the largest supplier of automotive semiconductors in the industry, grabbing more than 14% market share. NXP's chips power advanced driver assistance systems (ADAS), vehicle-to-everything (V2X) systems, and secure telematics. ADAS systems are the stepping stones to autonomous car technology, making NXP a clear choice for automakers. Out of the top 10 automotive semiconductor suppliers, NXP ranks No. 1 -- but NVIDIA doesn't even make it on the list.
NXP makes about 36% of its total revenue from its automotive segment, compared to NVIDIA's 8.6%. NXP clearly has a lead in the automotive semicondutor space, and it's much more reliant on automative revenue than NVIDIA -- which makes the company all the more motivated to keep its lead in the market.
NVIDIA's not doomed
I don't think NVIDIA's automotive ambitions are unfounded or unrealistic, but investors should certainly consider these threats before jumping in with the company. However, NVIDIA is leading the way in discrete desktop GPUs and is making big gains in machine learning, which means that it doesn't necessarily need its automotive ambitions to pan out.
The article 3 Things That Could Derail NVIDIA's Automotive Ambitions originally appeared on Fool.com.
Chris Neiger has no position in any stocks mentioned. The Motley Fool owns shares of and recommends NVIDIA and NXP Semiconductors. Try any of our Foolish newsletter services free for 30 days. We Fools may not all hold the same opinions, but we all believe that considering a diverse range of insights makes us better investors. The Motley Fool has a disclosure policy.
Copyright 1995 - 2016 The Motley Fool, LLC. All rights reserved. The Motley Fool has a disclosure policy.