3 Things Harley-Davidson Inc's Management Wants You to Know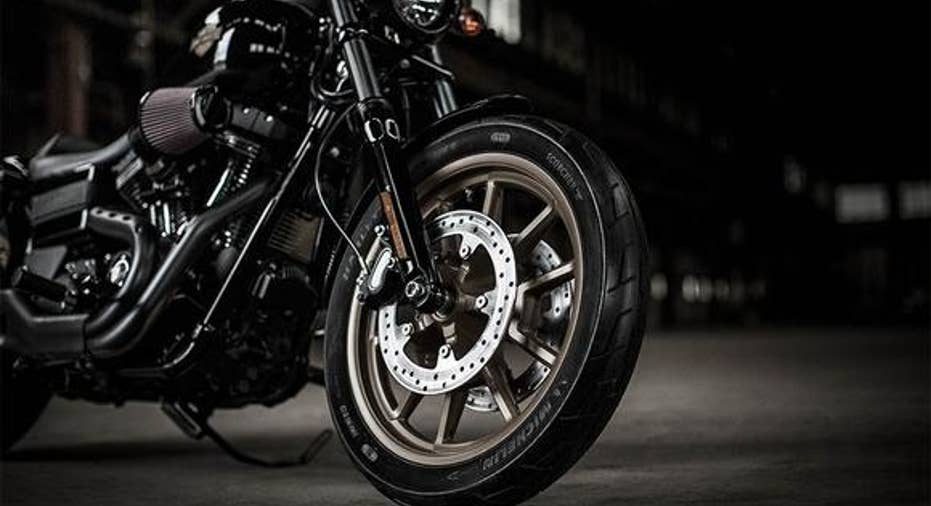 Harley-Davidson's new Low Rider S is an exciting new addition to its lineup that ought to generate the same kind of excitement its Street line did. Image source: Harley-Davidson.
The intensely competitive environment for motorcycle sales continues to weigh on Harley-Davidson's financial results, causing it to record another quarter of falling revenues and profits.
The iconic bike maker refuses to engage in those tactics, however, believing they are a short-term salve that ultimately undermines the brand. And with few companies in any industry having the sort of name recognition and brand power Harley-Davidson has, it's understandable why the company is loathe to do so.
In its first-quarter earnings conference call with analysts, the bike maker sought to lay out why, although its results were below what it would have liked to see, it's actually a better than expected result. With rivals like Polaris Industries , Honda, Kawasaki, and Yamaha all engaging in stiff discounting to maintain sales and grow market share, Harley-Davidson's management wanted investors to know these three things.
1. Marketing investments, not discounting.Harley-Davidson has the luxury of remaining above the fray when it comes putting on doorbuster sales to attract customers. While even Polaris bemoans having to participate in the margin-killing discounting, Harley eschews the practice, instead saying it wants to invest in attracting new riders to motorcycling generally and, obviously, to Harley-Davidson bikes in particular.
To do so, it's boosting its marketing spend this year by $70 million, a 65% increase from what it spent a year ago. By promoting programs like its Live Your Legend campaign and Heroes Ride Free rider training programs for military and first responders, it's getting people onto Harley-Davidson motorcycles, after which they'll hopefully make the decision to purchase one.
Because Harley-Davidson owns half the U.S. bike market in the 601-cubic centimeter and above class, it can afford to take a longer-term outlook for generating a return on such investments than could Polaris, which, having resurrected the once-bankrupt Indian Motorcycle nameplate, needs to scramble to get it in front of consumers -- and pricing is a quick and dirty way to do it.
Harley CFO John Olin says the bike maker islooking for a payoff further down the road, and these initiatives "are what we're doing to drive demand versus the alternative and the easy way out, which is the discount."
2. Get everyone on a bike and ride.Going hand in hand with that is Harley-Davidson's plan to not only continue growing its core customer base, the middle-aged white male ready and willing to drop $30,000 or more on a bike, but also riders new to motorcycles and the Harley brand.
And it's working. Despite its lackluster sales performance in recent periods, 2015 marked the eighth straight year Harley was the top seller of new, on-road motorcycles in the U.S. to young adults age 18 to 34, to women, African-Americans, and Hispanics, not to mention to white males 35 and older.
President and CEO Matthew Levatich said, "We continue to sell more Harley-Davidson motorcycles to today's young adults than we did to the baby boomers when they were young adults, and we're bringing new riders of all ages into the sport."
Yet another new bike Harley-Davidson brought to market, theCVO Pro Street Breakout is a bike that's meant for performance. Image source: Harley-Davidson.
Part of that has been the move beyond just its big, hulking iron horses into bikes with better maneuverability in urban landscapes. The Street 500 and 750 have proven to be popular bikes, and one imagines its new Low Rider S will join that group. With its Dyna chassis; 110-cubic inch engine; a slightly fatter rear tire, but with both wheels wrapped around "scorched chrome" aluminum wheels; and a bikini fairing on the front, riders are getting a fast, stripped-down bike.
Similarly, the new CVO Pro Street Breakout that was introduced at the same time as the Low Rider, along with the just-unveiled Roadster, a Sportster-style addition to its Dark Custom group, indicates Harley-Davidson will be amping up development. Indeed, it says it will be spending 35% more on product development this year than it did last year.
3. Gray clouds are still far out on the horizon.Although it looks like Harley-Davidson is doing everything it needs to to take care of business, there are some bumps in the road. International sales are strong, for example, but Latin America has been wrecked by the devaluation of the real in Brazil and the subsequent price increase that was necessary to offset it. That itself has been offset to a degree by strong sales in Mexico, but the country is dependent upon oil, and the commodity's collapse will eventually weaken the market there just as it has in oil-dependent states in the U.S.
The impact is being seen foremost in the operating profits of Harley's financial services division, which dropped 13% in the quarter while provisions for loan losses had to be increased by $13 million due to rising delinquencies and lower prices received at auction.
Harley-Davidson is a major lender in the sub-prime market -- some 20% of its loans are sub-prime -- and while that makes it potentially lucrative for the financial services arm during good times, when the market turns south, it can hurt. For the past seven years, HDFS has been making a mint off of these borrowers because it prices its loans for the risk, but things can quickly unravel, as we saw during the financial crisis of the last decade.
Harley says the rising delinquencies are merely a reversion to the mean, and it's nothing to be worried about. CFO Olin notes, "It remains incredibly profitable and it's doing what we expected." Still investors who may like to think more about the bikes Harley-Davidson sells may also want to consider how it is these buyers are paying for them and what risks that represents.
The article 3 Things Harley-Davidson Inc's Management Wants You to Know originally appeared on Fool.com.
Rich Duprey has no position in any stocks mentioned. The Motley Fool owns shares of and recommends Polaris Industries. Try any of our Foolish newsletter services free for 30 days. We Fools may not all hold the same opinions, but we all believe that considering a diverse range of insights makes us better investors. The Motley Fool has a disclosure policy.
Copyright 1995 - 2016 The Motley Fool, LLC. All rights reserved. The Motley Fool has a disclosure policy.