3 Things Every Investor Needs to Know About Sonus Networks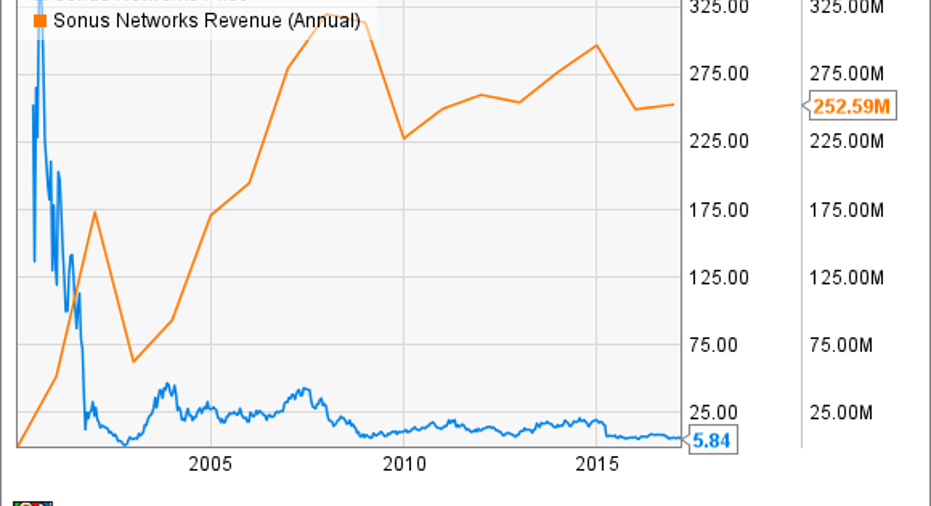 Since last summer, shares of Sonus Networks (NASDAQ: SONS) have dropped some 40%. The supplier of cloud- and network-based communications equipment has failed to gain any real traction for years, but investors have been given hope as revenue increased and losses were pared during the last year. Here is what you need to know.
Sonus goes shopping
Last fall, Sonus announced it was acquiring fellow communications supplier Taqua for $20 million in cash. In giving reasons for the purchase, Sonus noted Taqua's mobile communications technology was complementary to its own growth strategy and would strengthen its position with large clients.
Image source: Sonus Networks.
Historically, Sonus has been a supplier of tech enabling online communications. The company was off to the races in the early days of the internet, but in the last decade revenue has been stagnant at best and otherwise inconsistent.
Sonus annual revenue and stock price. Data by YCharts.
The acquisition could help the company smooth out its revenue going forward. It also opens up the opportunity for new business. Shortly after the transaction closed, management said its total addressable market increased 60% with the addition of Taqua. That could be a potential boon for Sonus, which raked in $252.6 million in revenue last year, well off its peaks of over $300 million in years past.
Advancing communications technology
Sonus' newstrategy for growth revolves around mobile communications. The Taqua acquisition gives the company access to VoLTE and VoWiFi technology, which helps wireless providers transition their networks to 4G LTE. This helps reduce cost, increases coverage and reliability, and offers value-added services like video calling and the ability to run a data connection and be on a call simultaneously.
Image source: Sonus Networks.
Addressing its internet-based communications business, Sonus rolled out new tech during the last year to help businesses transition away from traditional voice services. The company launched a new cloud service, specifically aimed at helping clients move to Microsoft's Skype as a primary means of business communication.
Also in company news, a number of Sonus session border controllers received U.S. federal security certification. Securing internet-based communications has also been a top priority for Sonus, and the new certification for some of its product opens the door for the company to be able to sell to government agencies and other regulated industries.
Net losses were shrinking, but...
Sonus has been running in the red for years now. However, the company was showing signs of a bottom-line rebound this past year, with net losses narrowing to $13.9 million, or $0.28 per share, compared to a $31.9 million loss in 2015.
Sonus annual net income. Data by YCharts.
Share prices have been held in check, though, by management's lackluster outlook for 2017. Revenue is expected to be flat or up by low single digits, and per-share losses were forecast to widen again to $0.35. The company is dealing with a tough telecom market that is undergoing consolidation rather than growing, putting pressure on the bottom line and hampering efforts to grow sales.
Things to think about
Sonus' stock is volatile and now has a long history of averaging lower rather than higher. The company has tried to show conviction by buying back its own shares, $94.6 million worth since July 2013. The average price paid per share was $14.32. Thus far, that hasn't been money well spent.Sonus' acquisition of Taqua generated some hype last year, but the fact is that this supplier is struggling as the industry it sells to is no longer growing. Until that changes, investors should be leery about betting on a full-blown recovery.
10 stocks we like better than Sonus NetworksWhen investing geniuses David and Tom Gardner have a stock tip, it can pay to listen. After all, the newsletter they have run for over a decade, Motley Fool Stock Advisor, has tripled the market.*
David and Tom just revealed what they believe are the 10 best stocks for investors to buy right now... and Sonus Networks wasn't one of them! That's right -- they think these 10 stocks are even better buys.
Click here to learn about these picks!
*Stock Advisor returns as of February 6, 2017
Nicholas Rossolillo has no position in any stocks mentioned. The Motley Fool has no position in any of the stocks mentioned. The Motley Fool has a disclosure policy.