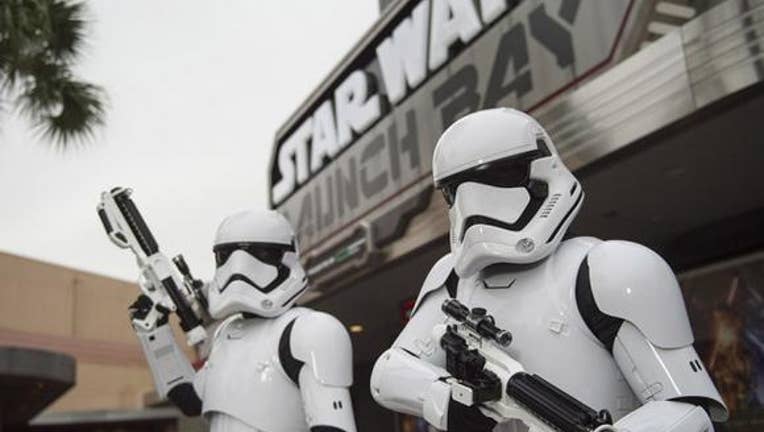 Image source: Disney.
Theme parks are a big deal atDisney , and understandably so. The world's undisputed champ in amusement parks generated $16.2 billion in revenue and more than $3 billion in operating profit through its gated attractions in fiscal 2015.
The media giant's largest resort is Disney World in Florida, attracting 51.5 million guests through its four parks last year according to industry watcher Themed Entertainment Association. Let's go over a few things that the House of Mouse got right through 2015.
1. Star Wars is everywhereDisney has owned Lucasfilm for three years, knowing all along that it would culminate in last week's record-setting debut of Star Wars: The Force Awakens. This has also given Disney time to plan out a strategy to cash in on the mega franchise at its theme parks.
It could've acted sooner with permanent game-changing attractions. The world would've been camped out at Disney's Hollywood Studios if the 14-acre plannedStar Wars Landexpansion were open by now instead of several years from now. However, Disney World's least visited park has done a capable job of loading up Disney's Hollywood Studios witha lot of temporaryStar Wars-themed experiences. From short film screenings detailing the saga and making of the new movie to meet-and-greet experiences and themed menu items available throughout the park, the "Force" is strong. I've been to Disney's Hollywood Studios a couple of times over the past week, and it seems as if every other person is carrying around a BB-8 souvenir cup being sold at the park.
2. A big price hike may be bad for guests, but it's great for shareholdersAnnual increases are the norm at Disney World and Disneyland. It now costs more than $100 to buy a single-day ticket to Disney World. However, Disney did shock the industry in October by pushing out double-digit rate increases for its Disneyland and Disney World annual passes.
It's a pretty brazen business decision, but it's being done to regulate crowds. The dramatic annual pass increase is a move to get locals and other regulars to opt for value-minded passes with blackout dates during peak travel periods. The parks are too crowded over the holidays with day guests that pay more per day than annual pass holders, and this move will either smooth that out or make the theme park operator a lot of money if die-hard regulars pay up for the pricier premium passes.
3. Disney Springs has sprungAn unheralded piece of Disney World is the shopping entertainment district that until just a few weeks ago was known asDowntown Disney. It is now Disney Springs. It updated many of the stores and eateries, and several more are on the way including the multi-level NBA Experience themed restaurant.
Perhaps more importantly, Disney also recently opened a massive parking garage and an I-4 off-ramp, helping ease the traffic and parking nightmare that Downtown Disney had become.
Downtown Disney was always an adequate entertainment district once you licked the patience-challenging access issue. Now it's raising the bar with nifty retro theming that's more fitting of what a Disney-run shopping and dining hub should be.
The article 3 Things Disney World Got Right in 2015 originally appeared on Fool.com.
Rick Munarriz owns shares of Walt Disney. The Motley Fool owns shares of and recommends Walt Disney. Try any of our Foolish newsletter services free for 30 days. We Fools may not all hold the same opinions, but we all believe that considering a diverse range of insights makes us better investors. The Motley Fool has a disclosure policy.
Copyright 1995 - 2015 The Motley Fool, LLC. All rights reserved. The Motley Fool has a disclosure policy.