3 Terrible Reasons to Sell Amazon.com, Inc. Stock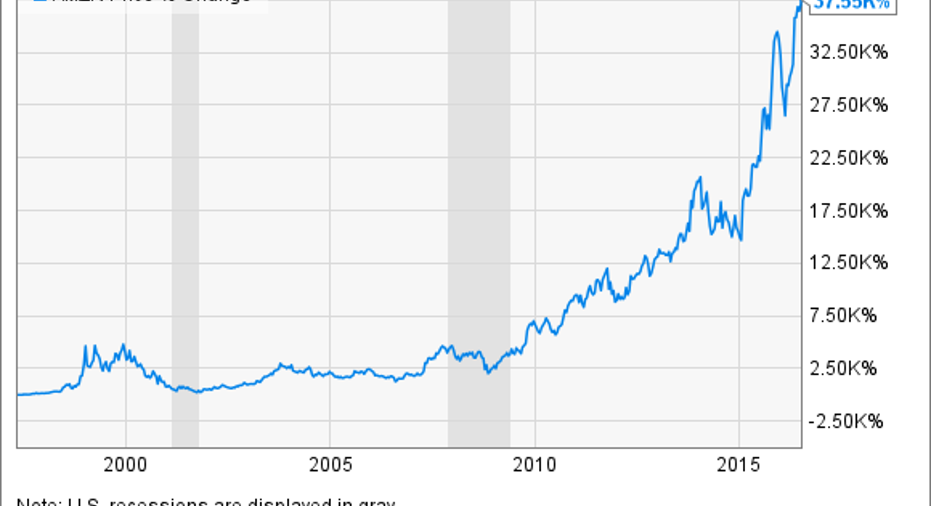 Shares of Amazon have soared nearly 70% over the past 12 months, extending its 250% gain over the past five years. After that big rally, some investors might be wondering if it's finally time to sell the stock. However, many of the bearish arguments against Amazon simply don't make much sense for long-term investors. Let's examine three such flawed arguments -- and why you shouldn't sell Amazon based on those fears.
1. Brexit
After Britain stunned the world by deciding to leave the EU, shares of Amazon dropped over 5% after the subsequent two-day sell-off. Some of that was just panic selling, but some investors started wondering how badly Amazon's U.K. and European businesses would be hurt by Brexit.
Image source: Getty Images.
Amazon doesn't disclose exactly how much revenue its U.K. and European businesses generate, but weknow that revenue at Amazon's international unit rose 24% annually last quarter and accounted for a third of its top line. We also know that Amazon runs ten fulfillment centers in the U.K. and 21 fulfillment centers across Europe, compared to 84 centers in North America, 47 centers in Asia, and one center in South America. Based on those numbers, we can get a rough estimate that the U.K. and Europe account for about a fifth of Amazon's marketplace business.
Prior to the Brexit vote, Amazon pledged to create 2,500 new jobs in the U.K. to expand its distribution network. After thevote, Amazon announced that it would create another 1,000 jobs across the country, indicating that it was still confident in the market's growth prospects. A third of Amazon's U.K. customers now subscribe to Prime, which has prompted it tolaunch its grocery delivery service in London, add one-hour delivery to nine cities, and build two new fulfillment centers in Manchester and Leicestershire to cope with demand. While a softer pound might hurt Amazon's revenues across the region, rising demand could easily offset those currency headwinds.
2. Fears of a global recession
Another argument is that if the global economy crashes and pulls countries into recessions, Amazon's e-commerce business will take a big hit. However, Amazon has held up through economic crises and stock market crashes since its IPO in 1997.
AMZN data byYCharts.
During the financial meltdown of 2008-2009,sales of Amazon's e-books on its cheap Kindle devices offset weaker marketplace sales of physical products. Over the past few years, its Amazon Web Services (AWS) cloud platform has replaced the Kindle as its ultimate defense against a prolonged recession.
AWS is the largest cloud platform in the world with an annual run rate ofaround $10 billion.It provides crucial cloud services for huge customers like NASA, the CDC, and even Netflix . It's also Amazon's fastest growing and most profitable business. Last quarter, AWS revenue rose 64% annually and accounted for 9% of its top line. But on the bottom line, the unit's operating profit soared 210% and accounted for 56% of Amazon's operating income, thanks to its much higher margins.
AWS is considered nearly recession-proof, since big companies can't pull the plug on their cloud-dependent businesses without losing their data and connections to customers. Since AWS is now Amazon's biggest profit driver, its growth will likely offset any big marketplace losses caused by economic downturns.
3. Thinking that Amazon is expensive
Lastly, many investors who glance at Amazon's fundamentals get spooked by its trailing P/E of over 300. However, we should remember that Amazon's profitability has been boosted by AWS, and analysts still expect its earnings to grow 330% this year before cooling off to 84% nextyear. Based on those figures, Amazon's trailing P/E and forward P/E of 74 both look reasonable.
Since Amazon prioritizes generating lots of revenue and reinvesting the cash back into itself, the EV/FCF and EV/Revenue ratios give us clearer comparisons between Amazon and big tech rivals like Facebook, Netflix, and Google parent Alphabet.
| | | | | |
| --- | --- | --- | --- | --- |
| Metric | Amazon | Netflix | Facebook | Alphabet |
| EV/FCF | 53 | 45 | 45 | 24 |
| EV/Revenue | 3 | 6 | 15 | 5 |
Data source: YCharts.
Amazon is only slightly pricier than Facebook and Netflix based on its free cash flow, but it's much cheaper than all three companies based on its revenue. Therefore, Amazon isn't a cult stock with unreasonable valuations -- expectations are high, but its fundamentals are still firmly rooted in reality.
So when should you sell Amazon?
I previously called Amazon one of the stocks I planned to "never" sell. However, two events might cause me to rethink that position -- if founder and CEO Jeff Bezos resigns, or if AWS starts losing substantial business to rival platforms like Microsoft's Azure. I don't believe that either event will happen anytime soon, but those would be much better reasons to sell the stock than the terrible ones I listed in this article.
The article 3 Terrible Reasons to Sell Amazon.com, Inc. Stock originally appeared on Fool.com.
Suzanne Frey, an executive at Alphabet, is a member of The Motley Fool's board of directors. Leo Sun owns shares of Amazon.com. The Motley Fool owns shares of and recommends Alphabet (A shares), Alphabet (C shares), Amazon.com, Facebook, and Netflix. The Motley Fool owns shares of Microsoft. Try any of our Foolish newsletter services free for 30 days. We Fools may not all hold the same opinions, but we all believe that considering a diverse range of insights makes us better investors. The Motley Fool has a disclosure policy.
Copyright 1995 - 2016 The Motley Fool, LLC. All rights reserved. The Motley Fool has a disclosure policy.