3 Tech Stocks That Could Raise Their Dividends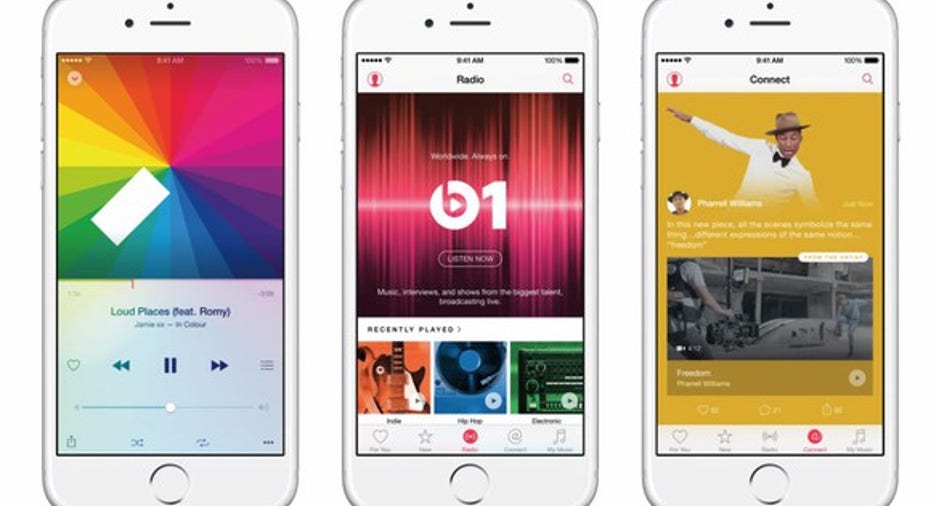 Apple Music running on an iPhone. Image source: Apple.
When investors think of dividend stocks, tech is rarely the first sector that comes to mind. Still, there are many tech companies that pay a dividend -- and some are downright generous (perhaps to an unsustainable degree). Plenty of tech companies are fast-growing, money-losing ventures, but others have strong balance sheets and profitable businesses. These companies can provide a steady stream of income for any portfolio.
But just as important as the dividend is a company's commitment to raising it over time. Let's take a look at three dividend-paying tech stocks that could be poised to raise their payout in the months and years ahead.
Apple just raised its dividend, but expect more in the future
Apple declared a $0.57 dividend last quarter, an increase of 10% from the $0.52 dividend it had paid in the previous four quarters. Over the last four years, Apple has raised its dividend four times, and at current levels, it now yields a respectable 2.31%. Unless Apple's business meaningfully deteriorates, investors can expect the company to raise its dividend at least once a year for the foreseeable future.
At the company's annual shareholder meeting earlier this year, CEO Tim Cook said that management was committed to increasing Apple's dividend annually. CFO Luca Maestrireiterated that statement in April during Apple's earnings call, emphasizing that the company was "plan[ning] for annual dividend increases going forward."
Apple ended last quarter with more than $230 billion of cash and securities, and generated $10.5 billion of net income. Only $2.9 billion of that was paid out in the form of dividends, giving Apple a modest payout ratio of just 23.46%.
Dolby Laboratories is committed to growing its dividend
Dolby Laboratories isn't a big dividend payer. At current levels, it yields just over 1%. But for most of its history as a publicly traded company, investors didn't even get that -- Dolby declared its first regular quarterly dividend in the fourth quarter of 2014. Since then, the company has raised its dividend once, boosting it 20% from $0.10 per share to $0.12 last October. But another increase could be coming later this year.
On the company's earnings call last July, CFO Lewis Chew spoke of Dolby's commitment to boosting its dividend. "I want to reiterate that our expectation is to grow [our] dividend over time," he said.
Last quarter, Dolby generated $67.4 million in net income and $90 million in operating cash flow. Its payout ratio was a manageable 24.92%. Based on these figures and statements by management, we can expect Dolby to declare a higher dividend before the end of the year. It probably won't make the company a high-yield play, but it may make sense for investors looking for a smaller tech stock committed to growing its dividend.
Intuit has raised its dividend each year since 2012
Small-business and tax-software specialist Intuit declared its first dividend in 2011. Since then, the company has raised its dividend regularly each year. If history is any indication, investors should look for Intuit to raise its dividend later this summer. The size of Intuit's dividend increase has varied over the years, with the company typically raising it between 10% and 15%. Last year, it declared its largest dividend increase yet, boosting it a full 20%.
The company finished last quarter with $1.6 billion of cash and investments, so it can afford to raise its dividend again in 2016. Its payout ratio is just under 30%. At current levels, Intuit yields a modest 1.13%, but its yield could tick up as it raises its dividend.
The article 3 Tech Stocks That Could Raise Their Dividends originally appeared on Fool.com.
Sam Mattera has no position in any stocks mentioned. The Motley Fool owns shares of and recommends Apple and Intuit. The Motley Fool has the following options: long January 2018 $90 calls on Apple and short January 2018 $95 calls on Apple. Try any of our Foolish newsletter services free for 30 days. We Fools may not all hold the same opinions, but we all believe that considering a diverse range of insights makes us better investors. The Motley Fool has a disclosure policy.
Copyright 1995 - 2016 The Motley Fool, LLC. All rights reserved. The Motley Fool has a disclosure policy.