3 Takeaways From Shake Shack's Earnings Report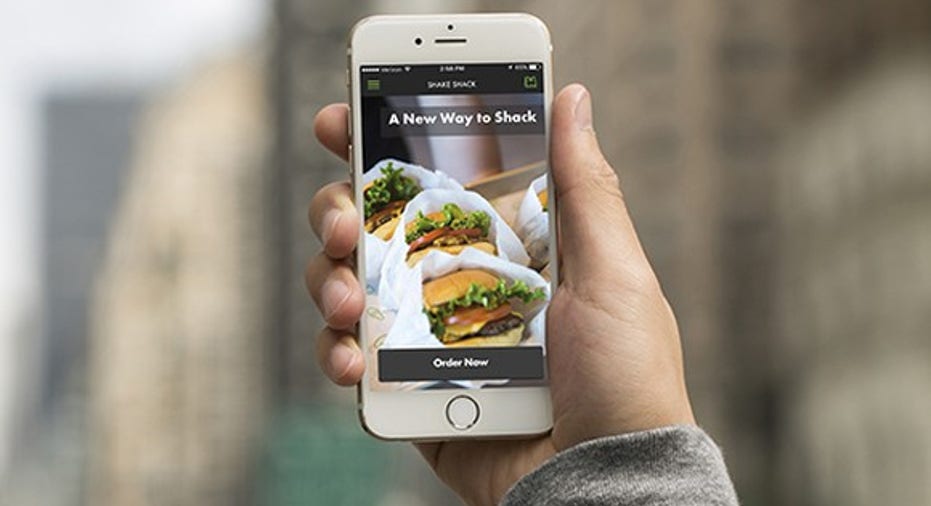 Shake Shack(NYSE: SHAK) shares have fallen more than 10% since last week's earnings report.
For the first time ever, the company failed to beat earnings estimates, matching expectations with a profit of $0.09 per share. The market was also underwhelmed by the company's revenue forecast for 2017, as Shake Shack called for $349 million to $353 million, or about a 31% increase. Analysts had called for revenue of $356.5 million.
Image source: Shake Shack.
Elsewhere, same-store sales ticked up 1.6%, though traffic fell as it has in much of the restaurant industry recently. While the results justify the sell-off, there's more behind the headline numbers for investors to focus on.
1. Earnings growth is slowing
Not only was the recent quarter the first in which Shake Shack didn't beat earnings estimates, it also marked the slowest earnings growth the company's seen. Adjusted net income grew just 11.6% in the recent quarter, even though revenue jumped 43.5%, accelerating from earlier in the year due to an increase in store openings. Labor expenses, meanwhile, jumped 53.6%.
Those openings weighed on the bottom line as Shake Shack staffs up its new stores to make sure they can handle customer demand.CEO Randy Garutti explained on the earnings call that of the 20 Shacks the company opened last year, 13 were opened in the second half, and that its restaurants tend to carry higher labor costs for the first six to twelve months.
The company's wage hike at the beginning of the year also ate into earnings, as well as increased medical claims and investments in training and labor expenses related to the launch of the new app.
Higher labor costs are expected to continue into 2017 as the company adds new managers. It's calling for a restaurant-level operating profit of 26.5-27.5%, down from 28.3% this year, but that number should stabilize and likely expand in the future as Shake Shack's new store growth moderates.
2. The real estate pipeline remains strong
In its two-year history as a publicly traded company, Shake Shack has repeatedly raised the bar for its own expansion. The company did so again in the recent report, calling for an addition of 22-23 company-operated stores, up from previous guidance of 21-22 stores and from 20 stores. On a base of 64 company-owned restaurants, that represents an increase in store count of 35%.
In the past year, the company opened four Shacks in the Los Angeles area, which have attracted crowds and become high-volume stores, proving the brand's ability to challenge In-and-Out and succeed in the hypercompetitive market where fast food was invented.
Looking to the current year, Garutti said, "We're more bullish than ever about the white space opportunities ahead for Shake Shack in this market." The company plans to open more Shacks in the LA area this year, as well as entering the San Diego market. Thus far this year, the company has opened restaurants in Darien, Ct. and Downtown Detroit, in addition to its fourth in the LA area. Among the new markets, the company plans to enter this year are St. Louis, Lexington, and Denver, as well as San Diego. Internationally, it expects to add 11 licensed locations.
With rapid expansion, plenty of new markets to enter, and strong performance at new locations, the company looks to be well on its way to reaching its goal of 450 domestic company-operated locations.
3. Aggressively going after mobile orders
Following in the steps ofStarbucks(NASDAQ: SBUX), whose Mobile Order & Pay app has proven to be popular -- so much so that the company has complained that the excess demand has been too much for it to handle --Shake Shack introduced its own mobile app for a similar purpose last year, testing it at one store before rapidly expanding it nationwide in the fourth quarter.
In February, the company offered a promotional free burger for everyone who downloaded the app that month. As a result, the company gave away 90,000 burgers and said the app was downloaded 200,000 times since its launch. Already, 25% of users have become repeat users.
A number of restaurants have launched mobile apps and begun offering delivery lately as traffic has fallen, but Shake Shack may have a better opportunity than others as its customer base more closely resembles that of Starbucks than other chains. Like Starbucks, the company offers an affordable luxury and tends to cater to an upscale clientele that is often on the go.
Garutti said the app was off to an "incredible start," adding, "It is just one part of our long-term strategy to meet our guests whenever and wherever they are."
While slowing profit growth may weigh on Shake Shack stock in the near term, the company continues to make savvy investment in its long-term growth, both physical and digital, and it should grow into its valuation over the next few years.
10 stocks we like better than Shake ShackWhen investing geniuses David and Tom Gardner have a stock tip, it can pay to listen. After all, the newsletter they have run for over a decade, Motley Fool Stock Advisor, has tripled the market.*
David and Tom just revealed what they believe are the 10 best stocks for investors to buy right now... and Shake Shack wasn't one of them! That's right -- they think these 10 stocks are even better buys.
Click here to learn about these picks!
*Stock Advisor returns as of February 6, 2017
Jeremy Bowman owns shares of Shake Shack and Starbucks. The Motley Fool owns shares of and recommends Starbucks. The Motley Fool is short Shake Shack. The Motley Fool has a disclosure policy.