3 Takeaways From BHP's Earnings Report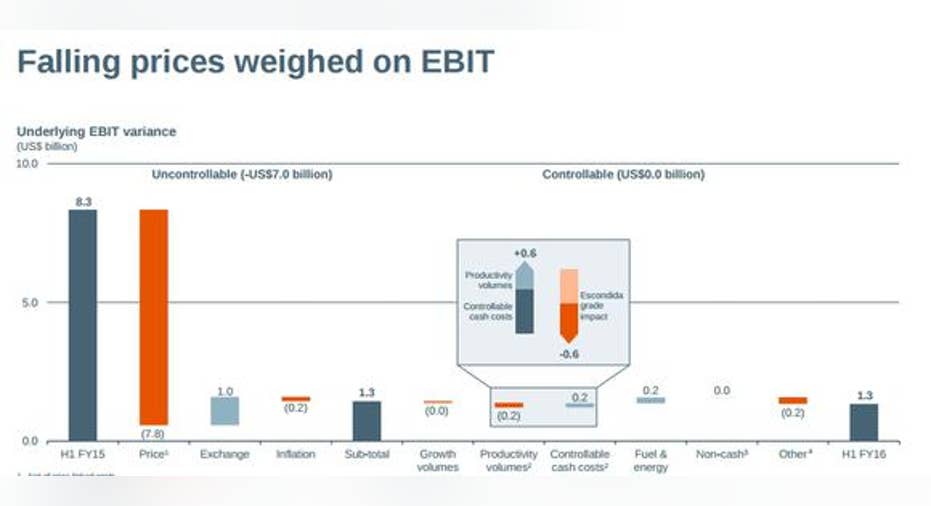 BHP Billiton's untarnished dividend record is no more.
On Feb. 23, BHP Billitonscrapped its progressive dividend policy. As a result of the policy change, BHP Billiton's interim dividend payment will be $0.16 a share, substantially lower than market expectations of $0.31 a share, and down almost 75% from last year's interim dividend of $0.62 a share.
Image source: BHP investor relations.
Given the way that commodity prices have fallen, with iron ore prices falling almost 40% from the first half of fiscal year 2015 to the first half of fiscal 2016, and crude oil and condensate prices falling by over 50% year over year, BHP Billiton didn't have much of a choice.
Image source: BHP investor relations.
According to management's estimates, the unfavorable price drops across crude oil, iron ore, copper, and other commodities caused the company's underlying EBIT to decline by $7.8 billion year over year, leaving the company with an underlying EBIT of just $1.3 billion for the first half of fiscal year 2016. Adding in other costs, BHP made just $412 millionin underlying earnings for its first half, down 92% year over year. Overall, the company reported a first-half fiscal 2016 GAAP net loss of $5.67 billion because of the recognition of several asset impairments.
Because commodity prices have fallen relentlessly, BHP's cash flows have shrunk to a point where its previous total dividend payout of $1.56 billion every fiscal half was untenable. In addition to this obvious conclusion, here are three important takeaways for shareholders in light of recent events.
Uncertain outlook in the near termAlthough the company is confident that demand for commodities will be strong in the long run, BHP is uncertain when a commodity price recovery will occur. BHP Billiton Chairman Jac Nasser said: "The changes to the dividend policy announced today reflect the board's assessment of the outlook for commodities and the increased financial flexibility this demands. While the continued development of emerging economies will underpin longer-term demand growth for commodities, we now believe the period of weaker prices and higher volatility will be prolonged."
Given its size, a near-term sustainable commodity recovery almost certainly requires China's growth to pick up again. What's more, it's obviously uncertain when that will occur. Because China is unlikely to launch any type of infrastructure stimulus that might move the demand needle, the commodity industry will need substantial supply to leave for prices to go higher.
Defend the balance sheetBecause the near-term commodity price outlook is cloudy at best, BHP management is keen to defend the company's strong balance sheet, which insulates BHP's operations from volatility and provides the company with valuable dry powder in case the right acquisition opportunity presents itself. In addition to cutting its dividend, BHPplans to cut its capital expenditures to $7 billion in fiscal year 2016 and $5 billion in 2017, down from its previous budget of $8.5 billion in 2016 and $7 billion in 2017. BHP also plans to continue its productivity-enhancing initiatives to save money.
Safe credit ratingAnother reason BHP Billiton cut its dividend is that it wants to preserve its peer-best "A" credit rating. BHP Billiton has $25.9 billion in net debt, and paying low interest rates on that debt is a big advantage in difficult times. The S&P downgraded BHP's credit in February to "A" from "A+" and warned that it could downgrade the company's credit by another notch if management didn't do enough to preserve the company's cash flows-to-cost ratio. Given that BHP's dividend cut is more drastic than what most analysts expected, the cash flow-to-cost ratio will better than expected, and its credit rating now looks safe for the time being.
Investor takeawayAlthough many investors expected the company to cut its dividend becauseRio Tinto(NYSE: RIO) cut its dividend earlier, BHP's dividend cut was more severe than expected. While the sharper-than-expected cut is painful, the cut will preserve BHP's balance sheet and help BHP retain its peer-leading "A" credit rating, which will keep its debt costs low. Given that BHP is light-years ahead other commodity companies in terms of financial strength, quality of assets, and cost cutting, the company is a strong candidate for Foolish investors looking for commodity exposure for the long run.
The article 3 Takeaways From BHP's Earnings Report originally appeared on Fool.com.
TMFJay22 has no position in any stocks mentioned. The Motley Fool has no position in any of the stocks mentioned. Try any of our Foolish newsletter services free for 30 days. We Fools may not all hold the same opinions, but we all believe that considering a diverse range of insights makes us better investors. The Motley Fool has a disclosure policy.
Copyright 1995 - 2016 The Motley Fool, LLC. All rights reserved. The Motley Fool has a disclosure policy.