3 Surprises From Pfizer at the J. P. Morgan Healthcare Conference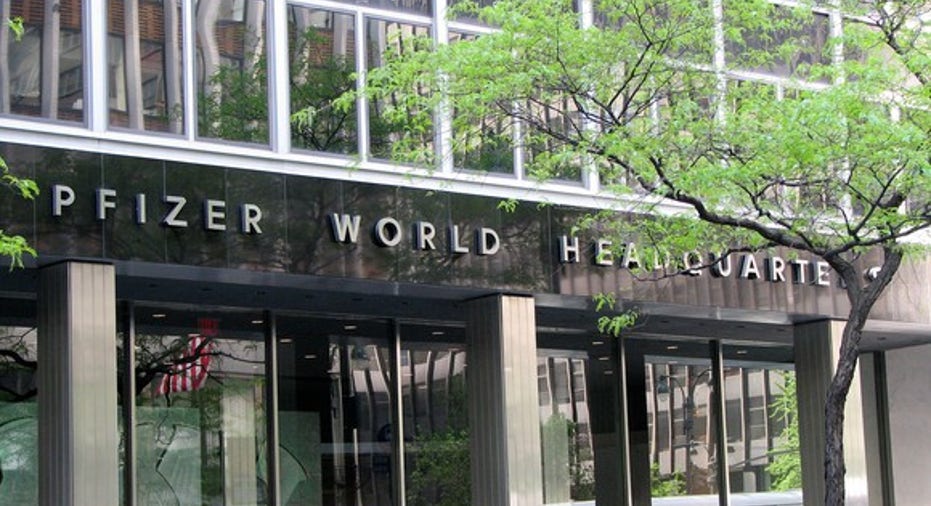 It's always fun to hear what pharmaceutical company executives might say at the J. P. Morgan (NYSE: JPM) Healthcare Conference. This year, Pfizer (NYSE: PFE) was represented by three top members of its management team at the conference. Here are three things the Pfizer executives said that might be at least a little surprising.
Image source: Norbert Nagel on Wikimedia Commons.
We're not done making acquisitions
Pfizer has been on a major spending spree over the past 18 months. The company bought Hospira in 2015 for $16 billion, picking up the smaller rival's biosimilars and injectables.In June of 2016, Pfizer acquired Anacor Pharmaceuticals for $5.2 billion, gaining promising atopic dermatitis drug crisaberole (now branded as Eucrisa). Just three months later, the big drugmakerpurchased red-hot biotech Medivation, shelling out $14 billion to seal the deal and add prostate cancer drug Xtandi to its lineup.
Throwing in a few smaller transactions, including the purchase of part of AstraZeneca's antibiotics business, Pfizer has spent roughly $38 billion in acquisitions in a relatively short period. If you think the big pharmaceutical company is done with making acquisitions, think again. Pfizer CFO Frank D'Amelio said at the J. P. Morgan conference that the drugmaker is still looking to make more deals.
What kind of deals might Pfizer make? D'Amelio said the company prefers acquisitions that will grow its top-line revenue either "now or soon." However, he added that Pfizer won't rule out deals with smaller companies with early-stage pipeline candidates. As for potential timing of future acquisitions, D'Amelio said that the company won't wait if the right opportunity comes along.
We love Trump
Okay, the Pfizer folks didn't actually say they loved Donald Trump. Pfizer CEO Ian Read stated last year that he couldn't "distinguish between the policies that Donald Trump may support or those that Hillary Clinton may support."However, it sounds like that perspective has changed. The company's executives at the J. P. Morgan conference sounded quite enamored with the President-elect's tax proposals.
D'Amelio was enthusiastic about the prospects of lower corporate tax rates. He mentioned Trump's proposal of a 15% corporate tax rate and House Speaker Paul Ryan's proposal of a 20% rate, saying that "both would be good."
He also had clearly been thinking about the possibility of lower taxes on repatriation of cash parked overseas, calling it "a big positive." D'Amelio even walked through a hypothetical scenario for what repatriation could mean for Pfizer. He said that, should changes be enacted, it could give the company "huge capital firepower."
We're not afraid of potential Ibrance rivals
Pfizer's fastest-growing drug in 2016 was Ibrance. Sales for the CDK inhibitor soared to nearly $1.5 billion in the first three quarters of last year. What about potential competition that could be on the way? Albert Bourla, who heads up Pfizer's innovative health business segment, didn't seem worried.
Bourla mentioned seeing more data from other CDK inhibitors over the last few months. He was referring to a couple of recent updates. In October, Novartis(NYSE: NVS) announced positive results from a late-stage study of ribociclib in combination with hormone therapy Femara in treating advanced breast cancer. A couple of months earlier, Lilly (NYSE: LLY) provided an update on its late-stage CDK inhibitor abemaciclib.
You'd think that Pfizer might be at least a little afraid of ribociclibpresenting a threat to Ibrance. Novartis stopped the late-stage study in May, earlier than planned, after interim analysis showed the drug had already met its primary endpoint. Lilly, on the other hand, didn't get such good news in its interim analysis ofabemaciclib.
Bourla's view, though, is that any positive results from Novartis and Lilly merely strengthen the case for CDK inhibitors as a class. He expressed confidence that Ibrance will win for several reasons, including the strength of its clinical data, first-mover advantage, and positive patient experiences.
Not surprising
What wasn't surprising in the least was that Pfizer's team thinks the company's future remains promising.Albert Bourla spoke about the potential for a label expansion for Ibrance this year and the tremendous potential for newly approved atopic dermatitis drug Eucrisa. Pfizer's research and development head,Mikael Dolsten, talked up the company's big pipeline and opportunities for combination therapies with other drugs.
Based on the drugs in Pfizer's lineup currently, Wall Street is projecting annual growth of just under 7% over the next five years. That's much better than the past five years. Combined with Pfizer's nice dividend, that kind of growth could mean solid returns for investors. And if the company makes more of those acquisitions and gets the tax reform it's hoping for, Pfizer shareholders could receive a pleasant surprise of even higher returns.
10 stocks we like better than Pfizer When investing geniuses David and Tom Gardner have a stock tip, it can pay to listen. After all, the newsletter they have run for over a decade, Motley Fool Stock Advisor, has tripled the market.*
David and Tom just revealed what they believe are the 10 best stocks for investors to buy right now... and Pfizer wasn't one of them! That's right -- they think these 10 stocks are even better buys.
Click here to learn about these picks!
*Stock Advisor returns as of January 4, 2017
Keith Speights has no position in any stocks mentioned. The Motley Fool has no position in any of the stocks mentioned. The Motley Fool has a disclosure policy.