3 Stocks Worth Stuffing in Holiday Stockings This Year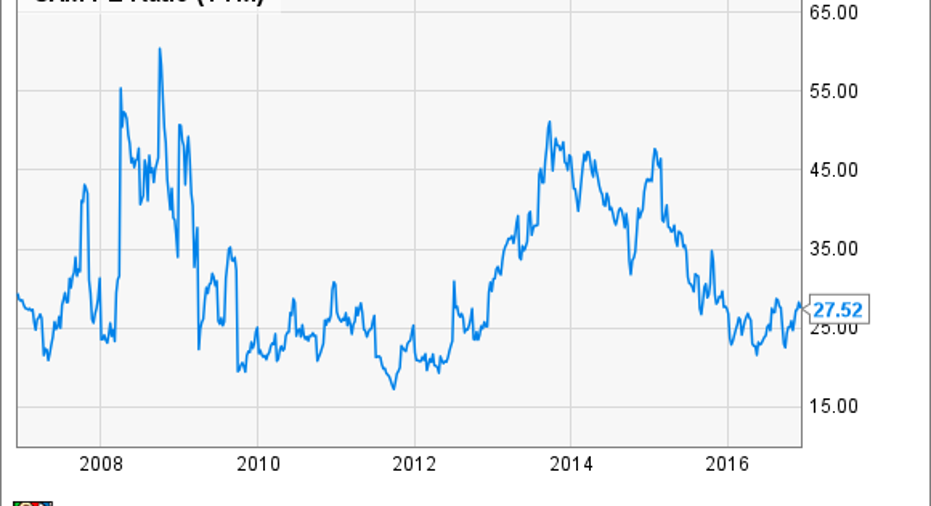 Trouble finding the perfect gift for someone special? Consider giving stock in that person's favorite companies.Unlike electronic gizmos that may stop working after one use, or knick-knacks that disappear within moments of being opened, shares can be a gift that keeps on giving year after year.
If you're unsure which stocks to buy, read on to see ifNike Inc. (NYSE: NKE), Boston Beer Co. (NYSE: SAM), and Amazon.com (NASDAQ: AMZN) might be right for the investor on your shopping list.
IMAGE SOURCE: GETTY IMAGES.
Athletes young and old
Decades after revolutionizing athletic footwear for runners, Nike is still wowing athletes of all ages.The company's 50%-plus market share in footwear and 30%-plus market share in athletic apparel show that its business is still humming along despite challenges from competitors, such as Under Armour.
After taking into account currency conversion on overseas sales, Nike sold $9.1 billion worth of athletic products last quarter, up 10% from a year ago. The company also reportednet income of $1.2 billion in the quarter, up 6% from last year.
As Nike expands its presence in highly populated developing markets such as China, and high-margin direct-to-consumer sales accelerate thanks to Internet shopping trends, Nike should have plenty of muscle to reward investors with growth over the long haul.
Also, Nike offers investors a steady and growing stream of dividend income that makes its shares even more attractive. Nike's dividend payouthas increased every year since 2004, and currently, its $0.16 quarterly dividend rate means its shares are yielding 1.4%. While that may not be the highest dividend yield in the stock market, it can still help this gift pay for itself over time.
IMAGE SOURCE: BOSTON BEER CO.
Craft-brewery fans
There's a reason the popular beer-rating app Untapped has more than 1 million downloads. We're in the middle of a beer lover's revolution, and while alot of beer connoisseurs' focus is on small-batch neighborhood brewers right now, that won't stop them from enjoying opening up a gift of Boston Beer Co. shares this holiday season.
Boston Beer Co.'s Samuel Adams beer pioneered craft brewing, and while the company's lost some of its cachet recently to smaller upstarts, it remains a dominant force in the U.S. craft-beer segment.
Last quarter, the company sold more than a quarter-billion dollars' worth of Sam Adams, Angry Orchard, Twisted Tea, and other well known-names, and although sales have slipped in the past year because of competition, the company remains handsomely profitable, with expected earnings per share of $6.70 this year.
Boston Beer Co.'s shares also have the added benefit of arguably being on sale. The company's share price has fallen from over $300 in 2015 to about $173, and at that price, you'll pay about 27 times trailing-12-month earnings to buy shares. That's far closer to Boston Beer's 10-year P/E low than to its 10-year P/E high.
SAM PE Ratio (TTM) data by YCharts
Something for everyone
By now, everyone on your shopping list may already be getting a present that was bought online, and if so, there's a good chance it was bought from Amazon.com -- the globe's biggest online retailer.
While Amazon.com's already established itself as the go-to online retailer for just about everything, it may be surprising to learn that Amazon's sales still have a shot at climbing much, much higher.
Over the past year, Amazon's sales eclipsed $127 billion, but its sales would need to jump 281% from that level to match Wal-Mart's sales over the same period. The Census Bureau reports that despite growing over 15% in the past year, e-commerce sales still represent just 8.4% of total retail sales. That suggests that there's plenty of running room ahead for this company to keep growing.
Assuming Amazon remains an online retailing Goliath, then the shift from shopping in malls to shopping on devices could make anyone receiving this company's shares for the holidays as a gift grateful year after year.
10 stocks we like better than Amazon.com When investing geniuses David and Tom Gardner have a stock tip, it can pay to listen. After all, the newsletter they have run for over a decade, Motley Fool Stock Advisor, has tripled the market.*
David and Tom just revealed what they believe are the 10 best stocks for investors to buy right now... and Amazon.com wasn't one of them! That's right -- they think these 10 stocks are even better buys.
Click here to learn about these picks!
*Stock Advisor returns as of Nov. 7, 2016
Todd Campbell owns shares of Amazon.comand Boston Beer. Todd owns E.B. Capital Markets, LLC. E.B. Capital's clients may have positions in the companies mentioned.Like this article? Follow him onTwitter, where he goes by the handle@ebcapital, to see more articles like this.
The Motley Fool owns shares of and recommends Amazon.com, Boston Beer, and Nike. Try any of our Foolish newsletter services free for 30 days. We Fools may not all hold the same opinions, but we all believe that considering a diverse range of insights makes us better investors. The Motley Fool has a disclosure policy.