3 Stocks Worth Selling After Retail's Flop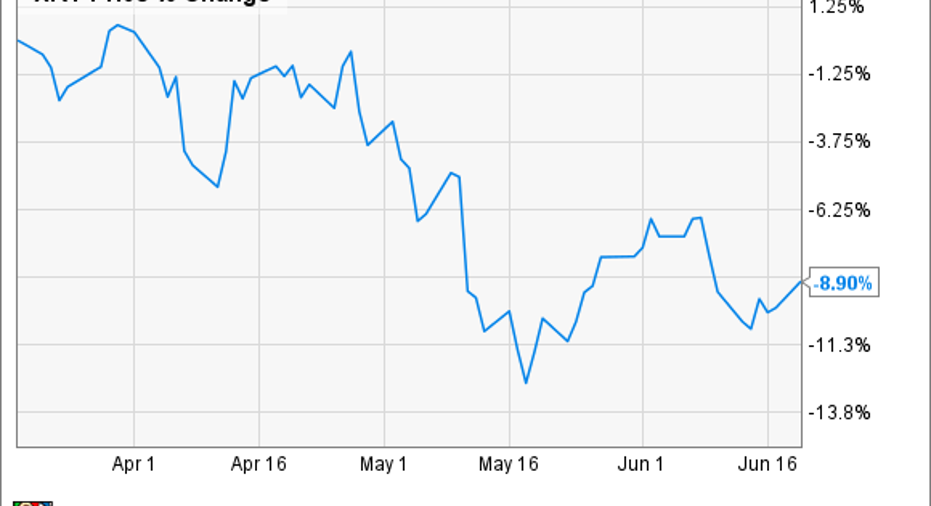 Retail stocks have been struggling. As measured by the S&P Retail ETF , the US retail sector has been down by as much as 10% in the last three months.
Weak first quarter results, soft guidance for the second quarter, and signs that American consumers are tightening up on their budget have all contributed to the drop. Adding to these headwinds are the battle many traditional stores are in against the internet and the challenges of doing business in the digital age.
Is the punishment retail stocks have received unfair, or should investors start looking for the exit? Here are three retail companies investors should sell.
Betting against big box stores
Shares ofTarget are down 20% from recent highs. The company is still recovering from its credit card theft incident from a few years ago and now is dealing with outrage among some shoppers against its new bathroom policy.
Image source: Target.
Target's first-quarter revenue was down year-over-year by 5.4%, and the company issued soft guidance for the current quarter, with management expecting same-store salesto be down as much as 2%.
Target's struggles are in line with those of other general merchandise stores. So far in 2016, general merchandise sales have increased only 1% from last year while retail in general has increased by 3.6%. The culprit? General internet retailers like Amazon.
In Target's defense, the company has grown its online business by over 30% annually over the last few years. But despite that impressive growth, digital sales still account for only 3% of the company's total revenue. That makes the expected slowdown in traffic to stores during the current quarter that much more concerning.
That growth in online business has also not been enough to take the company's business to the next level. Retail sales have grown over 25% since 2009, and household spending in the US set new records in 2015 at around $5 trillion. Meanwhile, Target's sales are up 14% over the same stretch. Investors looking for strong growth prospects should look somewhere other than Target.
Department storesin decline
Department stores were hit especially hard during this past earnings season, and Kohl's was no exception. The discount department store chain saw shares drop more than 20% after a disappointing first-quarter earnings report as well as a dour outlook for the rest of the year.
Image source: Kohl's.
Sales and profits were hit by three main headwinds: in-store traffic was lower than anticipated, management used heavy discounting to move inventory, and expenses rose due to wage increases. Revenue was down 3.7% and profit plunged 86.7% from a year ago.
Department stores have suffered from online competition and physical discount chains that are eating into market share. Thus far in 2016, the sector has seen sales drop 3.3% from last year. Major players in the arena, including Kohl's management, are calling for continued difficulties for the rest of the year.
Much like Target, Kohl's has been fighting against rivals with its own online store. Over the last few years, growth has been in the low double digits. In addition to this, the company has also been testing small footprint and outlet stores as well as a new Fila sports apparel specialty store. These concepts have so far failed to return the company to growth, as sales are flat over the last five years. Management has told investors it might take a few more years to turn things around, so it might be time to move on from Kohl's for now.
Specialty store slowdown
Athletic shoe specialist Footlocker has seen shares slide 30% from all-time highs in the last year. The company posted a strong 2015, its sixth consecutive year with double-digit profit growth, but 2016 has gotten off to a slower start than what investors have grown accustomed to.
Image source: Footlocker.
Sales and profits both rose nearly 4% in the first quarter. While this is by no means a weak outcome, it's the first time the company failed to exceed expectations in over a year. Forward guidance from management also came in more modest than in the recent past, and investors are starting to come to grips with a possible slowdown in Footlocker's expansion.
Over the last few years, sportswear and apparel have grown in popularity. Dressing in workout gear has even become fashionable, spawning the "athleisure" style. This trend has helped Footlocker and other sporting gear companies. However, other clothing companies have picked up on the trend and are entering the market.Nikeand Under Armour have also started selling direct to consumers, bypassing Footlocker completely.
While the shoe store chain might have more fuel left in the tank, investors should temper expectations. The year-after-year double-digit growth era for Footlocker appears to have run its course, giving way to a time of increasing competition from online entrants and other specialty store discounters looking to take a cut of the athletic shoe industry.
Not quite a consumer spending slowdown...
Despite the fall in sales at some merchandisers, consumer spending in the US still notched a 3% gain in the first quarter overall. The trend looks to continue higher through the end of 2016, with home improvement stores and sporting goods leading the way thus far.
While specific retail sectors cannot be predicted with any amount of certainty, internet selling has consistently notched double-digit growth in the last decade. Through 2020, that growth is expected to continue at a greater than 10% per year rate as purchases made online head toward totaling one-in-ten in the United States. The internet continues to disrupt the retail industry. As a result, it may be time to bail on traditional retailers who are struggling to grow despite rising consumer spending in the US.
The article 3 Stocks Worth Selling After Retail's Flop originally appeared on Fool.com.
Nicholas Rossolillo owns shares of Target. The Motley Fool owns shares of and recommends Amazon.com, Nike, and Under Armour (A Shares). Try any of our Foolish newsletter services free for 30 days. We Fools may not all hold the same opinions, but we all believe that considering a diverse range of insights makes us better investors. The Motley Fool has a disclosure policy.
Copyright 1995 - 2016 The Motley Fool, LLC. All rights reserved. The Motley Fool has a disclosure policy.